adidas Doha
IAAF World Championships
The seventeenth edition of the IAAF World Championships were held in 2019, in Doha at the renovated multi-purpose Khalifa International Stadium. We were there to build adidas a one-of-a-kind hospitality building.
Client

CIP Marketing for adidas

A large, fully branded hospitality building
Major sports brand adidas wanted to make their presence known at this event. With this purpose in mind, we delivered the two-story adidas Doha WC hospitality location. The location was set up to allow brand ambassadors to meet up and connect with each other in an exclusive and relaxed environment.
In addition to this, adidas had the opportunity to further strengthen its ties with its sponsored athletes and to host brand events and activities. To accommodate this, the building offered a large amount of space, both inside as on the outside balcony area.
Turnkey solution
For CIP Marketing and adidas, Losberger De Boer delivered a turnkey solution. This means our team also took care of the required furnishing, including lighting, air conditioning, furniture, decoration and branding for the 'Feel the Boost' campaign.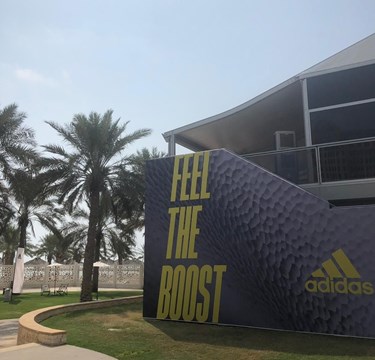 Let's get technical
What did we deliver?
To achieve a world-class hospitality building for world-class athletes and a world-class sports brand, we connected two structures that are very suitable for high-end applications: the Premier, a modular platform that can be combined with a large number of other structures to create an impressive double-decker, and the Anova, with its characteristic and classy curves.
Premier 15x15m
Anova 10x15m
Additional components: air conditioning systems, branding, flooring and teak wood terrace, furniture and lighting, greenery, stairs, system cassette wall and glass elements.
Interested in this Event space solution?
Feel free to reach out to us for more information on owning or renting one of our structures.