The first inflatable military structure that utilizes drop-stitch technology
Inflatable DST module
Our new, innovative inflatable DST module has sturdy and highly insulating double walls, and offers an unparalleled level of comfort and strength. Thanks to the use of the revolutionary 'drop-stitch' technology, the structure can withstand the harshest weather conditions. This makes it perfectly suitable for both long-term and short-term military and humanitarian operations in areas with harsh climatic conditions.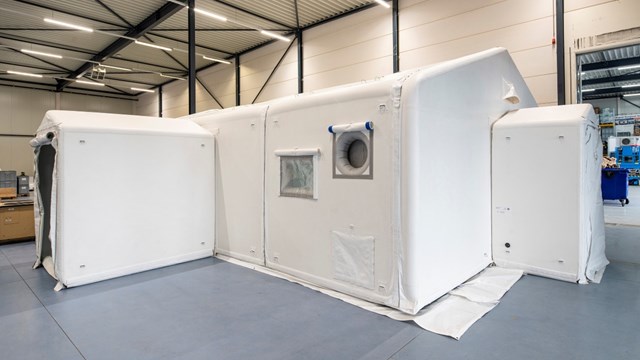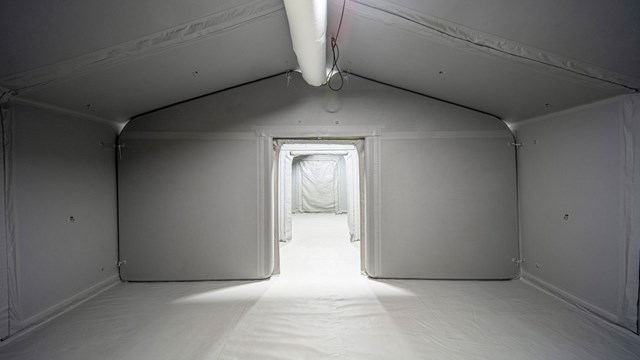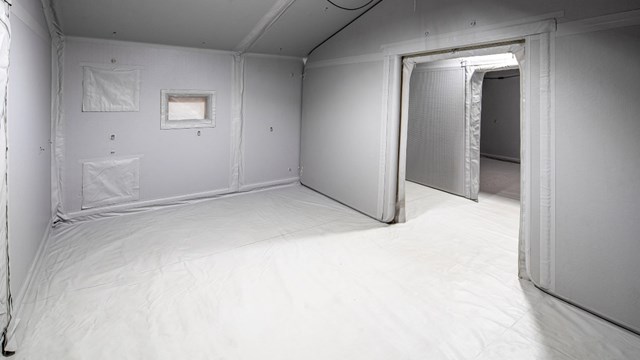 A new standard in insulation, sustainability and cost-effectiveness
Our DST module offers unprecedented thermal and acoustic insulation, significantly reducing both consumption and the cost of heating and air conditioning. Another advantage of using drop-stitch technology is that the walls are stronger and more durable than regular military and humanitarian tents. Our DST modules therefore require less frequent maintenance and can be used for a longer period. The combination of durability and unmatched insulation values make this tent a very solid long-term investment.
Inflatable, with the strength of a metal frame
The DST modules are made of a very strong, PVC-coated double tent cloth. Combined with the use of drop-stitch technology, this ensures that the DST is an extremely sturdy structure, which, although having an inflatable frame, can compete with metal-framed tents. The DST provides safe, comfortable and durable shelter and feels like a building instead of a tent, yet it is simple and quick to erect.
The DST is composed of several interchangeable modules. It is also linkable, allowing you to easily configure a tent (or combination of tents) that seamlessly meets specific operational needs.
Key benefits:
Extremely robust and durable;
Excellent thermal insulation for reduced heating and air conditioning consumption;
Excellent sound insulation for a higher level of comfort;
Fully modular, for maximum flexibility in the field;
Linkable, suitable for multiple camp layouts and configurations
Quick to install: 10 to 20 minutes, depending on size.