Truck stop for a mining operation
Thiess is one of the largest mining services provider worldwide. Our truck shop was designed to support their copper extraction operations in the Atacama Desert, in the heart of Chile's mining area. The Atacama desert has a harsh climate and is the driest nonpolar desert on earth.
The biggest challenge: the size of the facility
In mining, the transportation of soil between the extraction site and the mineral processing warehouse requires the use of huge haul trucks. It is important that they are maintained properly, to ensure effective and uninterrupted daily operations.
The site supervisors reached out to us because they couldn't source facilities that could provide all the specific features required for truck maintenance in terms of size (each truck is approximately 15m long, 7m high and 9m wide), load capacity, bridge crane compatibility and quick installation. Thanks to our experience in the mining sector and our understanding of its key regulatory challenges, we were able to provide an all-in-one solution that would meet all their expectations, with specific amenities for haul truck maintenance such as heavy duty flooring, rapid rise doors, 25/5T cranes, as well as fire detection and exhaust gas recirculation systems that are compliant with strict mining norms.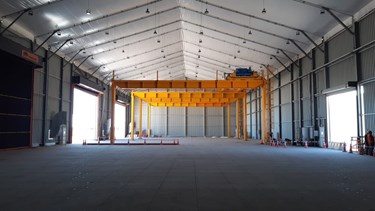 Let's get technical
What did we deliver?
The sheer size of mining haul trucks and the remote location of the excavation site, meant that we had to provide a structure that would be big enough, whilst resisting high wind loads. We therefore decided to reinforce our standard Prostock structure by using steel pillars with a lighter aluminium roof. This enabled us to reach a record height of 11,5 meters, and to provide facilities that would be big enough to house two 25/5T bridge cranes, as well as four 7 x 11 rapid rise doors.
Interested in this Rapid Deployment solution?
Feel free to reach out to us for more information.