Commercial Bank Qatar Masters
Since 1998 the prestigious Qatar Masters golf tournament has been hosted by Doha Golf Club. As official temporary structure supplier for over 13 years, Losberger De Boer received a request to provide the most unique and innovative temporary structure concepts that the industry has to offer.
Client

Rania El Khoury | Commercial Bank Qatar Masters - Head Organiser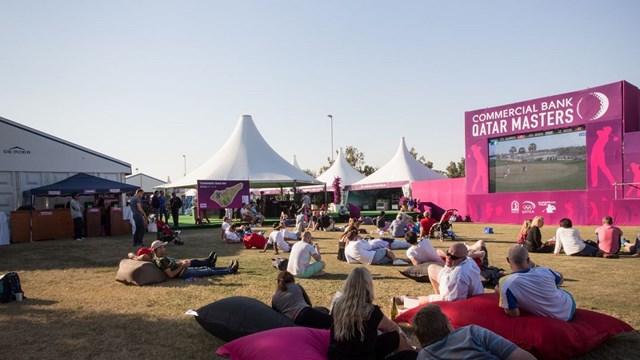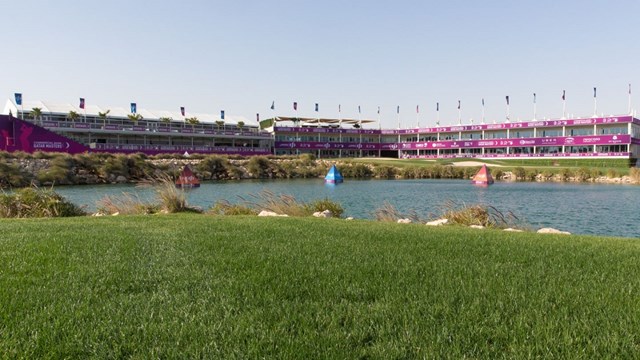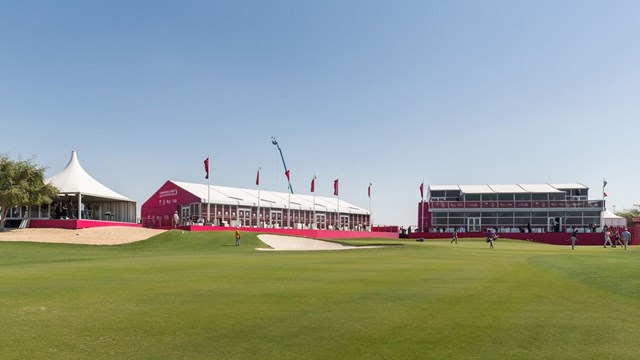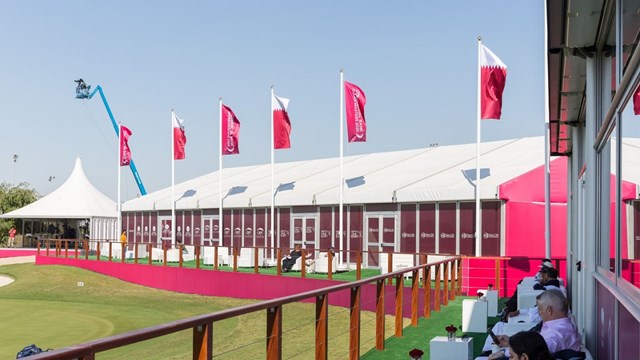 Client requirements
Inspirational temporary spectator and hospitality structures were called for which needed to be centrally located in the middle of the expansive 18-hole golf course
Panoramic, unobstructed views from the structure were particularly important due to the location, offering unparalleled views of the 10th and 12th green, 11th and 17th tee box and full views of the iconic 16th Par 4 hole
It was a strict requirement that the event structure offered 360 degree uninterrupted views of the surrounding greens and tee off areas, with floor-to-ceiling windows
Services and facilities provided
Climate control & energy solutions
Lighting
Furniture, decoration & equipment
Branding
Stairs
Floors & carpeting
Balcony
Pushbar doors
Glass vista side panels
Turnkey project management
Statement from our client
"We are delighted to have extended our partnership and I would have no hesitation in strongly recommending Losberger De Boer to any other major event organisers here in the Middle East or further afield."
Rania El Khoury | Commercial Bank Qatar Masters - Head Organiser



The Event Background
Held since 1998 at the prestigious Doha Golf Club
The unusual 150-hectare site has been planted with about 5,000 shrubs, 6,000 trees and 10,000 cacti imported from Arizona
As a major sports fixture in the Doha events calendar and an event of national importance for the country of Qatar, the client brief was for Losberger De Boer to provide inspirational temporary structures and indoor-outdoor functionality to improve the overall spectator experience.


The Solution

Losberger De Boer's business solution was to deploy it's circular (314sqm) Panorama Dome temporary structure - exclusive to Losberger De Boer Middle East - in addition to a range of spectator stands and temporary event structures
Round shape: The Panorama Dome's round shape and domed roof provides a uniquely spacious atmosphere and futuristic UFO-type look. The Panorama Dome looked like it could have "landed" in the middle of the golf course.
Optimised view: The round shape and vista panels provide spectators with an optimal view of the event from within the air-conditioned structure
Unique, Modern look: With its circular shape and Vista glass panels, the Panorama Dome has the look and feel more of a semi-permanent building than a temporary structure, although it can be erected and dismantled in a matter of days.
Losberger De Boer followed a 12-step project management plan in close co-operation with the Qatar Masters organisers and suppliers. This included site inspections, design and rendering, logistical preparation, sub-contractor liaison, and full project-managed construction delivery. This level of planning and attention to detail paid off in the successful execution of this project.
The Outcome

After a successful trial of the Losberger De Boer Panorama Dome structure at the 2016 Qatar Masters, an upgraded project solution was developed in 2017. The entire building raised onto a new higher platform to offer improved, unrestricted views of the surrounding golf greens for spectators
With over 27,000 Qatar Masters visitors and a global TV audience of millions, many of the world's top golfers competed on Doha Golf Club's unique and challenging desert-type Championship Course, which has proven to be one of the longest par 72 courses on the global tour
The key client brief to provide continual improvement in the event structure offering with an inspirational, unique and iconic structure was met. This was especially important for the events 20th year anniversary in 2017
Achieving maximum visitor comfort and spectator visibility of the golf course at all times were also important requirements to ensure repeat visitors in years to come
The interior area was fully air-conditioned
314 square metres of useable interior space
Surrounding circular viewing deck was erected with double doors leading out from the structure
Wheel chair ramp for accessibility
The Panorama Dome structure is unique to Losberger De Boer and not available through any other supplier in the Middle East


Key Specifications

360-degree views of the surrounding golf greens and tee offs.
Higher platform to ensure improved unobstructed views of the golf outside
314 sqm circular design providing an open and airy interior feel
Bringing the outdoor, indoors with floor to ceiling windows
Opaque PVC roof
Space for up to 300 visitors, including integrated facilities
Great side wall and peak height
Use of fire resistant materials
Anchoring and secure construction
Structures and processes meet the strictest standards: EN NEN 13782, ISO 9001, 14001 and SCC**
Interested in this Event space solution?
Feel free to reach out to us for more information on owning or renting one of our structures.