Protective shelters for military aircraft and equipment
Do you need shelter for your aircraft and sensitive equipment? Our military aircraft shelters provide a safe, discreet and functional protective environment for your critical assets on external deployments and local military bases.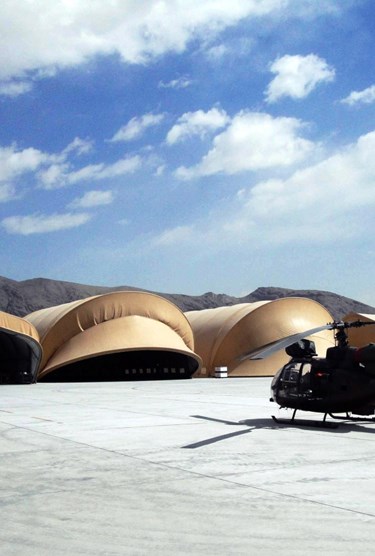 Fast-opening apse door for rapid take-offs
Our military aircraft shelters come equipped with a fast-opening apse door system, enabling the quick access and exit of aircraft, helicopters, large vehicles and more within approximately 30 seconds. This semi-circular system affixed to our shelters' gable arch prevents water and snow collection and stagnation while maximizing inner usable space. Our structures can be fitted with one or two apse doors to meet your operational requirements so that you can launch your fleet at a moment's notice.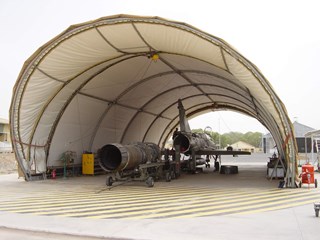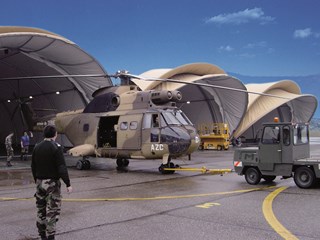 Rapid deployment and long-term use
Because external missions often occur in remote areas with harsh climates and limited resources, our military aircraft shelters are optimized to withstand extreme weather conditions. Even in high winds and snow loads or extreme heat, they can be installed and dismantled quickly, with limited labour and machinery, and minimal ground preparation. This allows you to be operational rapidly at any time and to use your fleet without interruption for years.
Climate-controlled storage for long-lasting fleets
Compatible with climate control systems, our military aircraft shelters are well suited to storing sensitive equipment and prolonging its shelf-life significantly. Their tensile PVC fabric cover creates an air-tight sealed environment in which humidity levels can be monitored and adjusted with extreme precision. We can essentially defy the test of time and suppress the effects of corrosion and rust on your fleet by controlling internal humidity levels.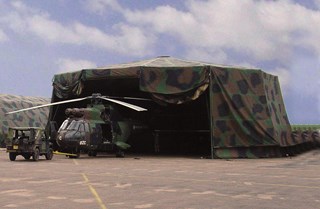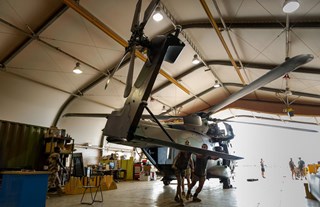 Maintenance made easy
We can fit our military aircraft shelters with various appliances to make your everyday maintenance tasks much easier. For example, our P-Range and AMD shelters can be equipped with overhead hoists, and special air blowing or exhaust gas extraction systems can be fitted for paint shops or vehicle maintenance if needed. Consult us about which maintenance application you require in your shelter, so we can advise you on the bespoke options we offer.
Short or long-term solutions delivered quickly
Our military aircraft structures were designed to facilitate aircraft manoeuvring, usage and maintenance, and to improve storage conditions. They are particularly well suited for active use and the storage of critical aircraft and military assets, including planes, helicopters, drones, vehicles, missiles, generators and spare parts. Developed to keep you moving, these shelters combine the benefits of rapid deployment and longevity – so you can have the space you need, when you need it, wherever you are.
Specialist solutions to combat tough conditions
We have helped military forces around the world store and maintain their aircraft and sensitive equipment so it is protected against extreme environmental conditions. This means it is ready-to-use when needed the most. When you need to keep maintenance to a minimum and control costs, you need a partner you can trust.
Fully modular solutions to maximize operability
Unlike traditional buildings, our military aircraft shelters are fully modular in design, so they can be easily extended or reduced in size or even moved from one location to another. When you want more from your structure, our hangars offer long-term operability by enabling you to adapt the shelter's size or location according to your urgent operational needs.
Unrivalled protection delivered quickly
Do you need a storage or maintenance solution that maximizes deployment speed while minimizing labor and machinery? Do you want a hangar that can grow, shrink or move easily to match your operational requirements? Not only are our military aircraft shelters fully modular, giving you unrivalled size and location flexibility, but they also offer high-resistance, durability and can be climate-controlled, which makes them ideal for storage of your critical assets. Whether you need fast opening apse doors for fast happening take-offs or a versatile space for maintenance operations, our structures can do it all, temporarily or permanently.
Our services
Undivided attention to quality and security
An experienced Account Manager
Our Account Managers are specialists who focus on your needs and on providing you with professional guidance and the best customer experience.
A partner that is involved from the onset
Tell us what you need, and we will work with you. Our design and engineering team is here to turn your particular requirements into a functional reality.
The win-win outcomes of training and support
Training end-users on deployment techniques and product usage has a big impact on the longevity of our products. It also helps us to gain valuable feedback on our products.
Your anonymity is our foremost priority
We understand the importance of discreetness and confidentiality in the military and aerospace sectors. So we will always consult with you before releasing any pictures or material.
Some Numbers & Statistics
Losberger De Boer was founded in
0
Number of subsidiaries around the globe
0
Number of professional workers worldwide
0
Average customer satisfaction rate over 2020
9,1
Interested in this Rapid Deployment solution?
Feel free to reach out to us for more information.