Padel court solutions to ensure the sun doesn't stop the fun
Losberger De Boer's padel court solutions can be built anytime, anywhere and within a matter of days. Whether for new or existing facilities, we help your players beat the heat.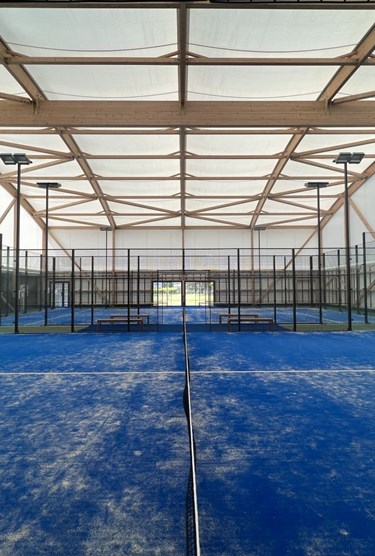 Designed by athletes for athletes
Padel tennis has taken the world by storm, growing in popularity from South America all the way to Australia. Here in the Middle East, padel is attracting a wide range of players. Casual players and fitness enthusiasts alike have been flocking to take part in the sport for fitness and fun.
Losberger De Boer offers a range of semi-permanent structures to accommodate existing outdoor padel tennis courts or house new courts in the pipeline, so players can play all year round, protected from the sun, without the need for separate indoor and outdoor facilities.
Brochure Padel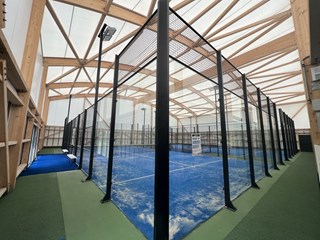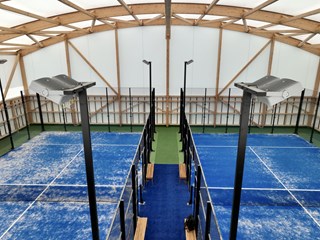 Flexible and quick-to-build
Whether you are a community, a sports club, an association or a private investor, we can create the perfect fully-enclosed indoor padel court or shading solution for outdoor courts, being a partner you can trust from the design to construction or even conversion of existing courts.
For over 50 years, Losberger De Boer has been designing, manufacturing and supporting local authorities and organizations to realize their sports facilities projects. Our experts accompany you at every stage of the process, from making contact to delivery and construction. Your padel court structure can be ready for players within weeks, so you can meet the demand for this increasingly popular sport now and in the future.
Scalable, re-usable, tailor-made solution
Modular by design, Losberger De Boer's structures can be adapted to your project. We offer a range of padel court roofs, courtyards and enclosed buildings, so whatever you are looking for, we have a solution to match. Choose a standard structure or a tailor-made solution to make your project unique.
In addition to the aluminum or wood frame and Flat-tex or double-curvature canvas roofing membrane, we can help you lay foundations and install padel equipment, lighting and sports floors for a turnkey, ready-to-use facility.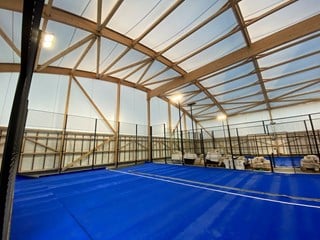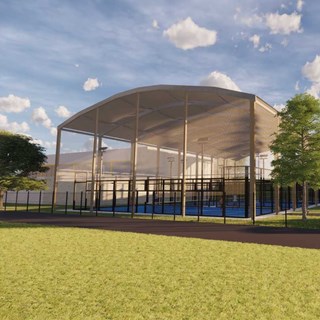 Your new padel court delivered turnkey
Together with our trusted partners, we can provide you with the turnkey delivery of a padel court solution with:
Technopile foundation
Aluminum or laminated wood structure and frame
Flat-tex membrane or reverse double curvature
Translucent membrane cover
Anti-condensation system
Cladding or mixed membrane
Exterior wood furnishings
Stormwater management
Electrical installation
Ventilation
Our services
Undivided attention to quality and security
Delivery reliability
Over the last years, 99.2% of all our material deliveries have been on time. The last 0.8%? Working on it! Apart from delivering in time (and on budget), we always make sure that there is a proper on-site inspection and handover. As we design, engineer, produce and build all our structures ourselves, our installation crews are very well familiar with all our buildings.
Excellent project management
Our project managers are highly experienced professionals, that have successfully delivered a large number of complex projects. Most of them have been providing clients with top-of-class space solutions for over a decade. Before the start of the project, you will be given on single point of contact. This person will know the ins and outs of your project and is available 24/7.
The best possible advice…
…for the best possible results. Our experienced and highly knowledgeable team will not shy away from giving you advice, even when you know exactly what you want. Why? Because oftentimes expert advice makes the difference between a good, and the best possible solution. Because that's what we strive for, together with giving you a great customer experience.
Safety is never an issue
All Losberger De Boer crew members are fully qualified and certified to construct our buildings in a safe and compliant manner. Our structures adhere to the highest safety standards, as they contain only high-quality materials and are engineered, designed, and produced by our own product development specialists.
Interested in this Commercial space solution?
Feel free to reach out to us for more information on owning or renting one of our structures.