Smart Energy Management for base camps and hospitals
Losberger De Boer has developed a Smart energy management system for its base camps and emergency hospitals, which allows users to optimize the use of resources and to lessen the ecological impact of there presence.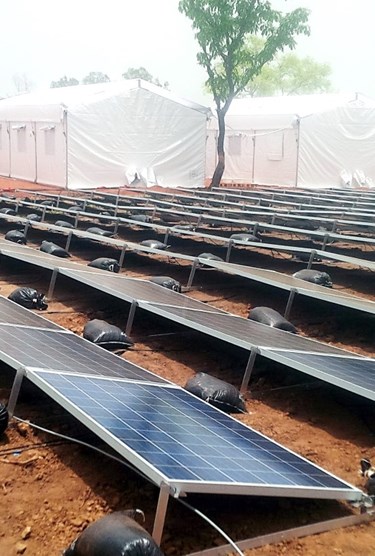 Optimizing your use of resources
Reducing fuel and water consumption on missions not only benefits the environment, it also helps you to make significant savings and minimise your vulnerability during resupply operations. With this mind, Smart Energy Management has become one of our key focus points when designing a complex, integrated compound.
We take the logistical, financial and environmental aspects of running a fully deployed camp or hospital in consideration when designing a camp, allowing you to reduce fuel consumption, optimize the use of water, minimize risks during resupply convoys, to leave no traces behind after demobilisation, and also to lessen the impact of your operation on local populations.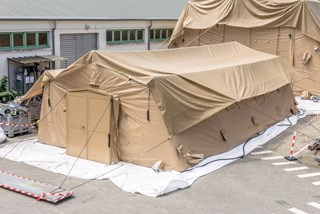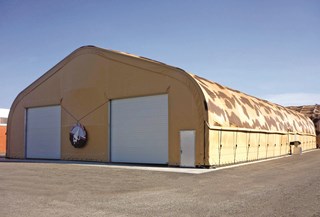 Insulated tents lessen the impact of air-conditioning
People often say that it's the little things in life that make a big difference, and this is certainly true when it comes to insulation. We are constantly searching for new ways to improve HVAC consumption in our tents, without impacting end-user comfort, well-being or deployment speed.
We have developed a wide range of high-quality insulating liners and flysheets for most of our tents and structures. We work hand-in-hand with our customers to find the most appropriate combination of HVAC and insulation methods based on their geographical location, tent size and usage, to optimize the use of air-conditioning and to reduce its ecological impact at the same time.
Solar Farms for sustainable and autonomous base camps
During deployments in area where resources are scarce, using solar farms to create a local electricity distribution network within your camp makes perfect sense. It will reduce the need for complex and risky resupply convoys, and improve your autonomy at every level.
We offer various solar harvesting solutions that can match the installation speed of our products. Our panels can be applied straight onto our tents, or be deployed from an unfolding container unit, and will help you set-up a self-sufficient and sustainable camp.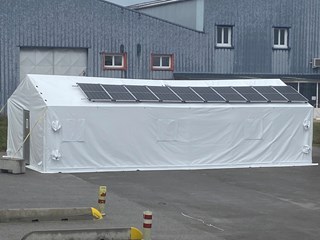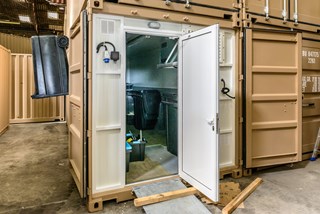 Effective waste management for traceless demobilisation
We firmly believe in the 'Leave no trace' ethos, and encourage our customers to apply it to their camps or hospitals while in the design stage. By incorporating specific waste management containers for either organic waste sorting, storage and incineration, or for human wastewater treatment and sludge disposal, we can help you reduce the ecological impact your operation has on local soils and populations.
Leaving no waste behind is also an important part of any smooth and traceless demobilisation process.
It is our mission to help you reduce your carbon footprint
The effects of climate change are being felt all across the world. As an ISO 14001 certified company that places great value in protecting the environment and reducing its carbon footprint, we firmly believe in investing in sustainable product applications.
In doing so, we also help you reach your climate goals, by using rapid deployment solutions that are developed with the future of our planet in mind.
As a camp integrator, we are aware of the fact that we need to make smart choices at every stage, to keep your overall fuel consumption and carbon emissions down to the lowest possible level. This is why we always opt for LED technology, clean HVAC refrigerants, and low fuel consumption devices whenever possible.
Key advantages:
Reduce your carbon footprint;
Lessen the impact of your operation on local populations;
Reduce your fuel consumption costs;
Reduce your risks during resupply.
Our services
Undivided attention to quality and security
An experienced Account Manager
Our Account Managers are specialists who focus on your needs and on providing you with professional guidance and the best customer experience.
A partner that is involved from the onset
Tell us what you need, and we will work with you. Our design and engineering team is here to turn your particular requirements into a functional reality.
The win-win outcomes of training and support
Training end-users on deployment techniques and product usage has a big impact on the longevity of our products. It also helps us to gain valuable feedback on our products.
Your anonymity is our foremost priority
We understand the importance of discreetness and confidentiality in the military and aerospace sectors. So we will always consult with you before releasing any pictures or material.
Some Numbers & Statistics
Losberger De Boer was founded in
0
Number of subsidiaries around the globe
0
Number of professional workers worldwide
0
Average customer satisfaction rate over 2020
9,1
Interested in this Rapid Deployment solution?
Feel free to reach out to us for more information.