It's that simple
Configure your storage facility in only a few easy steps
A custom hall design is just a few steps away. Choose a building type, enter the desired dimensions and pick the options and add-ons that will best help you reach your goals. It will only take a few minutes, and it's fun. So let's get started!
Step 1: Determine the right building type
What is the hall's intended use? This is key in determining the best type of structure. Will a straightforward hall with PVC roof do, do you need a cold storage facility, or do you need a fully insulated hall, which can maintain a steady temperature, so that sensitive goods can be stored properly and people can work in a comfortable climate?
Step 2: Set dimensions
You can easily scale the hall to whatever dimensions suit you best. This depends on the conditions and available space on your location, and the amount of room you need for people, vehicles and machines.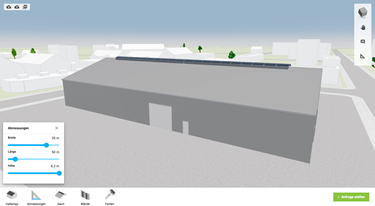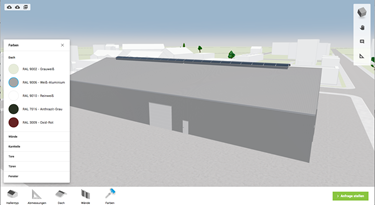 Step 3: Selecting equipment & accessories
Which materials do you want to use for your walls and roof? How much windows do you want, and where should they be located? Do you require specific access doors for trucks or vehicles? Do you want light bands and light domes? Do you have a specific colour in mind? There are many options, and again: the purpose of the hall often determines what options suit you best. After you've made your choice, you can receive your unique design in pdf format, by e-mail!
Interested in our solutions and products?
Contact us anytime for more information on purchasing our modular space solutions.