It's that simple
Only a few steps to your customized hall
From here, it is only a small step to your new customized hall. Configure the structure type, dimensions, and add-ons in a blink of an eye. Don't wait to get started!
Step 1: Determine type of structure
How do you want to use your hall? Because that decides your choice of a suitable type of structure. Do you need a simple version with a PVC roof, a cold hall for storage of insensitive goods, or a fully insulated warm hall, which stores heat and allows people to work in a pleasant atmosphere?
Step 2: Set dimensions
You can scale the length, width, and height of your lightweight hall here. Pay attention to the conditions at your location and consider space for people to work and vehicles or machines to operate beforehand.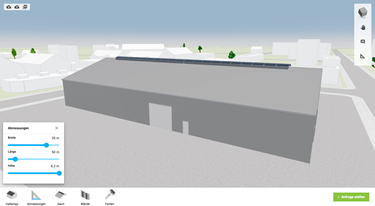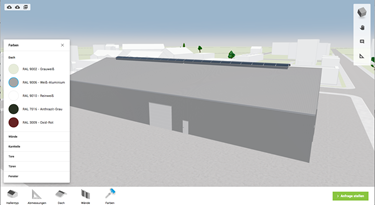 Step 3: Equipment & Accessories
PVC tarpaulin, trapezoidal sheet, or sandwich: the application determines the equipment. And what about light bands, light domes, roller shutters, doors, and windows? You can coordinate all of this here.
Interested in our solutions and products?
Contact us anytime for more information on purchasing our modular space solutions.