Lytchett Minster Upper School
Rapidly delivered school building after fire
After a terrible fire laid waste to their school building, we supplied the Lytchett Minster Upper School in Poole, UK, with a new school building on short term.
Client

Lytchett Minster Upper School
Keeping the school open for exam preparations
Tragedy struck this school in Dorset, when it burned down on December 27th. On January 9th, the school reopened partially inside a temporary Losberger De Boer building, allowing the children to resume classes. This was particularly important to the older children, who were preparing for their exams.
'Losberger De Boer have been outstanding'
"I have been tremendously impressed by Losberger De Boer", says Stuart Clark, Headmaster of the Lytchett Minster School. "They have been outstanding – not only in terms of the quality of their systems, but also how quickly they understood our project, both from a technical and educational perspective. It's not only their systems which are so impressive but also the way in which their creative and technical people have applied themselves to deliver such a swift response."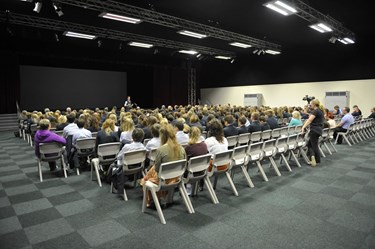 'Technical education'
Allow us to 'educate' you on what we delivered on such short notice.
We provided the school with a spacious Delta structure, which we delivered turnkey. We equipped it with push bar doors, opaque and glass vista side panels, emergency doors, floating ceilings, lighting, electricity, acoustic systems, lining and sanitary facilities.
For this project, our crisis team also collaborated with insurance companies.
Interested in this Commercial space solution?
Feel free to reach out to us for more information on owning or renting one of our structures.