Mobile covers for outdoor areas
Garden Cottages defy wind and rain on the Hill of Love
German event gastronomy Heuchelberger Warte relies on outdoor space solutions from Losberger De Boer.
Client

Heuchelberger Warte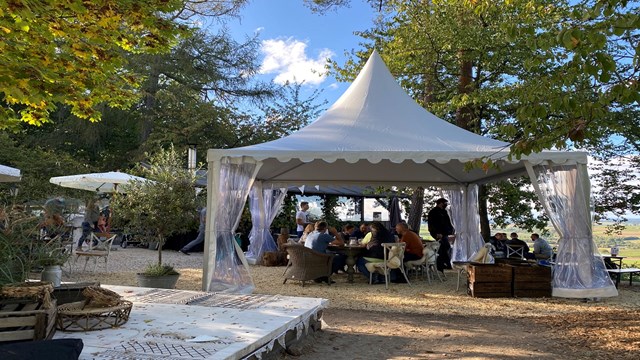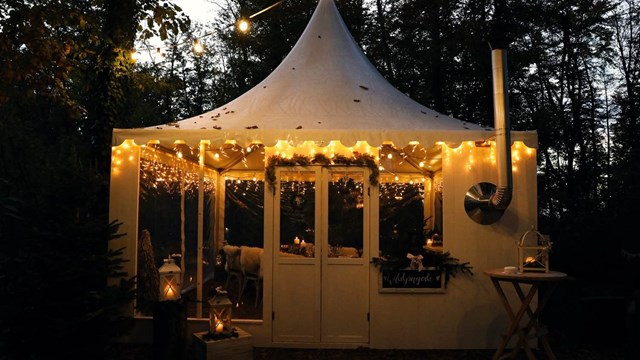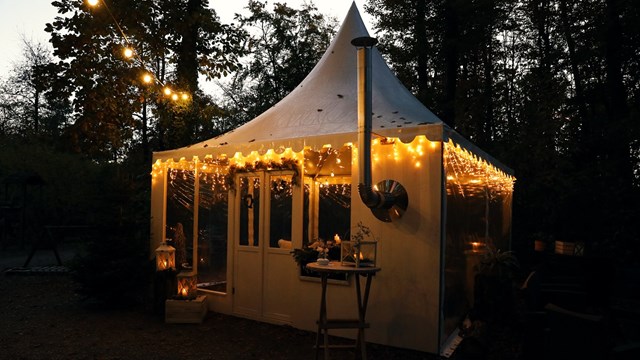 All year outdoor gastronomy
The Heuchelberger Warte in Southern Germany is known for two things in particular. Firstly, for the wonderful view from the idyllic Heuchelberg over the Heilbronn countryside and secondly, for modern Swabian cuisine and unique events in the rustic mountain restaurant with beer garden.
Max Wieland, from the event gastronomy of the Heuchelberger Warte, tells us in an interview how they use their outdoor areas all year long and why they rely on flexible space solutions from Losberger De Boer.
High quality standards
Mr. Wieland, you already bought Garden Cottages from us a few years ago. Why did you choose Losberger De Boer again?
The pagodas from Losberger De Boer convinced us because of their durability and functionality. Up here on the mountain, storms often rage particularly wildly, but our two Garden Cottages have not been affected by the weather in all these years. So when we started to search for additional mobile space solutions this year, we once again chose Losberger De Boer.
How do you rate the service of our sales team before and after the purchase?
The sales team gave us extensive advice in advance. During an on-site appointment, we were able to discuss with an expert which type of roofing was best suited for our purposes. Delivery and installation went off without a hitch, and here too a competent member of Losberger De Boer's staff was on hand to assist us. The sales team did a great job.
From all the products of the Losberger De Boer portfolio, why did you choose the Garden Cottages?
We want to offer our outdoor guests excellent protection from wind and weather. The Garden Cottages are ideal for this. In midsummer, they provide shade, now in winter they protect against rain and snow. With closed sides, even strong wind has no chance against them, which is why our guests like them a lot. The classy design of the pagoda tents not only provides functional protection but also fits in perfectly with the style of our complex. It was not easy to find a tent that is so stable and visually convincing at the same time.
The Heuchelberger Warte and Losberger De Boer both attach great importance to quality. Was that an additional decision criterion for you?
Of course, it was. We have high-quality standards, offer exceptional service, and value first-class products from the region - not only for our food and drinks. Therefore, Losberger De Boer is the right partner for us. They not only share our values but are also located very close to us. We can lookout to Losberger De Boer from the mountain, and this creates trust.
Interested in our solutions and products?
Contact us anytime for more information on purchasing our modular space solutions.