A structure befitting a King
Palas
Linear architecture, cubic forms and generous glazing. When you choose the new high-capacity Palas event and trade fair hall, you choose elegance and atmosphere in a functional design. The Palas oozes class and is a structure befitting a King.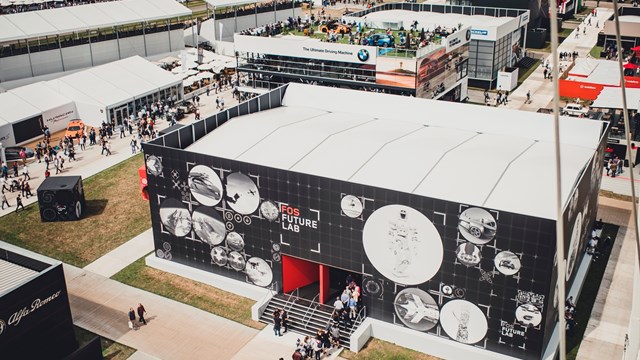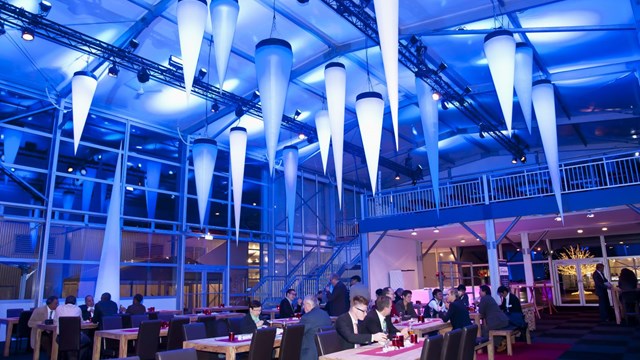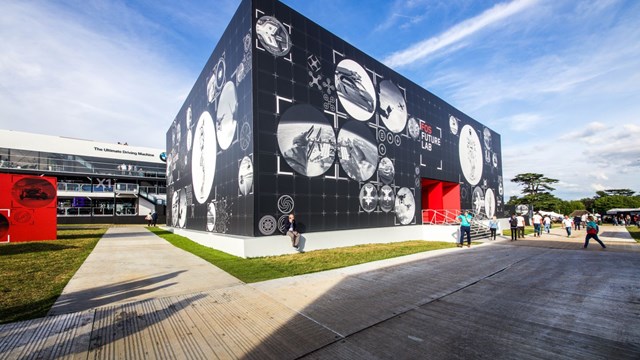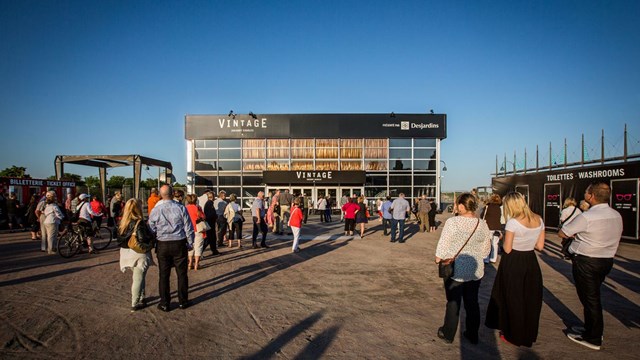 Perfect for:
Large-scale events & hospitality
High-end product presentations
Trade fairs

Great branding possibilities
Visually appealing and spacious, the Palas provides incredible design freedom, both inside and out. The various façade structuring options allow for unique architectural features and branding possibilities. The Palas is a highly noticeable structure that catches the eye of the public – and so will your brand.
Add an extra floor level
Do you need a lot of event space? Look no further than this majestic structure. It can be equipped with a mezzanine floor for extra usable floor space. Our Palas Emporium two-story version creates an optimal spatial experience. Both floors can hold stages for presentations and still offer a lot of space.
Energy-preserving technology
Like the Kubo, the Palas is fitted with energy-preserving technology, such as thermo roof covers made with membrane technology and pressure regulator controlled air cushions. The horizontal window elements go all the way to the floor and have a strong insulating effect.
To summarize: why choose the Palas?

It has all the space you need. This is a high-capacity building, of which the functional space can be increased further by adding a second floor.
It allows your brand to be king. Let your brand take center stage by utilizing the Palas' design freedom and branding possibilities.
It looks the part. The Palas provides you with a classy, highly presentable venue for your high-end event.
Specifications & options
The Palas can be configured in a variety of ways, with one or two floors and countless exterior design options.
Tech specs
Dimensions
Size

10-30m (5-meter-bay-distance)

Side height

8m

Please note

That there may be small differences in dimensions or options when you buy a tent system as opposed to renting a space solution. If you are interested in buying a tent system, our product specialists will lay out all possible dimensions, options and configurations for you.
Options
Options
Cassette floor
Insulated roof covers
Insulated wall elements of hard PVC (vertical and horizontal)
Insulated wall elements of glass (vertical and horizontal)
Ventilation panels
Various door types
Brought back façade
Mezzanine floor
Atrium
External and internal stairs
Gallery
Safety
Safety
Fire-resistant materials
Anchoring and construction are secure
NEN-EN 13782
ISO 9001
ISO 14001
SCC**
Wide product range
Proven quality
Products used at world-class events
Certified production process
Expert advice from experienced specialists
Flexible & durable space solutions
It was our pleasure to work for these companies
We are proud to say we were able to help these businesses with our space solutions
Interested in this Event space solution?
Feel free to reach out to us for more information on owning or renting one of our structures.