Tire warehouse for car dealership
Lightweight hall for Car Centre Karsch in Bisingen
Delivery of a storage hall for tires in 8 weeks
Customer

Car centre Karsch GmbH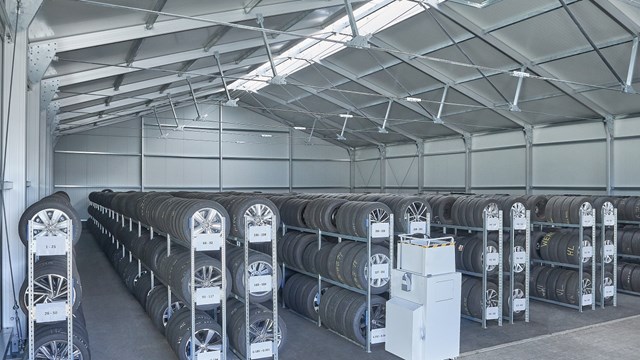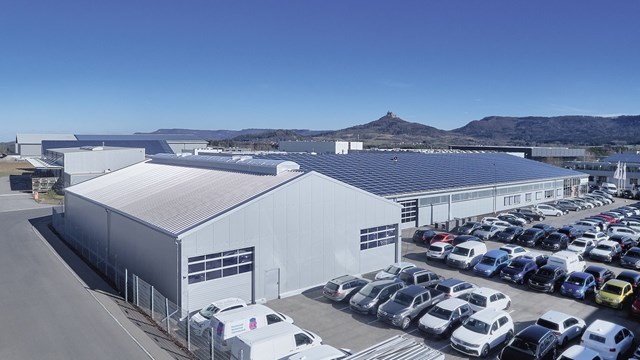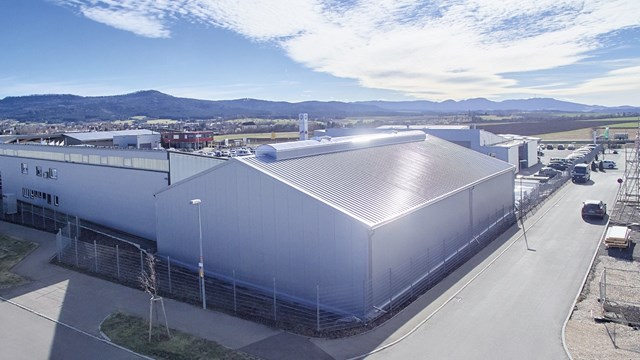 A lightweight hall for capacity expansion
Founded in 1962 by Adolf Karsch, the car centre Karsch from Grosselfingen has been a traditional business from the very beginning. Passion and craftsmanship laid the foundation for a generation-spanning company that has been constantly developing and expanding over the years. In 1998 the car centre moved into a 1.8-hectare industrial site in Bisingen.
Over 20 years later, Karsch again reached its capacity limits and Managing Director Ulrich Karsch was looking for a way to store the numerous tires of used and new cars in a protected environment on the spacious company site.
Delivery time is decisive
After obtaining several comparative offers, Ulrich Karsch commissioned Losberger De Boer, an expert for flexible storage halls. Decisive factors were above all the high-quality standards, the fair price-performance ratio and the delivery time of a complete solution within 8 weeks.
A floor system with telescopic supports
In order to meet their needs the Losberger De Boer Team erected a 20 m wide and 32 m long lightweight hall, which was fixed with ground anchors on the uneven yard area of the car dealership. Due to its smart height system with telescopic supports, the height differences of the asphalted and paved subsoil could be optimally compensated.
Above-average snow load
The storage hall with A-frame roof was calculated with a snow load of 195 kg/sqm, which is above average for Germany. However, this high number was mandatory for the assembly in Bisingen, in the Zollernalbkreis.
At the request of Karsch, Losberger De Boer equipped the hall with flame-retardant sandwich elements in the roof and sides, a light-band in the ridge, emergency exit doors and electronic sectional doors as well as smoke and heat extraction devices.
Managing Director Ulrich Karsch was overall satisfied: "We urgently needed another storage hall to meet the increased demand. Losberger De Boer's solution convinced us directly, as the industrial hall not only ensures flexibility but also rapid assembly. First-class consultancy and realization."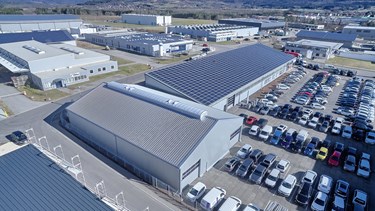 The facts about the hall summarized as follows:
Induflex with A-frame roof: 20 m wide, 32 m long and 5.20 m eave height
Anchoring with ground anchors
Flame-retardant sandwich elements
Snow load of 195 kg/sqm
Drainage via rain gutters and downpipes
Angled plates with bituminous sheeting for protection against driving rain
Light-band with smoke and heat extraction devices
Emergency exit doors and electronic sectional doors
Interested in this Commercial space solution?
Feel free to reach out to us for more information on owning or renting one of our structures.