Drive-thru Covid-19 test centres
A drive-thru Covid-19 test site, installed and ready for use within a matter of days. As a leading temporary building specialist, we take our responsibility in the fight against the pandemic, by adapting our structures to help people all across the globe.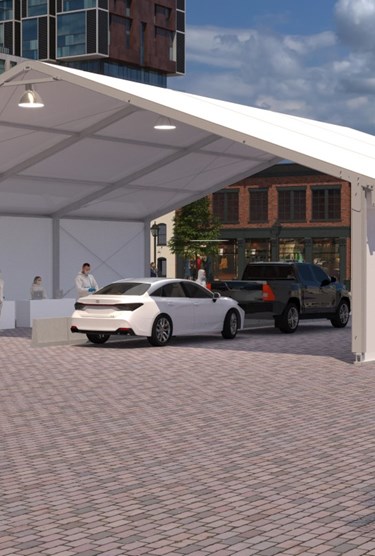 Safe and efficient: drive-thru test sites
After the COVID-19 outbreak, medical and health care facilities struggle to keep pace with the rapid spread of the virus. Losberger De Boer offers hospitals a safe and efficient way to test people for the Coronavirus outside of its main buildings.
Over the past period, we have been able to help hospitals worldwide deal with the current crisis by installing mobile drive-thru test sites, aimed at identifying infected people in the fastest and safest way possible.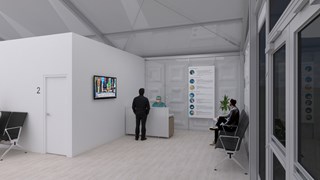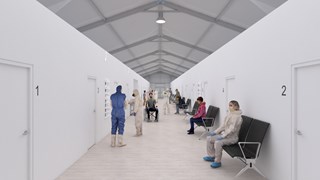 Anywhere, any place, anytime soon
Our Covid-19 test facilities are immediately available and take only a few days to deploy and build, regardless of your location. Our high-quality modular structures can be modified to accommodate any size footprint, meaning that we can always deliver a test site that allows you to make the most use of the space you have available.
A Covid-19 test center can be set up within days. Case in point: in both Germany and The Netherlands, we have built entire vaccination facilities in five days. Our buildings can be used for years, offering you a long-term solution without putting extra pressure on your current facilities.
Covid-19 test sites catered to your local situation
Our temporary testing facilities can be fully tailored to the location, the expected local influx and the wishes of local healthcare workers. Because our structures are modular, we can easily adapt them to your situation.
In addition to this, they can also be scaled up and down. If extra capacity is needed, we can act fast. Can capacity be decreased after a while? We can scale the facility down, or relocate it to a different long-term location.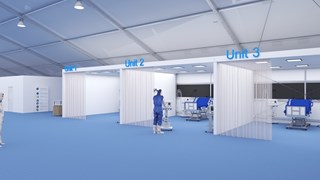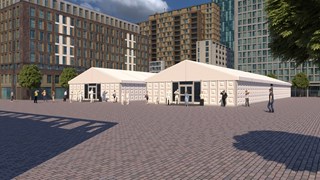 Test site and vaccination facility all-in-one
We have built several all-in-one solutions across the globe, where a Covid-19 test location was combined with a large-scale vaccination center.
We can set up hybrid drive-thru vaccination and testing stations, for maximum ease-of-use and personal safety. We can also deliver a fully functional stand-alone medical facility, were medical workers can test and vaccinate people in a more traditional hospital environment
A safe, pleasant and practical workplace
Our Covid-19 test centre design takes social distancing protocols into account, as well as good working conditions for healthcare workers. To ensure good working conditions, our test sites also include office and canteen space, and will be equipped with a climate control system. The facility can be delivered turnkey, including utilities and furnishings.
Fighting the pandemic
All around the world, Losberger De Boer structures are being modified and used to help fight the pandemic. Over the last months, we have delivered triage centers, temporary hospital wards and mass vaccination facilities.
Losberger De Boer is one of the largest developers of temporary and permanent buildings in the world. We have a large stock as well as large-scale production sites, which means that we always have sufficient material and manpower available to deliver vaccination locations as agreed.
Our services
Undivided attention to quality and security
Delivery reliability
Over the last years, 99.2% of all our material deliveries have been on time. The last 0.8%? Working on it! Apart from delivering on time (and on budget), we always make sure that there is a proper on-site inspection and handover. As we design, engineer, produce and build all our structures ourselves, our installation crews are very well familiar with all our buildings.
Excellent project management
Our Project Managers are highly experienced professionals, that have successfully delivered a large number of complex projects. Most of them have been providing clients with top-of-class space solutions for over a decade. Before the start of the project, you will be given on single point of contact. This person will know the ins and outs of your project and is available 24/7.
The best possible advice…
…for the best possible results. Our experienced and highly knowledgeable team will not shy away from giving you advice, even when you know exactly what you want. Why? Because oftentimes expert advice makes the difference between a good, and the best possible solution. Because that's what we strive for, together with giving you a great customer experience.
Safety is never an issue
All Losberger De Boer crew members are fully qualified and certified to construct our buildings in a safe and compliant manner. Our structures adhere to the highest safety standards, as they contain only high-quality materials and are engineered, designed, and produced by our own product development specialists.
Some Numbers & Statistics
Losberger De Boer was founded in
0
Number of subsidiaries around the globe
0
Number of professional workers worldwide
0
Average customer satisfaction rate over 2021
9,2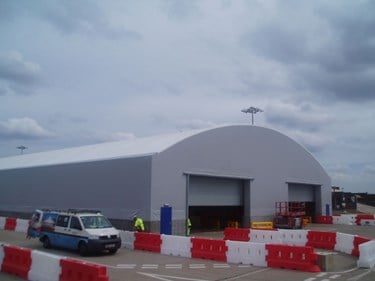 "High quality end product"


Amanda Warner Project Manager Development Heathrow Airport
Testimonial | Commercial Space
'Losberger De Boer delivered a quality airport facility'
"Building any facility in a live operational Airfield area has unique complexities beyond usual
construction constraints. Losberger De Boer rose to the challenge and delivered a quality facility."

'Smoothly and without incident'
"Every operation was carried out smoothly and without incident. There was a belief that we would conquer the seemingly impossible schedule right from the start."
On future projects: "With proven planning, delivery and operation of such facilities and not least of all, extensive experience working within one of the busiest operational airports in the world, Losberger De Boer will provide a high-quality, professional-end product."
Interested in this Commercial space solution?
Feel free to reach out to us for more information on owning or renting one of our structures.