Custom aircraft paint booth shelter
Based in Saint-Dizier, the 113 Air Base caters for approximately 1700 military officers, as well as 50 Rafale aircrafts. Its operations revolve mainly around deterrence, protection during interventions, and training. Our paint booth shelters were developed to respond to their ever-increasing need for a rapidly deployable solution for aircraft touch ups.

The perfect alternative to permanent buildings
As part of our ongoing contract with the French Ministry of Defense, we had already supplied various aircraft shelters to the 113 Air Base over the years, and this is how we became aware of their increasing need for suitable infrastructures for aircraft touch ups.
Since our aircraft shelters were already designed to be fitted with climate control and exhaust gas recirculation systems, it wasn't long before we came up with a solution for paint particle filtering and horizontal drying.
Our design proposal was quickly approved and applauded, since it had been various years the French Air Force had been trying to find an alternative to costly permanent buildings or off-site service providers.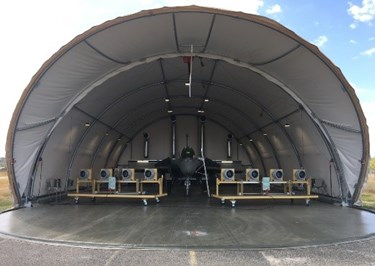 Let's get technical
What did we deliver?
Based on our standard P16 structures, the size and design of which have been optimised for aircraft access and storage, we developed a special mobile blowing system for paint drying, together with an air extraction system fitted with paint particle filters. The structure is also fitted with our standard climate control system and specific VOC particle monitors to offer optimal painting conditions.
Interested in this Rapid Deployment solution?
Feel free to reach out to us for more information.