The first inflatable military tent that utilizes drop-stitch technology
Inflatable DST tents
Our new, innovative inflatable DST tent has sturdy and highly insulating double walls, and offers an unparalleled level of comfort and strength. Thanks to the use of the revolutionary 'drop-stitch' technology, the tent can withstand the harshest weather conditions. This makes it perfectly suitable for both long-term and short-term military operations in areas with harsh climatic conditions.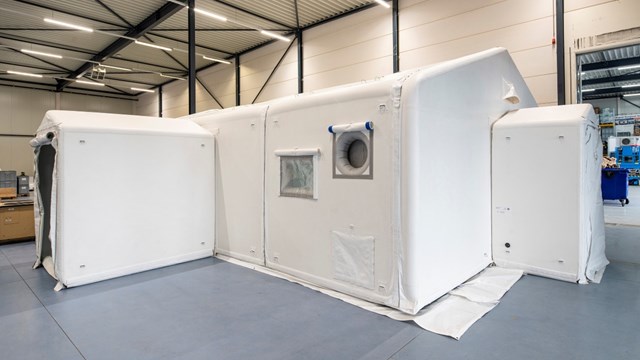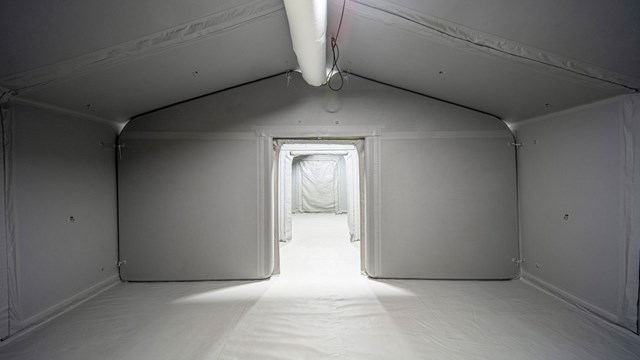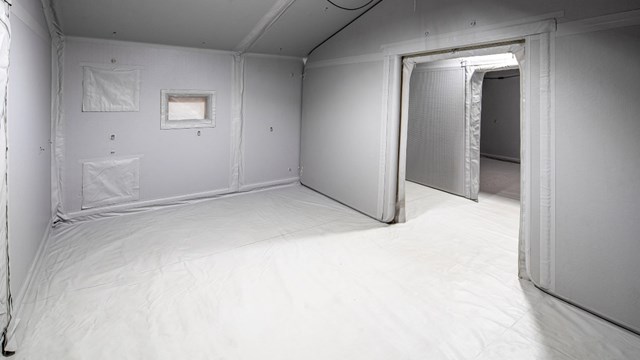 A new standard in insulation, sustainability and cost-effectiveness
Our DST tent system offers unprecedented thermal and acoustic insulation, significantly reducing both consumption and the cost of heating and air conditioning. Another advantage of using drop-stitch technology is that the walls are stronger and more durable than regular military tents. The DST tents therefore require less frequent maintenance and can be used for a longer period. The combination of durability and unmatched insulation values make this tent a very solid long-term investment.
Specifications and options
Tech specs
Dimensions
DST 13

6.10x2.15x2.40/3.30m, 13.1m² area, 135kg

DST 26

6.10x4.30x2.40/3.30m, 26.2m² area, 275kg

DST 40

6.10x6.45x2.40/3.30m, 39.3m² area, 410kg

DST 52

6.10x8.60x2.40/3.30m, 52.5m² area, 550kg
Options
Options
Colours: Grey interior, NATO green, sand colored or white exterior
Connecting hatch/lobby 1.5m and 2.5m
Lighting
Flysheet
Partition walls
Inflatable insulating floor mat
Rigid floor
Sunshade
Connecting corridors
Entrance vestibules
Custom-built container / vehicle sluice
HVAC
Logos
Safety
Safety
Wind load

120km/h

Snow load

80kg/m²
Tried & tested, proven quality
Instantly deployable
Short installation time
Optimized based on experience and feedback
Further customization possible
For temporary AND permanent use
Interested in this Rapid Deployment solution?
Feel free to reach out to us for more information.