Longines Beach Club
Commonwealth Games 2018, Longines
To allow Longines to celebrate the achievements of athletes during the Commonwealth Games, we delivered the spectacular beachside Longines Records Club.
Client

Commonwealth Games 2018

A beach club to celebrate success
With the official motto ''Share the Dream', the 21. Commonwealth Games took place from the 4th to the 15th of April 2018 in the wonderful city of Gold Coast, Australia. The international sports event celebrated over 4000 athletes of 71 member states and around 300 attending para-athletes.
The traditional Swiss watch manufacturer Longines was the official timekeeper of the event and established the Longines Records Club in a cubic, beachside event location from Losberger De Boer.
There was no sign of tears, sweat or exhausted athletes at Longines Records Club on the seaside promenade. Instead, the happy winners, celebrity guests and visitors of the Commonwealth Games had every opportunity to celebrate the athletes successes. The event hall was used as showroom, dinner location and lounge for various events during the Commonwealth Games.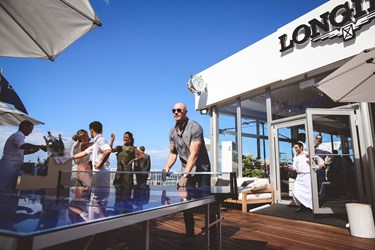 'Share the Dream'
Longines required the highest standards in quality and design, which were able to deliver. Working with interior design agency 'La Cellula', the teams created a look that was especially high-end and elegant.
The vertical glass elements allowed the interior space to be flooded with light and created a stunning panoramic view of the sea. The result was a space solution that masterfully reflected the image and products of the Longines brand and fitted perfectly into the maritime beach setting.
How did we do it?
We built the Longines Beach Club using our Kubo structure (10,5 / 400 x 20m), with additional glass elements, insulated roof covers, individualized attica and flooring.
Interested in this Event space solution?
Feel free to reach out to us for more information on owning or renting one of our structures.