First Responders Solutions
Our First Responders Solutions are developed to support firefighters, police forces and medical professionals in their everyday rescue operations. Our rapid deployment shelters, jumping cushions, decontamination tents and chemical spill bags are perfectly suited for use in emergency situations.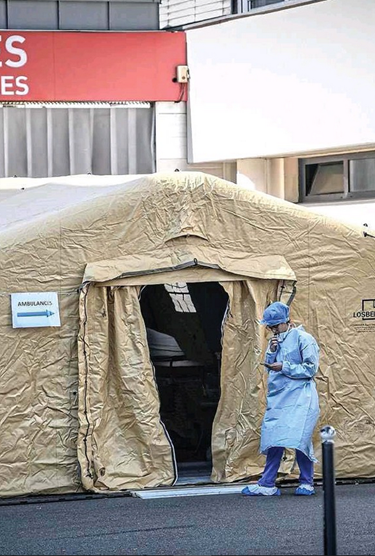 Quick and easy installation because every minute counts
Our first responders shelters are lightweight, easy to manoeuvre, and very quick to install. Their self-inflating frame technology allows 2 to 4 operators to have one operational in under 5 minutes. This means your team is free to concentrate its efforts on rescuing people and saving lives.
We can supply first responders with rapidly deployable shelters, jumping cushions, decontamination tents and chemical spill bags, which are ideal to intervene quickly in case of fire, flooding, natural disasters, and chemical and Industrial spillages and explosions. They can also be used to setup a command or medical (triage) post quickly, during Urban Search and Rescue (USAR) missions, missing person ground searches, terrorist attacks, and rescue operations.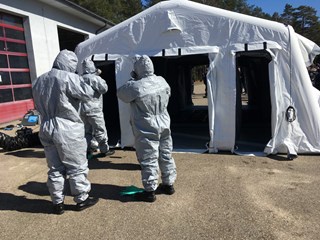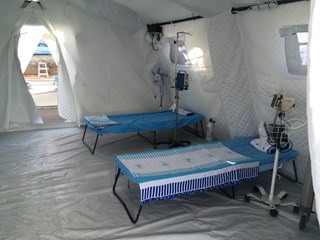 A sheltered, private space for effective decision-making
Because rescue operations often attract passers-by and journalists, it is essential that emergency workers have access to a sheltered space, away from crowds or onlookers, to make the right strategic decisions.
Our shelters are ideal to provide a safe and quiet environment, where first responders can coordinate their efforts and perform first aid procedures, without disturbance or interruption from external factors.
Fully equipped, quick-to-install decontamination tents
Decontamination tents are the perfect means to carry out onsite cleaning and decontamination procedures after a chemical plant explosion or incident in which hazardous materials are released. As speed is of the essence, our decontamination tents are easy to transport and install; you can have a fully equipped decontamination system in place in less than half an hour.
Our decontamination tents come with an integrated shower system, and are composed of several decontamination lanes to allow for a steady influx of people that have been exposed to hazardous materials. This provides you with optimal scanning and disinfection conditions, allowing you to help them as quickly as possible.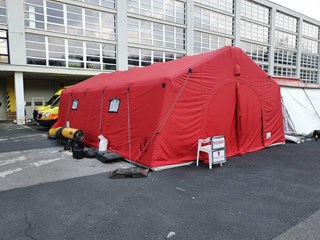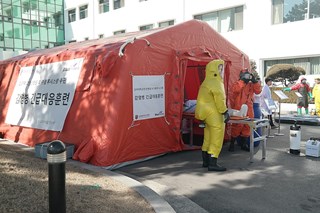 Self-inflating, certified jumping cushions
Jumping cushions are designed to help rescue people that are trapped in their home by fire, when exits, ladders or elevators are inaccessible. Our jumping cushions self-inflate using a compressed air cylinder and are ready to use within 30 seconds, offering an instant solution in critical fire rescue operations.
Our self-inflating jumping cushions are available in two sizes, for jumps of up to 16m and 23m, and are fully certified and tested for optimal safety.
Always focussed on the specific needs of rescue staff
We have decades worth of experience in supplying first responders and emergency workers with the perfect tools that allow them to do their job as efficiently and safely as possible. As a result, we have gained valuable insight into the specific logistical and operational implications of rescue missions and training exercises.
We are focussed on the needs of rescue staff, and have further developed our first responders solutions to be as lightweight, easy-to-use and quick-to-install as possible. Our products are aimed at offering the most efficient and fast solution for those that are always pressed for time: rescue workers.
Key advantages:
Lightweight products for easy transport
Plug-and play designs for operational proficiency
Instant deployment in just a few minutes
Bespoke products for specific rescue operations
Worldwide support and training
Our services
Undivided attention to quality and security
An experienced Account Manager
Our Account Managers are specialists who focus on your needs and on providing you with professional guidance and the best customer experience.
A partner that is involved from the onset
Tell us what you need, and we will work with you. Our design and engineering team is here to turn your particular requirements into a functional reality.
The win-win outcomes of training and support
Training end-users on deployment techniques and product usage has a big impact on the longevity of our products. It also helps us to gain valuable feedback on our products.
Your anonymity is our foremost priority
We understand the importance of discreetness and confidentiality in the military and aerospace sectors. So we will always consult with you before releasing any pictures or material.
Some Numbers & Statistics
Losberger De Boer was founded in
0
Number of subsidiaries around the globe
0
Number of professional workers worldwide
0
Average customer satisfaction rate over 2020
9,1
Interested in this Rapid Deployment solution?
Feel free to reach out to us for more information.