Venues for product launch: showcase your brand
We can create the perfect venue for your product launch, or deliver a stunning showcase within the venue, to put both your brand and your new product in the spotlight.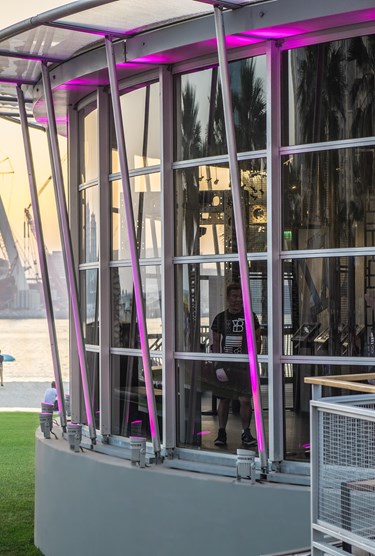 Launching your new product at an event
A trade fair or industry event can be a great opportunity for a product launch, as many of your industry peers are sure to be there. We can help you make the most out of the space you have available at the event.
For physical products, we can create a stunning showcase that will prove to be a showstopper. For other products, we can create a venue within the venue, allowing you to present your product in a setting of which you have complete control over in terms or lighting, sound, seating, catering, and so on.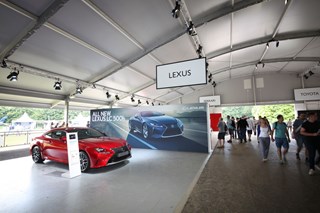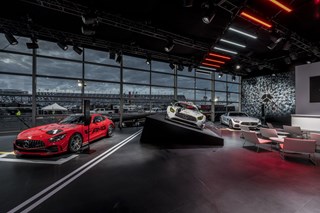 Create your own event for a product launch
We create space solutions with a wow factor. Over the years, we have designed, produced and built top class venues of all shapes and sizes. Our temporary venues can stand alone, or be attached to existing buildings. This makes our structures ideal for a product launch on your own grounds.
Our structures stand out in terms of design, build quality and style, and can be easily adapted to match any footprint. We can help you create the perfect venue for your product launch or presentation.
Introducing a new car: from showcase to showroom
Throughout the years, we have been asked to help many car brands to present their new models. We have built showcases and showrooms at large scale events, such as the Goodwood International Festival of Speed and the 24h Le Mans.
From showcase to showroom, we can customize our structures to meet your every need in terms of size, design and branding. We can help you setup the perfect showcase; contact us and we'll work with you to incorporate all your wishes in our design.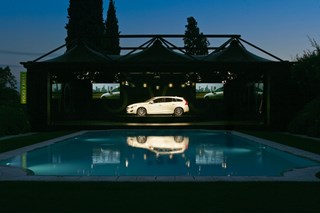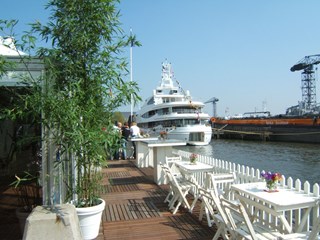 Ceremonial ship launching: tents for boat christenings
We have a lot of experience with boat christening ceremonies, from yachts to new ferries or transport ships. One of the advantages of welcoming your guests in a Losberger De Boer hospitality tent, is that we can build our structures in the dock, right next to the ship.
Because our buildings are modular by design, they can be tailor made to match any footprint, and the building process itself doesn't take up much extra space. Even in cramped harbour areas, we always manage to create a fitting and welcoming hospitality area for the ship launching ceremony.
Let's create a great product showcase
We can help you launch your new product with a bang, by providing you with the perfect showcase or venue for your product launch.
We have a great deal of experience with supplying the backdrop or venue for a successful product launch. Over the last decades, we have been asked to help major brands like Volvo, Discovery Channel, Subaru and several high-end yachting companies introduce their new cars, shows and boats to their relations.
Product presentation
We have a large product range of top of class temporary and permanent buildings, that are perfectly suited to product presentations.
Whether you need an excellent venue for your product launch, or require a product showcase within a venue or event location, we have the experience and product portfolio to offer you the best possible options.
We have an excellent reputation as a supplier of corporate event solutions. We design and produce all our buildings ourselves in our facilities in Germany and The Netherlands, to ensure that we always deliver contemporary designs that set the standard in our industry.
Our services
Undivided attention to quality and security
An experienced Account Manager
Our Account Managers are specialists who focus on your needs, and on providing you with professional guidance and the best customer experience.
An experienced Site Manager
Our Site Managers have all the experience needed to deliver safe, efficient and well organized project, without worries, on time and on budget.
The highest quality structures available
We design, engineer, produce and build all our structures, to ensure that our buildings live up to the high standards we have set for ourselves, and that our clients have come to expect.
The assurance that the event will go ahead
Our structures can withstand extreme weather conditions and our team are used to highly complex operations in terms of logistics and planning. We always deliver.
Some Numbers & Statistics
Losberger De Boer was founded in
0
Number of subsidiaries around the globe
0
Number of professional workers worldwide
0
Average customer satisfaction rate over 2021
9,2
A one-stop-shop experience
Hosting or organizing a product launch takes a lot of time. We are happy to help you and take work off your hands by offering you a one-stop shop experience.
Whoever organizes a corporate event has to overcome numerous obstacles, ranging from dealing with a large number of stakeholders and suppliers to logistical and budgetary challenges. We know this. That's why we offer to help you with as much as possible.
Additional services
We can provide you with a bespoke venue that is both spectacular and fully functional, within the agreed budget and timeframe. Our experienced team can help you find the perfect partners to create the best atmosphere and comfort level for all visitors. Would you like us to take care of the interior decoration, climate control, sanitary units, lighting, security, permits, and so on? These essential elements of the project are what we work with every day, so you can trust us to deliver on these facilities too.
We have a wide network of trusted partners, whose quality of work we can guarantee. We'll contact them and make sure that you swiftly receive an offer that meets your requirements and budget. While we ensure that everything is arranged to the last detail, you can focus on your role and the success of your event.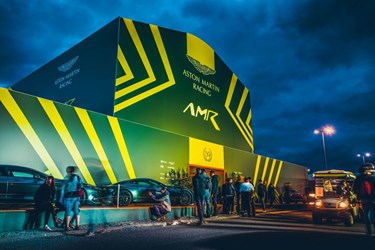 "Creating unique moments"

Lewis Ledouit Communication Manager iEvent
Testimonial | Event Space Rental
'We rely on Losberger De Boer's know-how'
We are proud to say that we have worked with iEvent on numerous occasions, on fantastic events such as the 24hLe Mans.
"We create unique moments during major events. To do this, we need to work with trusted partners, that are able to bring our creative ideas to life. That's why we work with Losberger De Boer, to be able to rely on their know-how and to face our challenges together."
Interested in this Event space solution?
Feel free to reach out to us for more information on owning or renting one of our structures.