Command Post & Tactical Operations Centres
Our Command Posts and Tactical Operations Centres provide a rapidly deployable sheltering solution that facilitates decision-making and coordination in emergency situations and during military operations.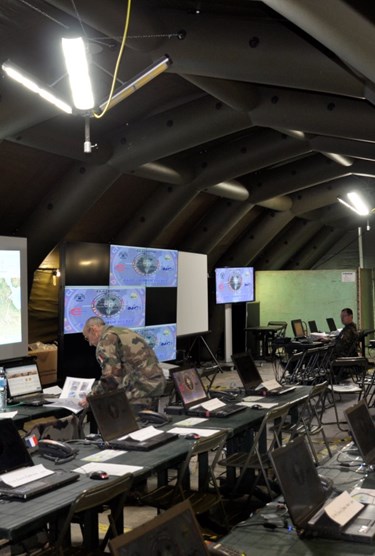 Fast and flexible military command post solutions
Our Command Posts and Tactical Operations Centres are developed to allow for a quick response in case of emergency situations or military incidents. They provide a rapidly deployable sheltering solutions that facilitates decision-making and coordination.
This military solution is built for speed. Our Command Posts and Tactical Operations Centres are easy to pack and transport, quick to deploy and offer a 'plug and play' design. They are fully modular, allowing for different configurations and are compatible with command post vehicles and containers. We can deliver them in a camouflage or black-out cover.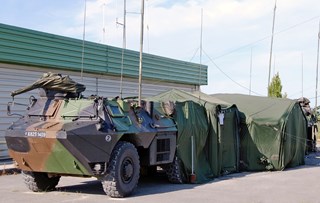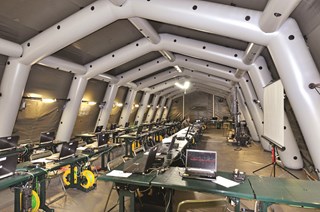 Rapid deployment tents for fast decision making
Our Command Posts and Tactical Operations Centres are usually based on a combination of rapid deployment tents, which connect to your command tanks and expandable containers through special connecting sluices.
Whether inflatable or foldable, our tents can be erected and torn-down in 5 to 10 minutes, depending on their size. They are perfect for emergency situations, fast-paced operations and short-notice troop movements.
Highly modular design allows for various configurations
A key feature of our Command Posts and Tactical Operations Tents, as well as the accompanying sluices, is their modular nature. Their modular design allows them to be connected to each other in various configurations to fit your specific equipment and operational requirements, and to facilitate crosstalk and information transfers within the command post.
Our square tents, for example, are ideal for cross-shaped layouts, and can be connected to other larger tents for headquarters, offices or control centres. You can also connect your containers and vehicles alongside a spine-like line of several tents to build a larger command post.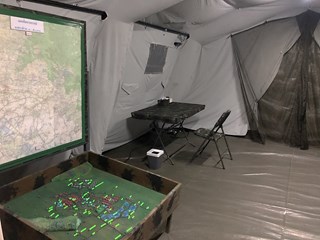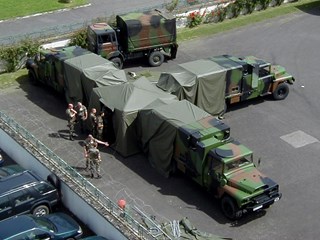 Easy to transport for maximum mobility
Mobility and effective logistics are key in minimizing vulnerability. Therefore, our Command Posts and Tactic Operations Tents and Sluices are designed to reduce the need for special mounting tools to the absolute minimum. Moreover, all necessary interfaces, such as pre-fitted sleeves for cables and HVAC ducts, or extra plugs for your electric devices, are incorporated in the design.
They come in special heavy-duty transport bags with reduced size and weight, and can even be vehicle-mounted if required.
Tailor made covers, tried and tested durability
We will design your Command Post and Tactic Operations Centre to meet your specific needs. This means we can adapt the cover of our tents according to your country's specific camouflage pattern, provide multi-spectral camouflage nets, or use specific black-out fabric so that your command post remains undetected by enemy drones.
A highly durable solution
Trough providing regular training and support to military organisations, we have gained valuable insight in the everyday use and handling of our command posts, which, in turn, has helped us improve their design, reduce wear-and-tear, and prolong our products' life span. This means all the components of our command post are made from high-grade materials and are designed to withstand rough deployment conditions, with multiple un-packing and repacking operations in often very harsh climates.
Key advantages:
Rapid deployment for fast-paced operability
Modular design for adaptive configurations
Logistically optimised as per your transport and packing needs
Heavy-duty materials and durability
Camouflage covers and nets available upon request
Worldwide support and training
Our services
Undivided attention to quality and security
An experienced Account Manager
Our Account Managers are specialists who focus on your needs and on providing you with professional guidance and the best customer experience.
A partner that is involved from the onset
Tell us what you need, and we will work with you. Our design and engineering team is here to turn your particular requirements into a functional reality.
The win-win outcomes of training and support
Training end-users on deployment techniques and product usage has a big impact on the longevity of our products. It also helps us to gain valuable feedback on our products.
Your anonymity is our foremost priority
We understand the importance of discreetness and confidentiality in the military and aerospace sectors. So we will always consult with you before releasing any pictures or material.
Some Numbers & Statistics
Losberger De Boer was founded in
0
Number of subsidiaries around the globe
0
Number of professional workers worldwide
0
Average customer satisfaction rate over 2020
9,1
Interested in this Rapid Deployment solution?
Feel free to reach out to us for more information.