Deployable camp facilities for NATO
The NATO Support and Procurement Agency (NSPA) is NATO's main services provider, delivering a broad spectrum of integrated capabilities for the Alliance, its member nations and partners. The purpose of this particular solution was to supply deployable camp facilities to the Lithuanian and Latvian Armed Forces.

A diverse range of camp facilities
As with all NATO projects, this contract was subject to a clear-cut tendering procedure, bound by strict guidelines and precise European norms and regulations. Its scope was quite diverse, as it combined a mix of small and larger tents and accessories for accommodation shelters, dining facilities, offices, administrative facilities, warehouse and hangars, with high quality and durability requirements.
Thanks to our long-standing experience with field camp integration, our wide range of tented products for military use and our broad network of quality suppliers, this contract was awarded to us. It came with a challenging delivery time of 5 months.
NATO projects
This project gave us the opportunity to reaffirm our capabilities towards the NSPA, and to strengthen our reputation as a key military solutions provider, and we are thrilled to be working on a new exciting project for NATO, for the delivery of Office and Accommodation Facilities for 1800 pax.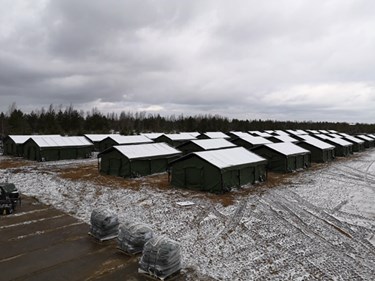 Let's get technical
What did we deliver?
Given the wide array of tent uses and sizes that were requested, we delivered a a mix of products, with larger Prostock structures for the maintenance and multi-purpose hangars, and smaller TAM tents for the accommodations. This was complemented by a multitude of additional equipment such as HVACs, insulation liners, hard flooring, containers, racks, etc. Particular attention had to be given to the thermal resistance of our products due to the geographical location of the end-user, with temperatures as low as – 32°C, winds of up to 52 m/s, and snow loads of up to 75kg/m².
Interested in this Rapid Deployment solution?
Feel free to reach out to us for more information.