Fast temporary or replacement business space in response to unforeseen disasters
Do you (quickly) need temporary or replacement space to keep your business running after unforeseen disasters, such as fires, storm damage or rain damage? We can help you recover and resume operations within a few days.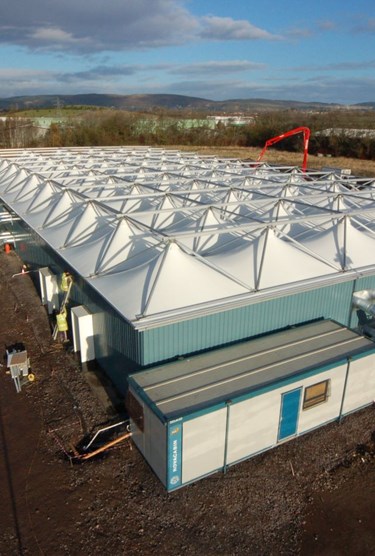 Replacement store space or temporary showrooms
Is your retail space unusable due to fire, storm or water damage? Or do you need a temporary showroom quickly to meet the challenges of unforeseen circumstances? We have a wealth of experience in the building and delivery of temporary store space and replacement supermarkets. You can find more information about our space solutions for retailers and supermarket owners and operators here. Or, you can also contact us directly. We can also build a replacement showroom at very short notice.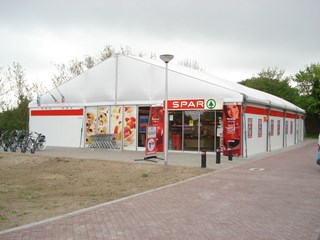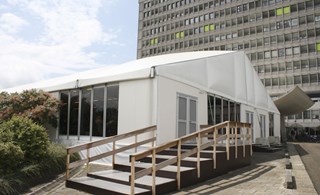 Replacement dining or office space
Is your canteen or dining facility inaccessible? Has an accident or extreme weather prevented you from using your existing office space? While we cannot replace materials or inventory, we can help you get back to business with the provision or replacement canteen or temporary office space within only a few days. For decades, we have helped many companies and educational institutions quickly find replacement dining room and office space solutions.
Replacement storage or production space
Over the years, we have gained a lot of experience in the delivery of short-term storage space and factory buildings. In the past, we provided Aulds industrial bakery in England with the space it needed to resume production. After delivery of our structure, the bakery confirmed Losberger De Boer was selected to provide a solution because we were able to handle this emergency request rapidly. We received the following feedback from the customer: "Losberger De Boer has specialized experience and logistical competences in the field of emergency accommodation. Losberger De Boer's solution perfectly solved our problem, and the company provided a comprehensive solution from concept all the way through to handover."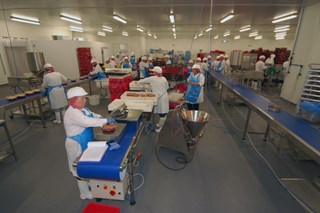 Replacement classrooms and school buildings
We help schools and educational institutions to continue teaching and offering lessons, even through unprecedented events. Within just a few days, we can deliver and install a replacement school building or extra classrooms. Our unique experience in this sector and structures we offer perfectly meet the demands of educational facilities who need replacement facilities fast.
Replacement business space ready-to-use within days
Should your business be impacted by fire, flooding or storm damage, it is essential to have access to replacement premises as quickly as possible to ensure the effects are not long-term. We can provide an emergency replacement facility within just a few days so that you can quickly get back to business.
The impact of extreme weather and other unforeseen disasters has on your business can be devastating and sudden. After all, every day your business faces downtime costs money. We have a wide range of temporary structures we can place at very short notice to help you stay open and productive.
Our services
Undivided attention to quality and security
Delivery reliability
Over the last years, 99.2% of all our material deliveries have been on time. The last 0.8%? Working on it! Apart from delivering in time (and on budget), we always make sure that there is a proper on-site inspection and handover. As we design, engineer, produce and build all our structures ourselves, our installation crews are very well familiar with all our buildings.
Excellent project management
Our project managers are highly experienced professionals, that have successfully delivered a large number of complex projects. Most of them have been providing clients with top-of-class space solutions for over a decade. Before the start of the project, you will be given on single point of contact. This person will know the ins and outs of your project and is available 24/7.
The best possible advice…
…for the best possible results. Our experienced and highly knowledgeable team will not shy away from giving you advice, even when you know exactly what you want. Why? Because oftentimes expert advice makes the difference between a good, and the best possible solution. Because that's what we strive for, together with giving you a great customer experience.
Safety is never an issue
All Losberger De Boer crew members are fully qualified and certified to construct our buildings in a safe and compliant manner. Our structures adhere to the highest safety standards, as they contain only high-quality materials and are engineered, designed, and produced by our own product development specialists.
Some Numbers & Statistics
Losberger De Boer was founded in
0
Number of subsidiaries around the globe
0
Number of professional workers worldwide
0
Average customer satisfaction rate over 2022
8,9
We understand the need for speed
After any type of disaster, you want to be up and running again as soon as possible. For our customers, we are a trusted partner who understands that and acts accordingly. From the moment you contact us, we activate our rapid deployment procedure. This means, among other things, we look to our expansive range of finished, in-stock structures we can mobilize to meet your needs within days, not months.
Our expertise in the delivery of temporary buildings and emergency solutions means we can often help companies and institutions, depending on the individual requirements of the project, within a few days or weeks, so you don't have to wait to get back to business.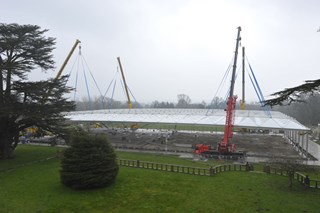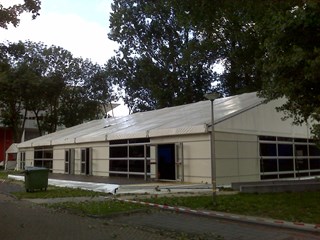 Your emergency facilities delivered fast and turnkey
We understand the response to a disaster that halts productivity has a lot of moving parts. That's why we make every effort to take as much work (and worry) off your hands as possible.
Within a very short period of time, we will build a replacement business space for you and, if required, we can even take care of furnishing it so it's ready-to-use. If you need your temporary structure to come equipped with sanitation facilities, heating and furniture, we can take care of every element in partnership with our trusted network of suppliers. Our support also extends to the application for emergency permits should you need assistance. If you choose Losberger De Boer, you are choosing a partner who is committed to your success and is focused on getting you through this difficult period as quickly and efficiently as possible.
An expansive stock of ready modular space solutions
We have an expansive range of building structures and always have a wide choice of completed structures and parts in stock and available. Because our buildings are modular, different structures can be combined in an almost infinite number of configurations. This means we can match your requirements and available space perfectly. We also provide a wide variety of walls, doors, roofs, floors and stairs, so we can always provide you with a custom solution quickly.
Thanks to our smart building systems and the scale of our company, speed and customization go hand-in-hand. With Losberger De Boer, you can have it all.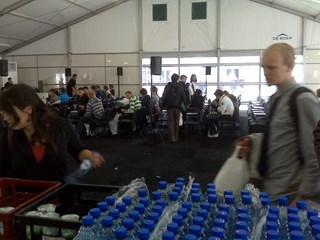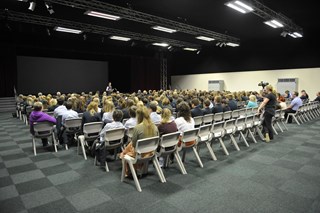 Unrivalled delivery speed without sacrificing safety
While we can quickly provide you with a replacement business space or educational facility, you can be confident that speed never comes at the expense of safety. Our structures meet the most stringent safety requirements in terms of fire safety and wind and snow loads. Our global presence and extensive experience mean we know extreme weather and what it takes to meet its challenges safely.
Our experienced people who come to your site to deliver your emergency structures always work in accordance with the latest guidelines in the field of safe working practices. All Losberger De Boer project staff are qualified and fully certified to guarantee a safe construction process. Safety is an integral part of our quality program, always comes first and is in everything we do.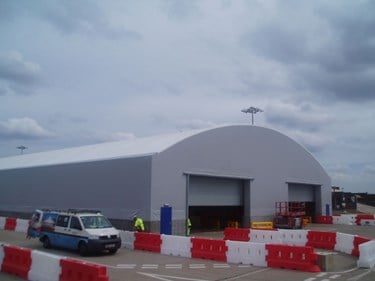 "High quality end product"


Amanda Warner Project Manager Development Heathrow Airport
Testimonial
'Losberger De Boer delivered a quality airport facility'
"Building any facility in a live operational Airfield area has unique complexities beyond usual construction constraints. Losberger De Boer rose to the challenge and delivered a quality facility."

'Smoothly and without incident'
"Every operation was carried out smoothly and without incident. There was a belief that we would conquer the seemingly impossible schedule right from the start."
On future projects: "With proven planning, delivery and operation of such facilities and not least of all, extensive experience working within one of the busiest operational airports in the world, Losberger De Boer will provide a high quality, professional end product."
Interested in this Commercial space solution?
Feel free to reach out to us for more information on owning or renting one of our structures.