A replacement supermarket you can use for years
Need a temporary replacement supermarket? We can build a high-end retail facility that you can use indefinitely in short term. And your customers won't be able to tell the difference.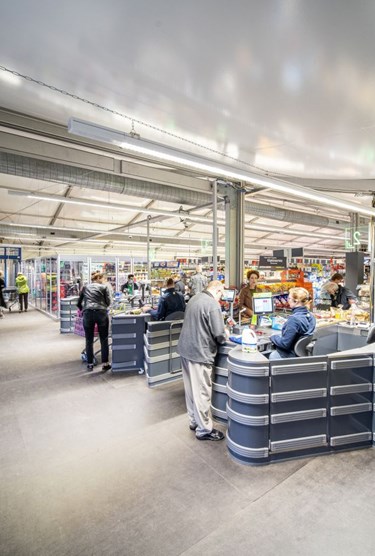 Need a quality replacement supermarket?
Are you in need of a replacement retail facility? Our semi-permanent supermarkets are rapidly deployable and offer the same level of comfort for your guests and employees as your current property. They are ideally suited to bridge the gap during a renovation or rebuild period, while you maintain your revenue flow and current service level.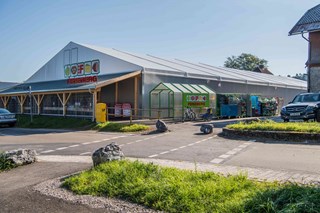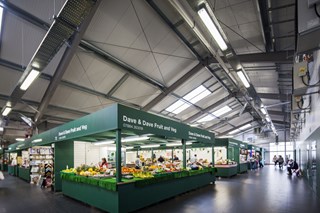 Your new retail facility operational within weeks
As you know, building or finding a new facility takes a lot of time and quite often requires a massive investment. As the world's leading modular building specialist, we can provide you with a replacement supermarket within weeks, and even faster when there's an emergency. We were able to help clients who suffered fire damage by delivering a fully functional supermarket within one week!
A new supermarket, tailor-made to meet your every need
One of the many benefits of modular construction is the flexibility it brings both us and our clients. It allows us to build a supermarket or retail facility to your exact specifications. To put it simple: if you have the space, we have the structure. Whether temporary or permanent, your new supermarket can be just as big, or bigger, than your previous facility. It can be tailor-made to maximize the amount of space you have available. Our structures are free-span, which means the interior space is completely open, without intrusive support columns.
Short-term flexibility, long term solutions
Our structures are extremely flexible. They can be relocated and scaled up and down, to continue to meet your space requirements for years (and decades) to come. You can extend your new supermarket after a few years, scale it down or relocate it, or, when located on the same grounds, connect it to another building.
We don't compromise…
…on safety and quality. All our buildings use high-quality, German-engineered and produced components exclusively. They are installed by professionals and adhere to the strictest building safety regulations, offering you the peace of mind that your customers and employees are in a safe environment at all times.
Our services
Undivided attention to quality and security
Delivery reliability
Over the last years, 99.2% of all our material deliveries have been on time. The last 0.8%? Working on it! Apart from delivering in time (and on budget), we always make sure that there is a proper on-site inspection and handover. As we design, engineer, produce and build all our structures ourselves, our installation crews are very well familiar with all our buildings.
Excellent project management
Our project managers are highly experienced professionals, that have successfully delivered a large number of complex projects. Most of them have been providing clients with top-of-class space solutions for over a decade. Before the start of the project, you will be given on single point of contact. This person will know the ins and outs of your project and is available 24/7.
The best possible advice…
…for the best possible results. Our experienced and highly knowledgeable team will not shy away from giving you advice, even when you know exactly what you want. Why? Because oftentimes expert advice makes the difference between a good, and the best possible solution. Because that's what we strive for, together with giving you a great customer experience.
Safety is never an issue
All Losberger De Boer crew members are fully qualified and certified to construct our buildings in a safe and compliant manner. Our structures adhere to the highest safety standards, as they contain only high-quality materials and are engineered, designed, and produced by our own product development specialists.
Some Numbers & Statistics
Losberger De Boer was founded in
0
Number of subsidiaries around the globe
0
Number of professional workers worldwide
0
Average customer satisfaction rate over 2022
8,9
In short… why choose a Losberger De Boer supermarket?
With our temporary and permanent production facilities, we offer solutions for long-term capacity demands, that can be placed on short term. We have a wide range of modular structures, that can be built within weeks of your first inquiry.
All our structures are modular and of our own design, which ensures you that they:
Can be tailor-made to meet all your space requirements;
Are relocatable;
Can easily be scaled up and down;
Offer great flexibility;
Adhere to the highest standards in terms of quality, safety and sustainability;
Are a cost-efficient alternative to traditional buildings;
Can be installed within weeks;
Can be used for decades.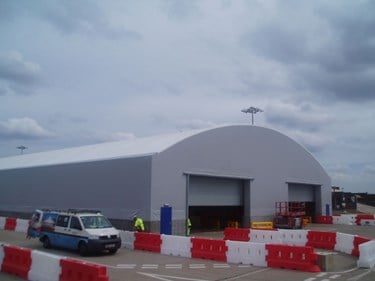 "High quality end product"


Amanda Warner Project Manager Development Heathrow Airport
Testimonial
'Losberger De Boer delivered a quality airport facility'
"Building any facility in a live operational Airfield area has unique complexities beyond usual construction constraints. Losberger De Boer rose to the challenge and delivered a quality facility."

'Smoothly and without incident'
"Every operation was carried out smoothly and without incident. There was a belief that we would conquer the seemingly impossible schedule right from the start."
On future projects: "With proven planning, delivery and operation of such facilities and not least of all, extensive experience working within one of the busiest operational airports in the world, Losberger De Boer will provide a high quality, professional end product."
Interested in this Commercial space solution?
Feel free to reach out to us for more information on owning or renting one of our structures.