Emergency Housing
Our emergency housing solutions are designed to provide fast and sustainable relief to civilian populations affected by forced displacement.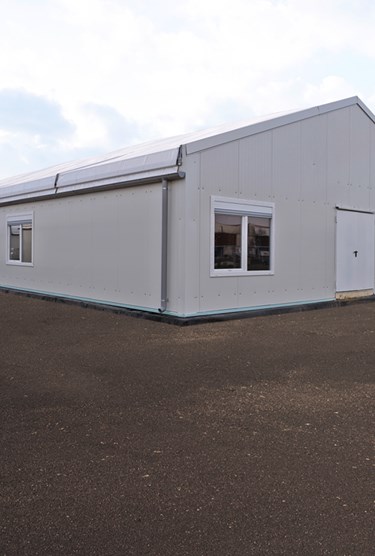 Our emergency housing solutions offer much needed aid in case of:
Natural disasters
Droughts and floods
Military conflicts
Civil wars and political unrest
Ethnic persecution
Human rights violations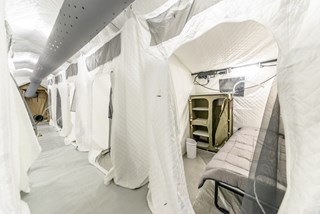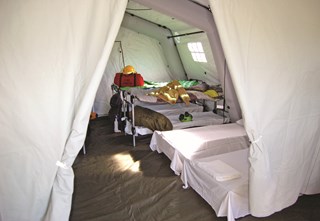 Solutions aimed at restoring decent living conditions
Our emergency housing solutions range from rapidly reployable accommodation units that can be installed instantly, to living facilities that are suited for long term use.
What they all have in common, is that they that they are specifically designed to aid people in need as fast as possible, by restoring decent living conditions for crisis-stricken civilians, regardless of the environmental conditions they are in.
Crisis relief: when every minute counts
Our rapidly deployable inflatable tents are ideal to provide instant accommodation facilities after natural disasters such as hurricanes, earthquakes and large floods. These inflatable tents are available in sizes of up to 145 m2 and can be installed in 5 to 30 minutes, regardless of terrain and weather conditions.
They are modular, which means that they can be connected to form various configurations, whilst their heavy-duty PVC cover guarantees a 100% water-proof living environment.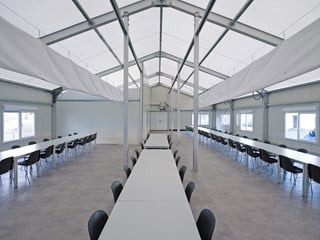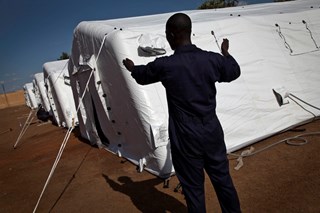 Long-term humanitarian housing solutions
Because forced displacement is often rooted in political conflict, which can lead to and extensive and prolonged accommodation crisis, we believe it is important to adopt a long-term approach to humanitarian aid, so as to provide decent and sustainable living conditions for those in need.
Fully equipped with air-conditioning and heating, insulated panels and inner partitioning walls, our fabric covered housing units were developed to cater to the long-term needs of refugee populations, and to provide them with comfort as well as much-needed amenities such as shower, toilet and laundry facilities.
Specialists in the field of disaster relief and humanitarian aid
Our extensive experience within the humanitarian and disaster relief sector has seen us work hand-in-hand with NGO's and international institutions on numerous occasions. This has given us precious insights into the logistical, diplomatic and budgetary challenges of providing suitable assistance to populations in distress.
We have ample stock and are ready to go
For this reason, we operate a strict stock management policy, to ensure that we always have sufficient accommodation tents available in case of a crisis. This policy has enabled us to respond quickly to international demand across the globe and to intervene efficiently during various humanitarian missions across the word.
Always ready for deployment

We maintain strict stock management so that, in the event of a refugee crisis, we always have enough material for a rapid roll-out. This means we can always meet the acute demand for emergency accommodation quickly.

The blueprints are ready

Our emergency accommodations are designed to provide an all-in-one solution for refugees or asylum seekers. We have the blueprints ready, and we can adapt them quickly and effectively to the current situation. We deliver our housing solutions ready to use, and equipped with all the desired facilities (sanitation, flooring, kitchen, climate control, etc.).

The main advantages of working with Losberger De Boer:
Short and long term shelter and housing in an integrated solution
Immediate availability
Decades worth of experience with providing humanitarian aid
Tailor-made space solutions
Housing location remains scalable and relocatable after installation
Our services
Undivided attention to quality and security
An experienced Account Manager
Our Account Managers are specialists who focus on your needs and on providing you with professional guidance and the best customer experience.
A partner that is involved from the onset
Tell us what you need, and we will work with you. Our design and engineering team is here to turn your particular requirements into a functional reality.
The win-win outcomes of training and support
Training end-users on deployment techniques and product usage has a big impact on the longevity of our products. It also helps us to gain valuable feedback on our products.
Your anonymity is our foremost priority
We understand the importance of discreetness and confidentiality in the military and aerospace sectors. So we will always consult with you before releasing any pictures or material.
Some Numbers & Statistics
Losberger De Boer was founded in
0
Number of subsidiaries around the globe
0
Number of professional workers worldwide
0
Average customer satisfaction rate over 2020
9,1
Interested in this Rapid Deployment solution?
Feel free to reach out to us for more information.