The new standard in permanent space solutions
Induflex
From the Losberger De Boer Product Development Department comes the new induflex hall, a lightweight structure that represents the pinnacle in durability, construction and worker safety, whilst being highly flexible, quick-to-build and easily scalable.
Configure now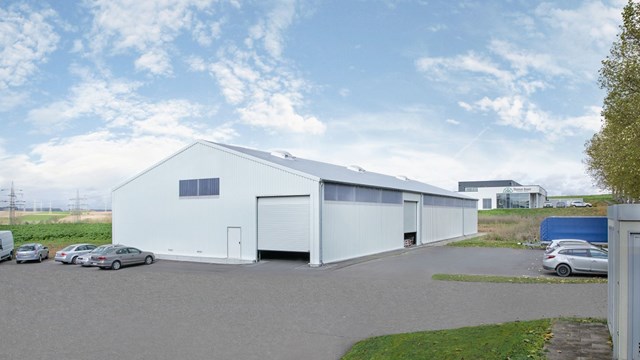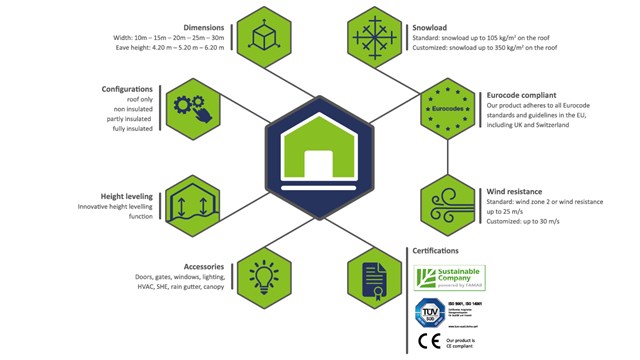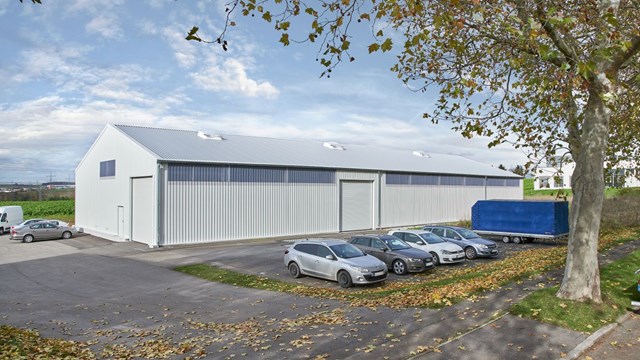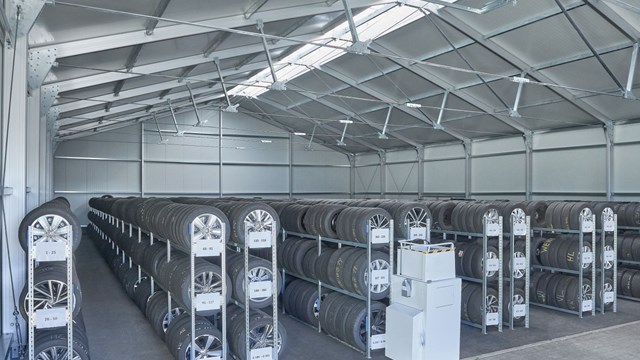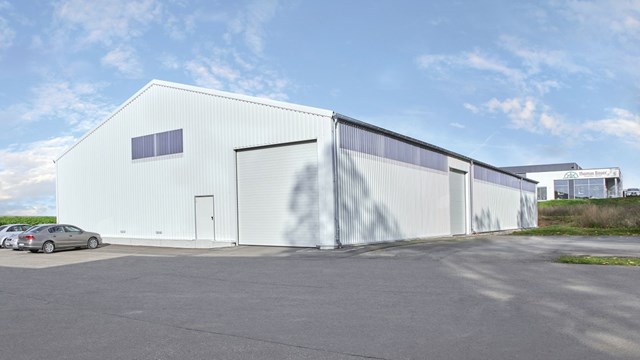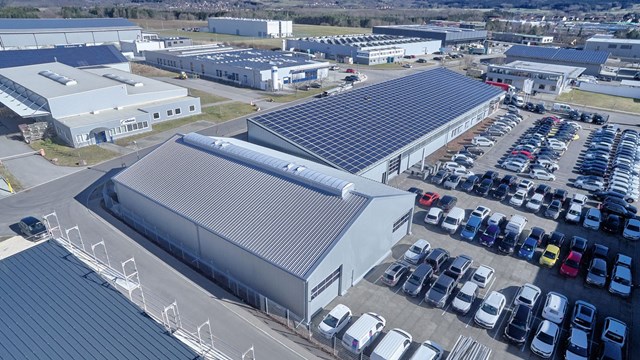 Highlights:
Permanent flexibility
Lightweight
Durable and Eurocode compliant
Scalable for permanent flexibility
The induflex is available in a large number of configurations and sizes. The structure is highly flexible and can easily be scaled up and down, allowing you to quickly respond to market developments or peaks in production or supply. So, if your requirements change, we can easily adapt your space solution within days.
Safety
When developing our newest structure, safety was our top priority. In recent years, the weather has become increasingly unstable and unpredictable, and safety regulations for buildings of all types, shapes and sizes have gotten stricter. Our team of engineers was able to further improve the design of the roof system, offering even more support and enabling it to carry even more weight and handle higher wind speeds than any existing common lightweight structure.
Snow load & wind resistance
The standard version of the induflex hall carries a snow load of up to 105 kg/m2 on the roof. The static calculation of this hall is Eurocode-compliant and thus meet the strictest building regulations for permanent buildings within the EU. On request, the hall can be customized and reinforced further so that the roof can bear a snow load of up to 350 kg per m2.
With strong winds and storms becoming increasingly frequent on the European mainland, safety and durability are of paramount importance when it comes to industrial space. The standard version of the induflex hall an excellent wind resistance and can handle wind speeds of 25m per second. With additional customization, the structure can be strengthened further to withstand wind speeds of 30 meters per second and above.
For more information on the Eurocode, scroll to the bottom of this page.
Recent innovations in the induflex hall
The induflex features a number of recent innovations that add to the structures' flexibility, that help shorten the already short installation time and that further improve worker safety during construction.
Height leveling function
One of our recent innovations is the new height leveling function, which is part of the foundation of the induflex hall. This feature, which is exclusive to structures by Losberger De Boer, ensures you that your industrial building is always level – even when the terrain is not. Height differences of up to 30 centimetres can be compensated, which saves you money and time when it comes to groundworks. This also contributes to the extremely short build time of the induflex, when compared to conventional buildings.
Worker safety
Worker safety should always be top priority. That's why we've equipped the induflex hall with connection points to integrate a fall protection system. This fall protection acts as a safety net during construction and maintenance work. By adding this feature, we can guarantee the safety of our and your employees, whenever they're working on the roof.
The induflex can be delivered with three levels of insulation:
Non-insulated
A non-insulated hall can be used e.g. for storage purposes. This version is equipped with a PVC roof, or a trapezoidal metal sheet roof and a trapezoidal metal sheet wall.
Partly insulated
The partly insulated option is equipped with a double layer PVC roof and sandwich panel wall. This configuration prevents condensation and keeps temperatures above freezing.
Fully insulated
If you require a permanent working space such as workshops, manufacturing halls, logistic hubs, with EnEV conformity, we offer a fully insulated solution, with insulating sandwich panels up to 200 mm in the roof and in the wall.
Specifications & options
The induflex is durable, can be scaled up and down and is Eurocode compliant, offering you permanent flexibility and the highest level of safety.
Tech specs
Width

10 – 30m (5-meter-bay-distance)

Lenght

flexible

Eaves height

4.20 m / 5.20 m / 6.20 m

Snow load (roof)

Standard up to 105kg/m², upgrade to 350kg/m²

Wind resistance

Standard up to wind zone 2 respect. 25 m/s, can be upgraded to 30 m/s

Delivery time

from 6 weeks

Please note

That there may be small differences in dimensions or options when you buy a tent system as opposed to renting a space solution. If you are interested in buying a tent system, our product specialists will lay out all possible dimensions, options and configurations for you.
Options
Height Levelling function
Cassette floor
Sandwich element
Trapezoidal sheet
Wall elements of hard PVC
Various door types and roller shutter
Light bands and light domes
Fire protection supplies
Heating and air conditioning
Air Conditioning Systems
Smoke ventilation and heat extraction unit
Safety
Eurocode compliant
Fire-resistant materials
Anchoring and construction are secure
NEN EN 13782
ISO 9001
ISO 14001
SCC**
Proven quality
Turnkey delivery
Highly customizable
Short delivery time
Short installation time
For temporary AND permanent use
Proud to work for these companies
About the Eurocode
The Eurocodes contain the basic European standards for structural design and dimensioning within the European Union. These standards have been drawn up to demonstrate compliance with the requirements for mechanical strength, stability and safety, to provide a basis for construction and engineering contract specifications and to provide the EU with a framework for drawing up uniform technical specifications for construction products (CE mark). The new induflex hall is 100% compliant with the requirements of the Eurocodes, offering you the peace of mind that your building is both safe and durable and meets the highest legal standards in terms of building and worker safety. This also means that the induflex hall can be built in all EU countries. As the Eurocode is accepted as one of the strictest building standards in the world this also applies to most export countries outside the EU.
Interested in this Commercial space solution?
Feel free to reach out to us for more information on owning or renting one of our structures.