Mobile Field Hospitals
Our mobile field hospitals are intended for both military and civilian purposes. When traditional health facilities are either not available, or heavily congested due to unexpected high demand, our mobile field hospitals offer a quick and viable solution.
Designed according to international standards
Our mobile field hospitals are designed according to international standards . In terms of the level of care, their size and capacity, and their capabilities to deliver predefined services, they can be grouped in the following categories:
Level 1: Outpatient Emergency Care
Level 2: Inpatient acute care, general and obstetric surgery for trauma and other major conditions
Level 3: Complex inpatient referral surgical care including intensive care capacity.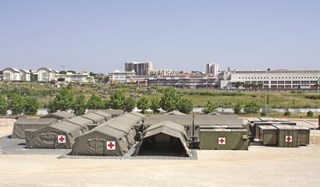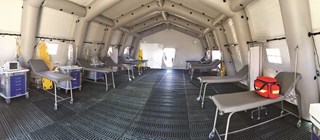 Mobile patient wards and staff accommodations
Depending on the level of care needed, our mobile field hospitals can be either a mix of tents, containers, or both. They are fully functional medical facilities that can be equipped with integrated patient wards, staff accommodations and basic life-support amenities such as sanitary facilities, and dining halls.
Our mobile field hospitals can be delivered with or without medical equipment, and we will adjust their design based on factors such as the availability of electricity and water in the designated deployment location.
Instant health care under any circumstance
Our mobile field hospitals are intended to function as rapidly deployable health care facilities under critical conditions, such as conflicts or natural disasters. They can be integrated into several possible base camp configurations, or be used as stand-alone units.
Our hospital units and their components have been developed with fast and easy installation and optimized operability in mind, so that the medical staff can remain focused on their job. We have narrowed down the number and types of components and made them interchangeable, to make our hospitals easy to install and quick to operate for optimal readiness wherever you are.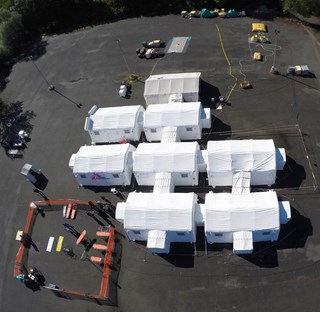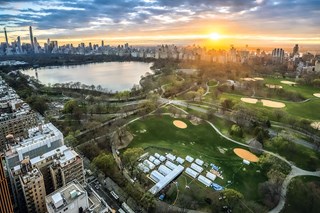 Developed with the patients in mind
Throughout the designing process of our mobile field hospitals, we have consulted experienced medical professionals and suppliers, to make sure that we kept a practical approach and that our hospitals comply with best practices and the latest standards in modern health care.
As a result, the layout of the tent takes the flow of patients (and the different required levels of care) into account, with triage zones leading to more specialised treatment units, and all utilities (water, lighting, ventilation, electricity) are sized and laid out accordingly.
Offering help and providing comfort to ease the hardship
Our mobile field hospitals are designed to mitigate the often very harsh conditions faced by patients and medical staff, by providing then with a safe haven with, wherever possible, added comfort and privacy.
In the design, for instance, we have added internal partitioning curtains, which reduce noise levels of surrounding air-conditioning and heating devices, power sources and lighting, so that patients can rest and recover and doctors and nurses can work in the best work environment possible. We have also made sure sanitary facilities and other amenities are easily accessible throughout, because all these seemingly small details can have a significant impact on patient recovery and medical staff readiness.
Turnkey Design
Our mobile field hospitals are conceived to provide an all-in-one solution for overseas operations and deployments. This means that all connecting elements, such as hydraulic pipes and electrical network cables, are included and are optimised to facilitate transport, deployment and usage, with plug-and-play designs and easy-to-use interfaces. We also tried our hardest to keep the use of mounting tools and engines to a minimum, for maximal autonomy.
Worldwide training and support
Our readiness support team is used to intervene all around the world, even in remote areas. They are at your disposal to provide training and after-sales assistance in almost any part of the world.
To summarize
These are the key advantages of Mobile field hospitals by Losberger De Boer:
Modular design for adaptive configuration and capacity requirements;
Custom-built facilities for enhanced patient and medical staff management;
Logistically optimised to meet all your transport and packing needs;
Designed to deliver as much comfort as possible;
Fully integrated turnkey solution;
Worldwide support and training.
Our services
Undivided attention to quality and security
An experienced Account Manager
Our Account Managers are specialists who focus on your needs and on providing you with professional guidance and the best customer experience.
A partner that is involved from the onset
Tell us what you need, and we will work with you. Our design and engineering team is here to turn your particular requirements into a functional reality.
The win-win outcomes of training and support
Training end-users on deployment techniques and product usage has a big impact on the longevity of our products. It also helps us to gain valuable feedback on our products.
Your anonymity is our foremost priority
We understand the importance of discreetness and confidentiality in the military and aerospace sectors. So we will always consult with you before releasing any pictures or material.
Some Numbers & Statistics
Losberger De Boer was founded in
0
Number of subsidiaries around the globe
0
Number of professional workers worldwide
0
Average customer satisfaction rate over 2020
9,1
Interested in this Rapid Deployment solution?
Feel free to reach out to us for more information.