Formula E races
First Formula E races Riyadh, Saudi Arabia
This award winning project is a great example of how advanced event structures can support a mega sporting event, like the first Formula E races in the Kingdom of Saudi Arabia.
Client

First Formula E races Riyadh, Saudi Arabia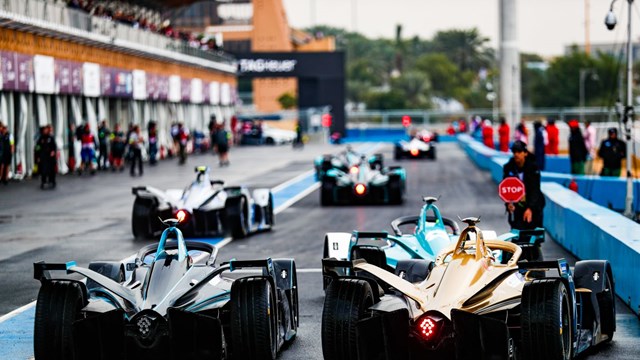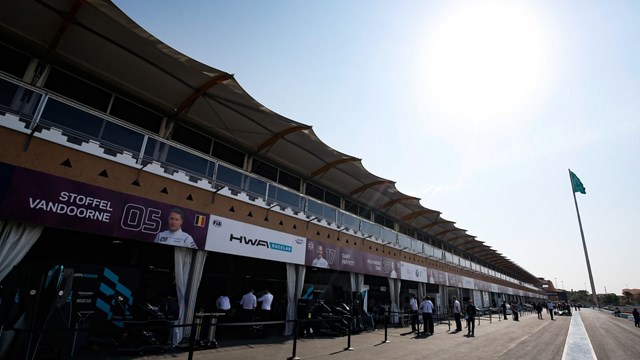 A pit lane structure with hospitality suite in 40 days
We were responsible for managing the turnkey delivery of the entire 190 metres long pit lane structure, which was an integral part of this event, within a tight 40-day build time, as well as the rapid dismantling of the structure immediately following race day.
Our client CBX asked us for a temporary, solid and high-quality structure that could be integrated into a seamless complex with pit lane facilities at race track level and VIP hospitality facilities. And we daresay we delivered.
Building right next to a busy road
Since the race track is located in the centre of a busy working city, the challenge was to keep disruption to local residents and businesses to a minimum. This was especially challenging as the pit lane structure had to be built next to an active public road creating access restrictions.
Safety was a key issue to CBX, so we opted to use fire-resistant materials and took extra measures to even further secure the anchoring of the structure. All structures and processes met the strictest international standards: EN NEN 13782, ISO 9001, 14001 and SCC.
It took 4,554 men hours and 23 days to build an outstanding 190-metre-long pitlane and hospitality building that fulfilled the mission to create the best customer experience.
Structures used:
Emperor 20 x 145m
Emperor 15 x 45m
Premier 10 x 125m
Emperor Balcony 5 x 190m
Premier deck 10 x 125m
Interested in this Event space solution?
Feel free to reach out to us for more information on owning or renting one of our structures.