Olympic Hospitality Centre
Setting the standard for the next Olympic Games
The customer's goal was to build an iconic facility which would set the standard for all future Olympic Games. Losberger De Boer was was able to meet the expectations to the fullest satisfaction.
Client

London Organising Committee of the Olympic Games

Best Olympic Hospitality Centre
"We set out to build what we hoped would be the most exciting and the best Olympic Hospitality Centre the movement has ever seen. It's very close to the stadium, it's got a great view and facilities and it is, we think, the best and largest that the Olympics has seen, but also any large sporting event has seen."
(Chris Townsend | London Organising Committee of the Olympic Games)
Client requirements
VIP hospitality
Dining facilities
Catering facilities
Security facilities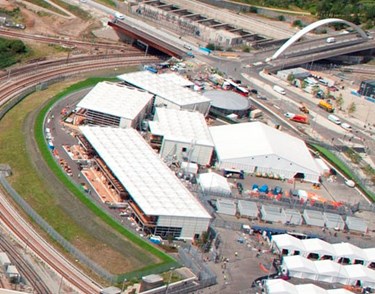 Services and facilities provided
Full project management for the structures
Facilities included:
Sanitary facilities
Linings
Floor coverings
Climate control
Exterior wooden decking
Handrail system
Fire alarm system
Interested in this Event space solution?
Feel free to reach out to us for more information on owning or renting one of our structures.