Halls and canopies for the waste and recycling industry
Losberger De Boer offers several space solutions suitable for the safe covering of soil remediation projects and waste. Our halls and shelters can be constructed quickly, are free span and offer the ultimate flexibility of use.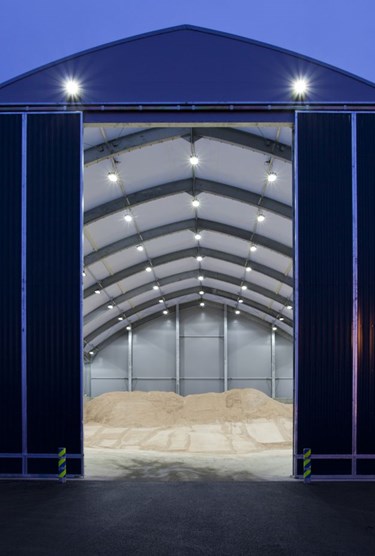 Structures for covering soil remediation projects and waste
Losberger De Boer offers a wide range of structures specially designed for the waste processing and recycling industry, as well as for companies specializing in soil remediation.
Our halls and canopies are made of durable steel or high-grade aluminium structures and meet the most stringent safety standards. Like all our structures, they are modular, so we can always offer a customized solution. The size, design and deployment of our structures offer unrivalled flexibility, and they can be tailored to meet your requirements and fit the available space. They offer a free span, which means no supporting pillars are required, so you can use the entire interior space.
Fireproof, windproof and waterproof halls and canopies
Are you looking for a fire-safe and weatherproof storage space offering protection against fire, wind and water and mitigating the risk of fine dust spreading? Or are you looking for a structure to cover and shield a soil remediation site? If so, you have come to the right place.
Because we design and manufacture our modular structures in-house, we can provide you with a storage space that meets all of these requirements, is custom-made and delivered to you ready-to-use.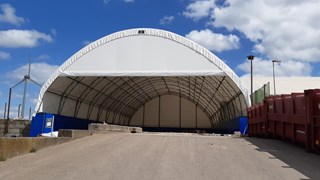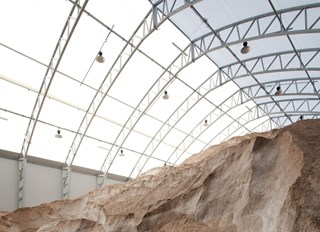 Working safely in daylight under cover of translucent PVC
Our halls and canopies are available in a wide range of configurations. Working with you, we select the features that best meet your needs. For example, we can adapt the doors to suit the vehicles you use or create a climate with negative air pressure. Whatever your site's size or dimensions, we can help you find the best solution to fill the space perfectly.
We can also make the span of special, light-permeable PVC, so your employees can work in daylight. In the event of a fire, this material melts away from the middle of the structure, so both heat and smoke can quickly escape, and you can extinguish the fire safely and effectively.
Scalable and movable halls and canopies
Not only can our modular space solutions be tailor-made, but they also offer you maximum flexibility in the long term. It's easy to scale our halls and canopies up or down after installation, so they can change to meet your space requirements.
It is even possible to move a structure to another location or repurpose it so it can be used for other applications. Because our buildings and canopies can be used for decades, we offer you a flexible long-term solution.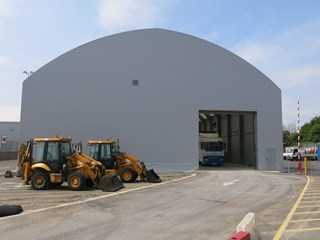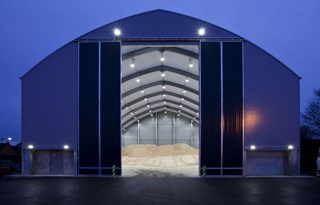 Safety first approach
The safety of your employees and the immediate environment is paramount. Our structures have a very high snow and wind load with their robust, galvanized steel frames, making them suitable for any kind of weather. Every Losberger De Boer structure is continuously tested against the strictest industry safety standards, both during the design phase and the production process in Germany.
Furthermore, our halls and shelters for waste processing companies and soil remediation specialists can be configured in such a way as to not expose the immediate environment to fine dust or other hazardous or polluting substances.
Our services
Undivided attention to quality and security
Delivery reliability
Over the last years, 99.2% of all our material deliveries have been on time. The last 0.8%? Working on it! Apart from delivering in time (and on budget), we always make sure that there is a proper on-site inspection and handover. As we design, engineer, produce and build all our structures ourselves, our installation crews are very well familiar with all our buildings.
Excellent project management
Our project managers are highly experienced professionals, that have successfully delivered a large number of complex projects. Most of them have been providing clients with top-of-class space solutions for over a decade. Before the start of the project, you will be given on single point of contact. This person will know the ins and outs of your project and is available 24/7.
The best possible advice…
…for the best possible results. Our experienced and highly knowledgeable team will not shy away from giving you advice, even when you know exactly what you want. Why? Because oftentimes expert advice makes the difference between a good, and the best possible solution. Because that's what we strive for, together with giving you a great customer experience.
Safety is never an issue
All Losberger De Boer crew members are fully qualified and certified to construct our buildings in a safe and compliant manner. Our structures adhere to the highest safety standards, as they contain only high-quality materials and are engineered, designed, and produced by our own product development specialists.
Some Numbers & Statistics
Losberger De Boer was founded in
0
Number of subsidiaries around the globe
0
Number of professional workers worldwide
0
Average customer satisfaction rate over 2022
8,9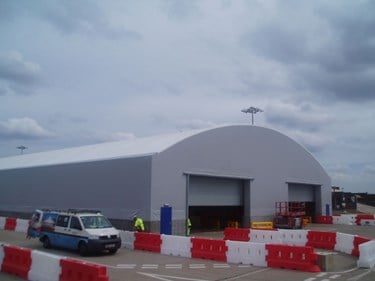 "High quality end product"


Amanda Warner Project Manager Development Heathrow Airport
Testimonial
'Losberger De Boer delivered a quality airport facility'
"Building any facility in a live operational Airfield area has unique complexities beyond usual construction constraints. Losberger De Boer rose to the challenge and delivered a quality facility."

'Smoothly and without incident'
"Every operation was carried out smoothly and without incident. There was a belief that we would conquer the seemingly impossible schedule right from the start."
On future projects: "With proven planning, delivery and operation of such facilities and not least of all, extensive experience working within one of the busiest operational airports in the world, Losberger De Boer will provide a high quality, professional end product."
Interested in this Commercial space solution?
Feel free to reach out to us for more information on owning or renting one of our structures.