Restaurant terrace cover in Senegal
This lovely seaside restaurant in Senegal serves its food under a Losberger De Boer roof, showcasing one of many uses of our Multiflex tent system.

Covering a 360 m2 terrace
To allow this restaurant to extend their terrace significantly, our international team delivered a Multiflex tent system to Dakar, Senegal. By covering the outdoor area, the restaurant's expanded space can be used almost year-round. This not only results in increased sales, but also adds significant value for visitors as dinner can be enjoyed here accompanied by the sound of the sea.
Creative use of materials
Timely delivery of the structure was challenging due to a shortage in materials, which is a direct result of the pandemic. However, our experienced team rose to the challenge and came up with some creative solutions. By modifying materials that we did have in stock, we could deliver in time and still maintain the highest level of quality. With the help of our experts, the building could be set-up in time, leaving the client more than happy with the end result.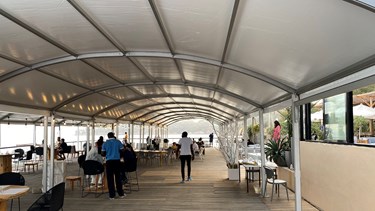 What did we deliver?
The terrace cover is 12 x 30 m, for which we used two 6 x 30 m structures side by side. This solution is actually a combination of a Multiflex frame and several Arcum roof modules. This roof type is a nice add-on to a Multiflex, as its round shape can enhance the look and feel of a structure by adding a touch of class and an air of playfulness.
Through the use of add-ons, you add several new options in terms of configuration and design, which makes an add-on like the Arcum roof such a worthwhile investment.
Interested in this Commercial space solution?
Feel free to reach out to us for more information on owning or renting one of our structures.