Museum Pétange
Temporary museum in Pétange, Luxemburg
75 years after the liberation of Luxembourg by the allied troops, the municipal administration and the Comité du Souvenir de la commune de Pétange presented an exhibition on Luxemburg during World War II. We provided them with a temporary museum.
Client

Temporary museum in Pétange, Luxemburg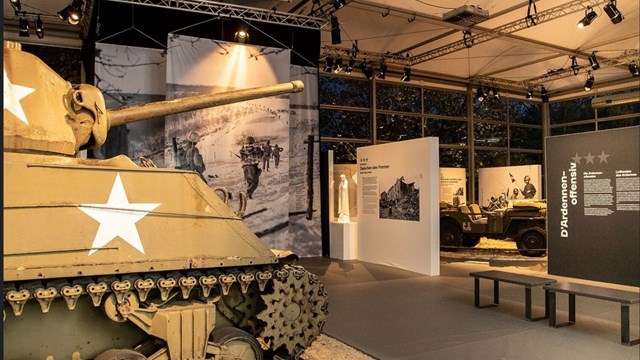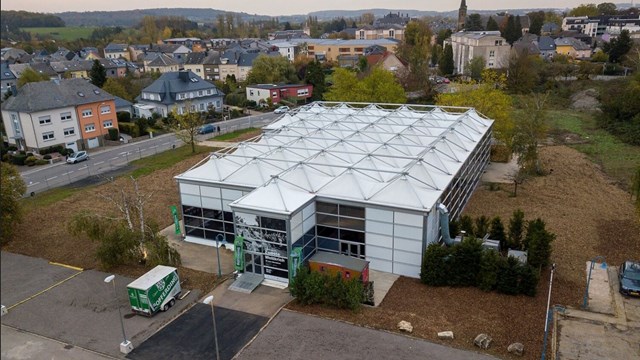 950 m2 of exhibition space inside a Delta
The exhibition in Pétange took place from December to January 2020 and attracted numerous visitors of all ages.
We supplied our client with a temporary museum, with scalable exposition space. To achieve this, we used a Losberger De Boer Delta hall, which offered 950m² of exhibition space, for numerous exhibits and enough space to display a range of military vehicles, including tanks.
The distinctive roof construction of Delta as well as the mix of wall elements of hard PVC and glass allowed an optimal use of daylight within the interior space, while contributing positively to the look of the overall exhibition. Moreover, Delta's 5x5m room modules allowed the client to flexibly extend the event hall and create a separate entrance area without additional effort.
'Proud to have been able to contribute'
The construction of this temporary museum was not without challenges, but our professional team managed to deliver the facility in time and on budget. Peter Desmedt, Project Manager at Losberger De Boer, looks back on the project with pride: "Despite the challenges such as the difficult surface, the insertion and integration of tanks weighing up to 70 tonnes, the end result is one we can certainly be proud of. I am glad we could contribute to the commemoration of the liberation of Luxembourg during WWII with our beautiful Delta structure."

On the technical side
These are the structures and components we used and delivered:
Delta 5/600x5m
Components: wall elements of hard PVC, tinted glass elements
Services: decoration, heating.
Interested in this Commercial space solution?
Feel free to reach out to us for more information on owning or renting one of our structures.