Pop-up Film, Stage and TV Studio solution built in days
Losberger De Boer has developed a 'Pop-up' Film, Stage and TV Studio solution that can be built anywhere, anytime; and, within a matter of days. This system includes our unique re-usable Acoustic Barrier and Rainguard System.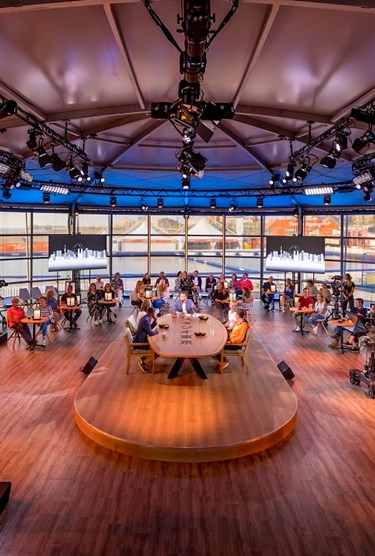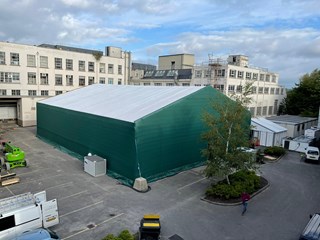 A design made for the Film and TV industry
As a result of the ever-increasing demand for content, TV and Film Studios often find themselves with a lack of space to record or produce quality series, movies, documentaries and shows. Studios are often fully booked. Travel restrictions and other pandemic-induced measures only complicate things further.
To ensure that production agencies, networks and streaming services have enough studio production space to keep up with the demand and remain flexible in choosing locations and timeframes Losberger De Boer has developed a format for high-quality Pop-up, quick-to-build TV and Film Production Studios that can be built anywhere and anytime, in only a few days.
Great acoustics, outside noises stay outside
Whether you are shooting for a movie or series using a greenscreen or host a talk or gameshow, perfect acoustics and the complete exclusion from outside noise is everything. This is where two recent Losberger De Boer inovations will help.
Our new Acoustic Barrier Roof and Wall System, that lines our Pop-up TV and Film Studios, guarantees the perfect balance between sound absorption and reflection, thus creating the perfect acoustics for a professional recording environment. Moreover, our new Rainguard System completely eradicates all outside noise.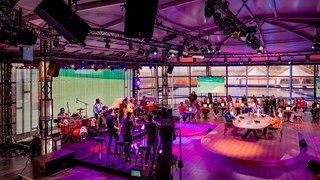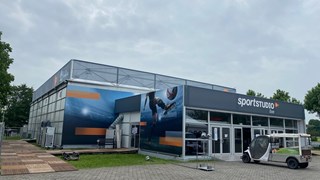 Quick-to-build on any desired location
As the Worlds' leading experts in temporary and semi-permanent structures, we have engineered and designed our buildings to offer our clients unmatched versatility.
Every Losberger De Boer structure, including our Pop-up Film and TV Studios, can be built to your specifications, size, height and/or shape. Moreover, our temporary TV Studios can be built within a matter of days, at any given location.
A scalable, re-usable and relocatable TV Studio offers endless flexibility
As our TV Studios are scalable, re-usable and relocatable, you can use the same studio on multiple locations, either in the same setup or with adjustments. Whether you want to use our facilities as a temporary TV Studio or create a semi-permanent Film Recording Campus, our structures will help you to be as flexible and as efficient as possible.
First users of our pop-up TV studios include a UK based TV network broadcasting a 24/7 live series from our facilities, as well as the global leading video streaming service and national broadcasters NOS in The Netherlands and ZDF in Germany.
Storage space and changing rooms
Thanks to our large product portfolio and the fact that all our structures can be fully adapted to meet your needs, we can in addition, offer you a wide range of facilities ranging from kitchens, catering and dining facilities to storage space, workshop space, changing rooms and comfortable living accommodation.
Our goal is to help you reach yours. Simply contact us and we will guide and help you to achieve, the very best solution possible.
Our services
Undivided attention to quality and security
Delivery reliability
Over the last years, 99.2% of all our material deliveries have been on time. The last 0.8%? Working on it! Apart from delivering in time (and on budget), we always make sure that there is a proper on-site inspection and handover. As we design, engineer, produce and build all our structures ourselves, our installation crews are very well familiar with all our buildings.
Excellent project management
Our project managers are highly experienced professionals, that have successfully delivered a large number of complex projects. Most of them have been providing clients with top-of-class space solutions for over a decade. Before the start of the project, you will be given on single point of contact. This person will know the ins and outs of your project and is available 24/7.
The best possible advice…
…for the best possible results. Our experienced and highly knowledgeable team will not shy away from giving you advice, even when you know exactly what you want. Why? Because oftentimes expert advice makes the difference between a good, and the best possible solution. Because that's what we strive for, together with giving you a great customer experience.
Safety is never an issue
All Losberger De Boer crew members are fully qualified and certified to construct our buildings in a safe and compliant manner. Our structures adhere to the highest safety standards, as they contain only high-quality materials and are engineered, designed, and produced by our own product development specialists.
Some Numbers & Statistics
Losberger De Boer was founded in
0
Number of subsidiaries around the globe
0
Number of professional workers worldwide
0
Average customer satisfaction rate over 2022
8,9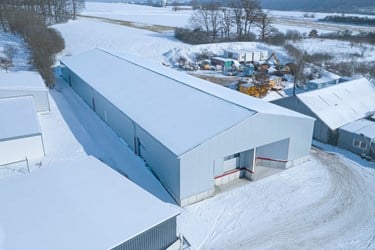 "The Sales team did a very good job."

Georg Wicht WICHT Spedition GmbH
Testimonial | Warehouse & Logistics
Additional storage space of 2,880 m² for transport and logistics
"After the first contact in April, the hall was ready to use in October- that was really tough. The sales team did a very good job and the quality of our new hall is as desired."
The first of the insulated warehouses, each 20 m wide and 72 m long, was erected in just two weeks. Project manager Eduard Knaus describes the conditions at the site in Pettstadt as challenging: "The hall had to be fitted exactly into an existing open area, which is why we had little space on all sides for materials and vehicles. We had to proceed very carefully and precisely."
Interested in this Commercial space solution?
Feel free to reach out to us for more information on owning or renting one of our structures.