Prostock R-Line
Our new Prostock R-Line is a modern industrial hall, that is available for short to mid-term rent, but with the benefits of a permanent building. It is Eurocode-compliant, can be delivered within a few weeks and can be fully adapted to your specs.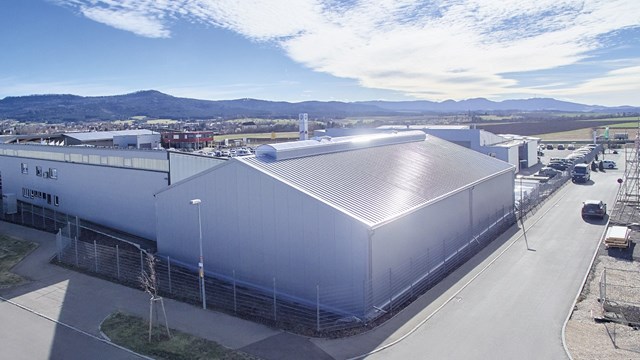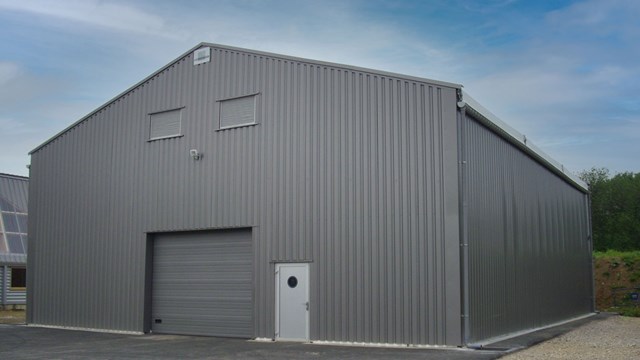 A quick solution for your capacity demands
Are you looking for a high-end, lightweight yet durable, and fully customizable industrial hall, that can be delivered on short-term? With our new Prostock R-Line, we've got you covered.
Why choose the new Prostock R-Line?
Compliant with the Eurocode
Standard wind load is 27 m p/s, considerably higher wind loads possible on request
Standard snow load of 85kg/m2, considerably higher snow loads possible on request
Turnkey delivery within a few weeks
Scalable and relocatable
Can be delivered stand-alone, or connected to existing buildings
Can be used for over 20 years
Little investment, immediate results
The Prostock R-Line is mostly used as:
(cold) Storage hall
Warehouse
Production facility
Supermarket / showroom
Canteen
Sports hall
Thanks to its versatile nature, the Prostock R-Line can be used for a wide range of commercial applications. Do you want to know more about specific solutions? Then click the appropriate button below:


Warehouse and storage
Production facilities
Sport halls
The Prostock re-invented
The R-Line is a direct descendant from one of the most successful modular industrial structures in the world: the Prostock. This hall was developed by Walter, a company that has long been a part of the Losberger De Boer Group. The original Prostock is still one of the best industrial buildings in the market today, and is fully Eurocode compliant.
In response to the growing demand for flexible yet heavy-duty industrial buildings, we have redesigned and re-invented the original Prostock to make it perfectly suitable for short to mid-term rental. The result is an extremely strong building that is easy to install and dismantle, that complies to the Eurocode, that can be built in just a few weeks, and that can be used as a flexible solution for several months or years. The Prostock R-Line's full lifespan is over 20 years.
The best of both worlds
In the world of modular construction, the Prostock R-Line represents the best of both worlds: a strong, durable industrial building that can be used as long as you need it, that is also flexible, adaptable and can be delivered ready-for-use in just a few weeks, thanks to its adapted, highly innovate frame. The R-Line can be scaled up and down, and can even be relocated in its entirety.
The Prostock R-Line comes fully equipped with a wide range of complementary elements, such as pedestrian doors, roller shutter doors, loading bays, gutters and downspouts, insulated* or non-insulated coverings and double internal roof coverings. It is compatible with every single one of our extensive line of options and add-ons, such as smoke outlets, turn-and-tilt windows, high-speed doors, and steel meshes in the side and roof (check the overview below for all the options).
* Insulated sandwich panels in the roof and walls (60, 80, 100, or 120mm)
It can be delivered with a side height of 4.7 metres (which is ideal for standard sized doors) and 7 metres (which not only makes it accessible to large vehicles, but also means it can be configured as a 2 story building). The R-Line is available as a free span structure in widths of 10, 15, 20, 25 and 30 metres.
Specifications & options
Below, you will find the most frequently asked specs.
Tech specs
Dimensions
Size

10 m | 15 m | 20 m | 25 m | 30 m

Side height

4.7 to 7 m

Truss spacing

5 m

Snow load (roof)

Standard snow load of 85 kg/m2, considerably higher snow loads available on request.

Please note

That there may be small differences in dimensions or options when you buy a tent system as opposed to renting a space solution. If you are interested in buying a tent system, our product specialists will lay out all possible dimensions, options and configurations for you.
Options
Options
Casette floor
Anti-skid cassette floor
Plate floor
Grey roof covers
Emergency door
Overhead door
Side panels
Safety
Safety
NV65 / Eurocodes / EN13782
All PVC coated membranes are flame retardant (EN 13501-1)
Proven quality
Turnkey delivery
Highly customizable
Short delivery time
Short installation time
For temporary AND permanent use
Proud to work for these companies
Interested in this Commercial space solution?
Feel free to reach out to us for more information on owning or renting one of our structures.