Extra storage space for ports, docks and harbours
Extra storage space for port, dock and harbour companies is not always easy to come by. Our flexible storage hall and trans-shipment facilities offer a solution to your space problems.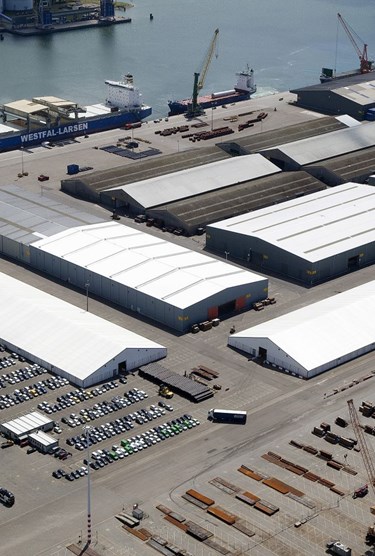 Warehousing in port areas: quick-to-move and easy-to-customize
There is currently an increased demand for storage space in port areas. However, extra space is not always easy to find, as there is often little space available and suitable locations are already in use.
Adding the to challenge, the construction of a new, fixed storage and trans-shipment site often involves a long permit process and a substantial construction period (not to mention the cost). Our storage facilities offer a valid alternative to permanent construction solutions because they are high-quality, can be installed quickly and then used for decades.
Port storage problems
We know how to solve storage problems in and around ports with many years of experience in doing just that. We have an extensive range of structures that can be used as storage locations, warehouses, trans-shipment locations or distribution hubs temporarily or for the longer term.
Our team of experts can quickly provide you with a design for a fully customized, scalable and portable storage solution that meets all of your needs and fits perfectly within the available space you have.
Quick-to-install space solutions
Not only are our warehouse and storage solutions high-quality, but also, because our construction concept is modular by design, they can be erected at short notice. That means you can start using a fully operational storage solution in a few weeks, instead of months or even years.
Our structures can also be adjusted in size to perfectly fit whatever amount of space you have available, so we can help you make optimal use of the available space. In fact, we can even create a significant amount of storage space on our own premises.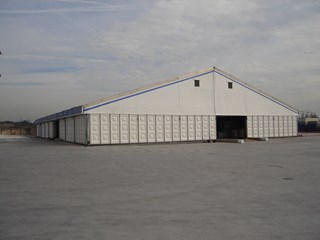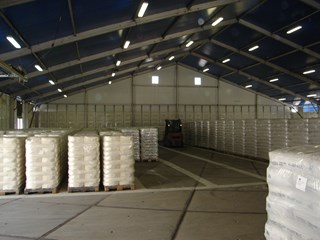 Simple up and down scalability for maximum flexibility
Nothing is as changeable as the global economy. Our structures are easy to scale up and down, so you can always respond to current market conditions. They are also movable and can be adapted for other uses even after installation. What if you find you need to use our temporary structure for longer than anticipated? You can always repurpose it to create more office space, or a mezzanine floor providing additional storage space upstairs for light materials.
Temporary may last longer than you think. After installation, our storage halls and temporary buildings can last for decades.
Keeping you lean and mean while costing less
Do you want to be able to adapt and respond to current market conditions quickly? Do you want to be sure your storage capacity will always match your space requirements? And do you want access to these advantages quickly and at a lower total cost of ownership? Then our space solutions are the best option for you.
We're here to help! Our experts will ask a lot of questions, find out exactly what you need and will present you with a forward-thinking plan that is dedicated to helping you seize the opportunities and meet the challenges of the foreseeable future.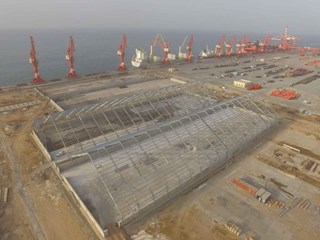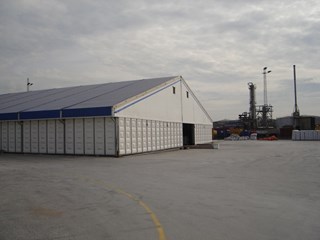 Storage solutions delivered quickly and turnkey
If required, we can deliver your temporary storage halls fully equipped and turnkey – just leave it to us. We have an extensive network of partners who meet our stringent quality requirements and provide us with unrivalled partner discounts.
We meet your needs, so whatever type of storage facility you require, we can equip it with whatever it takes to get it functional fast, from lighting and a climate control system to plumbing and office space.
Our services
Undivided attention to quality and security
Delivery reliability
Over the last years, 99.2% of all our material deliveries have been on time. The last 0.8%? Working on it! Apart from delivering in time (and on budget), we always make sure that there is a proper on-site inspection and handover. As we design, engineer, produce and build all our structures ourselves, our installation crews are very well familiar with all our buildings.
Excellent project management
Our project managers are highly experienced professionals, that have successfully delivered a large number of complex projects. Most of them have been providing clients with top-of-class space solutions for over a decade. Before the start of the project, you will be given on single point of contact. This person will know the ins and outs of your project and is available 24/7.
The best possible advice…
…for the best possible results. Our experienced and highly knowledgeable team will not shy away from giving you advice, even when you know exactly what you want. Why? Because oftentimes expert advice makes the difference between a good, and the best possible solution. Because that's what we strive for, together with giving you a great customer experience.
Safety is never an issue
All Losberger De Boer crew members are fully qualified and certified to construct our buildings in a safe and compliant manner. Our structures adhere to the highest safety standards, as they contain only high-quality materials and are engineered, designed, and produced by our own product development specialists.
Interested in this Commercial space solution?
Feel free to reach out to us for more information on owning or renting one of our structures.