Climate-controlled storage for military applications
Are you looking for a storage solution that helps you maintain your critical assets? Using innovative, humidity-monitoring technology, our climate-controlled storage solutions provide a sheltered environment that enables you to reduce the ageing and corrosion of sensitive equipment.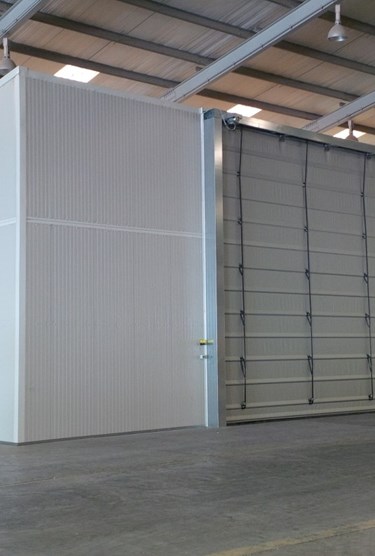 Military storage solutions to boost operational readiness
Our climate-controlled storage solutions are designed to protect and maintain military vehicles and equipment, including drones, helicopters, aircraft missiles, electronic devices, motors and turbines, spare parts, and weapon systems. When downtime isn't an option, studies show storing your equipment within a climate-controlled environment reduces maintenance requirements while boosting your operational readiness.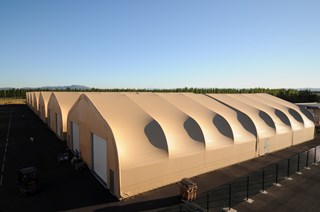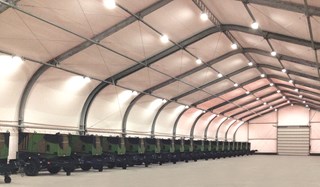 Air-tight enclosures to protect against the elements
With tensile PVC fabric covers, our climate-controlled enclosures and shelters ensure a 100% air-tight environment, creating a perfect containment facility by minimizing the external air-flow. Offering flexibility and low porosity, PVC-coated polyester fabric also adapts well to sudden pressure changes, meaning indoor conditions are less impacted by atmospheric pressure variations and external humidity when the weather changes. So, your equipment is fully protected against external air pollution and sandstorms.
Optimal storage conditions to minimize corrosion and ageing
At 60% relative humidity, your equipment is more prone to corrosion, which results in higher maintenance costs, an increased need for spare parts and decreased material readiness. Our climate-controlled storage shelters deliver natural protection against corrosion and ageing by ensuring relative humidity is maintained at 45%. By keeping humidity levels low, we create conditions in which your sensitive equipment is significantly less impacted by ageing factors and remains available at all times.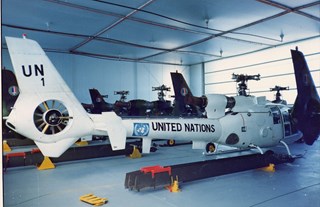 Keeping your equipment ready-to-use
We have helped military forces around the world store their equipment so that it is protected against extreme environmental conditions. This means it is ready-to-use when it is needed the most. When you need to keep maintenance to a minimum and control costs, you need a partner you can trust.
Innovative monitoring technology
Our climate-controlled storage shelters seamlessly integrate precise humidity and temperature sensors to regulate the enclosure's dehumidifying system's operating levels. Our automatic humidity-control set-up can also be used in combination with broader climate control systems, such as HVAC and ventilation, to provide optimal storage conditions, wherever you are.
Short-term investment for long-term savings
Our long-standing experience in the field of climate-controlled storage solutions for military applications has demonstrated the cost of our humidity control system is very low in relation to the savings that can be achieved by preventing the corrosion of sensitive equipment.
Not convinced? Studies based on customer feedback and experiences have shown significant savings and operational efficiencies can be achieved, including:
10% gain in operational availability
30% increase in operational lifespan
50% reduction in maintenance hours
30% savings on spare parts costs
Cost-effective within one year
Unrivalled protectiondelivered quickly
We can quickly provide you with climate-controlled storage shelters and enclosures that help you meet your operational and maintenance goals. By offering unrivalled protection against external elements, extreme weather and climate variations, we can significantly reduce the ageing process of your equipment resulting from corrosion. We understand your equipment needs to be ready at a moment's notice, so we strive to improve operational readiness while providing significant savings on maintenance costs and reduced investment for long-term gains.
Our services
Undivided attention to quality and security
An experienced Account Manager
Our Account Managers are specialists who focus on your needs and on providing you with professional guidance and the best customer experience.
A partner that is involved from the onset
Tell us what you need, and we will work with you. Our design and engineering team is here to turn your particular requirements into a functional reality.
The win-win outcomes of training and support
Training end-users on deployment techniques and product usage has a big impact on the longevity of our products. It also helps us to gain valuable feedback on our products.
Your anonymity is our foremost priority
We understand the importance of discreetness and confidentiality in the military and aerospace sectors. So we will always consult with you before releasing any pictures or material.
Some Numbers & Statistics
Losberger De Boer was founded in
0
Number of subsidiaries around the globe
0
Number of professional workers worldwide
0
Average customer satisfaction rate over 2020
9,1
Interested in this Rapid Deployment solution?
Feel free to reach out to us for more information.