Medical solutions to help the healthcare sector
From the start of the pandemic, Losberger De Boer has adapted its structures to help fight the pandemic. From triage centres and hospital wards to vaccinations centres, we are committed to keeping people safe and helping our healthcare professionals to save lives.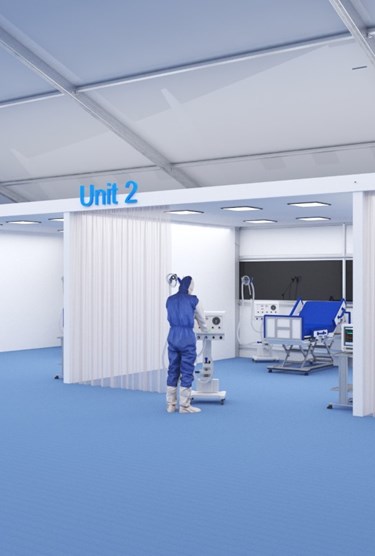 Creating extra capacity and test and vaccination centres
As one of the largest suppliers of temporary and permanent buildings in the world, we can provide hospitals and medical institutions with the extra space they need to keep everybody as safe as possible and to treat people efficiently.
Our rapidly deployable structures can be used for triage, can function as hospital wards and quarantine centres. We have also developed smart vaccination centres and drive-thru test sites, that can be deployed fast. So, how fast is 'fast'? In a matter of days, we can start building our temporary facilities.
Why choose our 1,5 meter solutions
Modular structures that can be built within weeks
Each of these facilities can be placed on short term. All our structures are modular by design and engineered, designed, produced and built by our own specialists, giving you the certainty and peace of mind that comes with a high-quality German product. Some of the main benefits of our social distancing solutions are:
Installed within weeks
From temporary to permanent structures, all our tent systems share a common modular design. And modular means speed. We have a large stock available, meaning we can deploy and install your building rapidly.
Tailor-made at any size
Another benefit of modular construction, is that it can be tailor-made to match your exact specifications. By adding length, width and even height, we allow you to maximize the space you have available.
Relocatable, scalable, flexible
Our structures can be relocated, allowing you to redeploy your facility or simply move and adapt your building to cater to a different need. Modular by design, our structures can be scaled up and down to continue to meet your requirements, offering endless flexibility.
The highest standards
All Losberger De Boer buildings adhere to the highest standards in terms of quality, safety and sustainability. All our structures and parts tested extensively by our rigorous quality control team and have stood the test of time.
Interested in this Commercial space solution?
Feel free to reach out to us for more information on owning or renting one of our structures.