Airport capacity solutions
From fully functional terminals to scalable and relocatable baggage handling and warehouse facilities, Losberger De Boer has the answers to all airport capacity challenges.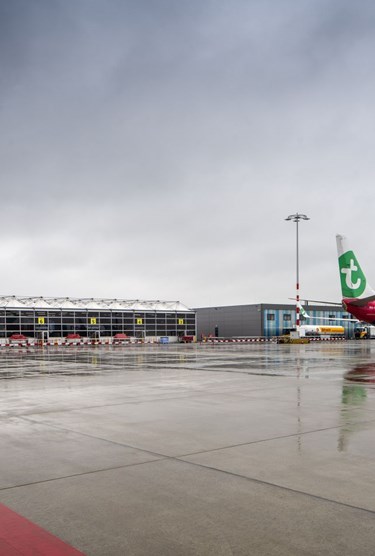 The sky is the limit. Short-term solutions for long-term demands
While the global aviation industry continues to grow every year, the building and provision of ground infrastructure struggles to keep up with the actual demand.
Building new, fixed terminals and other facilities requires long planning and construction periods, as well as a massive investment. Temporary accommodations are a fast and cost-efficient way of expanding capacity at your airport.
Losberger De Boer offers solutions for long-term capacity demands, that can be placed on short term.
Our airport solutions include:
Relocatable terminals
Baggage handling facilities
Warehouse facilities
Aircraft hangars
Check-in, customs and security facilities
Why choose our airport solutions
Modular structures that can be built within weeks
Each of these facilities can be placed on short term. All our structures are modular by design and engineered, designed, produced and built by our own specialists, giving you the certainty and peace of mind that comes with a high-quality German product. Some of the main benefits of our airport solutions are:
Installed within weeks
From temporary to permanent structures, all our tent systems share a common modular design. And modular means speed. We have a large stock available, meaning we can deploy and install your building rapidly.
Tailor-made at any size
Another benefit of modular construction, is that it can be tailor-made to match your exact specifications. By adding length, width and even height, we allow you to maximize the space you have available.
Relocatable, scalable, flexible
Our structures can be relocated, allowing you to redeploy a terminal or simply move and adapt your building to cater to a different need. Modular by design, our structures can be scaled up and down to continue to meet your requirements, offering endless flexibility.
The highest standards
All Losberger De Boer buildings adhere to the highest standards in terms of quality, safety and sustainability. All our structures and parts tested extensively by our rigorous quality control team and have stood the test of time on the grounds of numerous airports worldwide.
When increasing capacity demands require a swift and solid solution
Losberger De Boer's structures are the fastest and most cost-efficient alternative to building new facilities, whether temporary or permanent.
Our airport facilities can be integrated with existing buildings or stand alone. They can be several stories high and because we can combine several structures seamlessly, there is no limit to the amount of ground space we can deliver.
When extra capacity is required

Our mobile airport structures are the perfect solution:
When there is an urgent need for extra passenger capacity (during large-scale sporting events, cultural events and trade shows)
To bridge the gap during renovation and refurbishment of existing buildings or the construction of new facilities
When an increases in cargo traffic fuels the demand for additional storage space
When there is an increased demand for MRO and FBO facilities
For permanent expansion of airport capacity
Turnkey delivery

Fully equipped structures

We can provide the turnkey delivery, on budget and in time, of complete, fully equipped airport facilities. Through our global network of trusted partners, we can deliver completely furnished accommodations, with climate control, heating and ventilation, office units and interior lighting. Installment of additional facilities are also possible, just tell us what you need.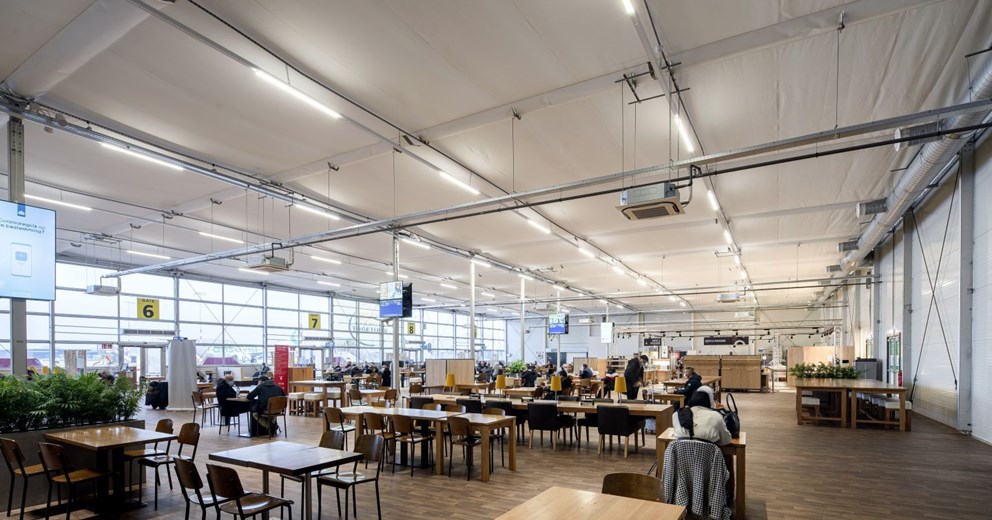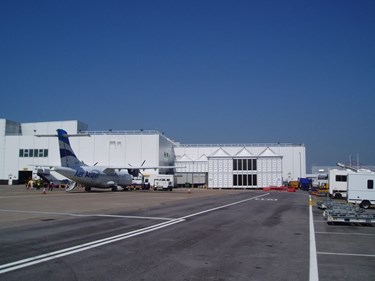 Testimonial
Why Losberger De Boer?
When Cardiff hosted the 2017 UEFA Champions League final, Losberger De Boer provided Cardiff Airport with an additional, 2000 square meter spanning terminal within five days and without any disturbance to the normal day-to-day running of the Airport.
'Professional and on short notice'
"The terminal structure and project management delivered by Losberger De Boer was professional, timely and played an important part in our ability to process a large amount of additional fans within a short timescale, whilst also operating business as usual for our customers travelling for leisure or business."
Terminal built in 5 days
Fully equipped
Turnkey delivery
I look forward to future opportunities to work with Losberger De Boer on other projects.
--------
Robert Hammacott
Head of Airport Facilities at Cardiff Airport
Interested in this Commercial space solution?
Feel free to reach out to us for more information on owning or renting one of our structures.