Space solutions for the automotive industry
From fully furnished showrooms to temporary or permanent workshops and space for car-related events, Losberger De Boer has a complete range of space solutions for the automotive industry.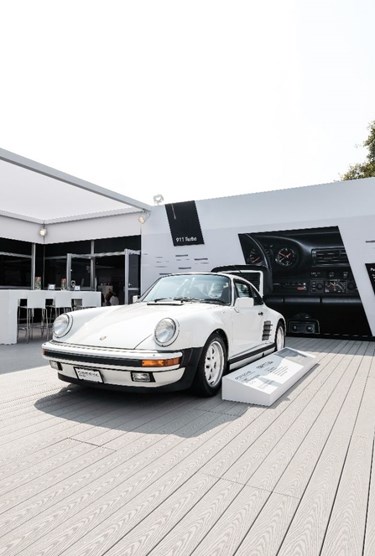 Quick-to-build space solutions for renovation periods or rapid growth
In this fast-paced economy, we offer space solutions that can be installed short-term and can be used for decades. We can deliver you the flexibility you need to keep your business in pole position in your market.
Building new, fixed facilities comes with long planning and construction periods (as well as a sizeable investment). Our semi-permanent accommodations are a fast and cost-efficient way of expanding capacity or keep your business on track.
Are you planning on renovating your showroom or workshop? Or do you require additional space to further expand your business? Our semi-permanent buildings can be designed to your exact specifications.
Our automotive solutions include:
Scalable, fully furnished and attractive showrooms
Workshops built to your exact specifications
The perfect venue for your automotive event
Offices, storage space, warehouses and other commercial buildings
Showrooms
Do you want a classy, tailor-made and scalable car showroom at low investment costs, that is built in a matter of weeks and can be used for decades? Or do you need a temporary replacement showroom for your products? Or maybe you want to add showroom space, to literally make room for further growth? Feel free to check out our custom showrooms here.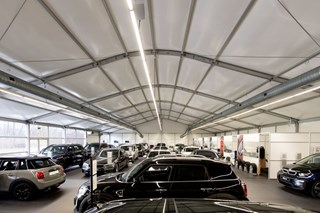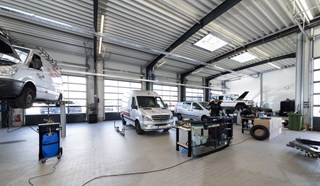 Workshops
Do you require extra workshop space to keep up with the demand? We can connect your new facility to the existing one, or build a new one. We have decades worth of experience with building industrial space solutions, ranging from small facilities and warehouses to ready-to-use large-scale production plants. We can help you design the perfect workshop; contact us.
Venues for automotive or motorsports events
Are you looking for the perfect venue for an automotive event? We have built countless venues, ranging from large-scale motorsport events like the Goodwood International Festival of Speed to product showcases for new models of top brands. We will think along with you and guide you every step of the way, to ensure your event or presentation is set-up for success. Interested? Contact us.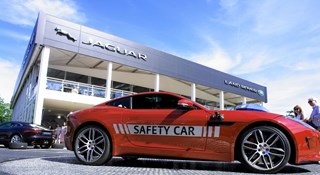 Our services
Undivided attention to quality and security
Delivery reliability
Over the last years, 99.2% of all our material deliveries have been on time. The last 0.8%? Working on it! Apart from delivering in time (and on budget), we always make sure that there is a proper on-site inspection and handover. As we design, engineer, produce and build all our structures ourselves, our installation crews are very well familiar with all our buildings.
Excellent project management
Our project managers are highly experienced professionals, that have successfully delivered a large number of complex projects. Most of them have been providing clients with top-of-class space solutions for over a decade. Before the start of the project, you will be given on single point of contact. This person will know the ins and outs of your project and is available 24/7.
The best possible advice…
…for the best possible results. Our experienced and highly knowledgeable team will not shy away from giving you advice, even when you know exactly what you want. Why? Because oftentimes expert advice makes the difference between a good, and the best possible solution. Because that's what we strive for, together with giving you a great customer experience.
Safety is never an issue
All Losberger De Boer crew members are fully qualified and certified to construct our buildings in a safe and compliant manner. Our structures adhere to the highest safety standards, as they contain only high-quality materials and are engineered, designed, and produced by our own product development specialists.
Interested in this Commercial space solution?
Feel free to reach out to us for more information on owning or renting one of our structures.