Throughput facilities and project sites for construction
With our flexible project location, construction site and fast throughput facilities, we support construction companies in meeting their project milestones as efficiently as possible.
Mobilizing a project location? Try our smart solutions for construction sites
Space on construction sites is sometimes limited, making it challenging to create a fully equipped work environment that is spacious and safe. Losberger De Boer helps construction companies set up facilities on construction sites quickly, efficiently and safely.
Are you mobilizing a construction site, setting or office and purchasing space or possibly a storage facility? We can help you maximize any available space. Our temporary buildings are custom designed for you can even span multiple floors, unlocking an enormous amount of workspace for you. We work with you to ensure you complete your project as quickly and efficiently as possible, and that includes a space that is easy to work in and a smartly designed project location.
Great workplaces with ample space
We have vast experience in setting up temporary and semi-permanent project locations. We seamlessly combine pleasant, spacious workplaces for your employees, sufficient space for storage and project consultation, and any other facilities you may require in the design phase of a project. The results? We can present you with a comprehensive plan that's right the first time.
Need to optimize your current project location?
Some project locations have been in use for many years. That can make it difficult to create enough extra space and a safe working environment that meets the demands of today.
We can help you expand office, storage and other commercial spaces that may already be in use. We can achieve this with an outbuilding, adding an extra floor (if possible), or quickly and efficiently replacing an entire building.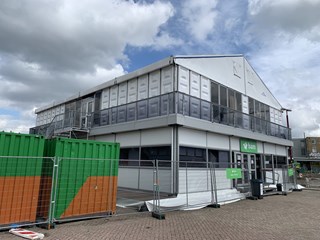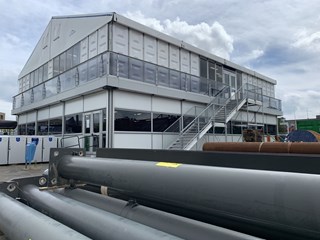 Modular structures – fast and scalable solutions
Developed and manufactured in Germany, our temporary structures can be used for many years. As they are modular in design, they can be built within a few days.
Meet project milestones with work-through solutions
Don't let harsh environments or harsh weather impact the delivery of your project. Our throughput facilities can ensure production goes on whatever the weather.
Torrential rain, sand storms and other extreme weather conditions can significantly delay a construction project.
Our througput facilities keep you moving when standing still isn't an option. We can cover your construction site or even completely enclose it, so work can continue and you can mitigate the risk of project penalties and a damaged reputation, which can accompany a company's failure to meet a publicly communicated handover date.
Canopies for construction sites
We have extensive experience in roofing and covering construction and project sites. Take a look at one of our past projects, where we were able to to help a construction company stay out of the cold so work could continue despite predicted snowfall.
Our services
Undivided attention to quality and security
Delivery reliability
Over the last years, 99.2% of all our material deliveries have been on time. The last 0.8%? Working on it! Apart from delivering in time (and on budget), we always make sure that there is a proper on-site inspection and handover. As we design, engineer, produce and build all our structures ourselves, our installation crews are very well familiar with all our buildings.
Excellent project management
Our project managers are highly experienced professionals, that have successfully delivered a large number of complex projects. Most of them have been providing clients with top-of-class space solutions for over a decade. Before the start of the project, you will be given on single point of contact. This person will know the ins and outs of your project and is available 24/7.
The best possible advice…
…for the best possible results. Our experienced and highly knowledgeable team will not shy away from giving you advice, even when you know exactly what you want. Why? Because oftentimes expert advice makes the difference between a good, and the best possible solution. Because that's what we strive for, together with giving you a great customer experience.
Safety is never an issue
All Losberger De Boer crew members are fully qualified and certified to construct our buildings in a safe and compliant manner. Our structures adhere to the highest safety standards, as they contain only high-quality materials and are engineered, designed, and produced by our own product development specialists.
Interested in this Commercial space solution?
Feel free to reach out to us for more information on owning or renting one of our structures.