Distribution centers and storage facilities for the transport sector
With quickly deployable and scalable space solutions, such as distribution centers and storage halls, Losberger De Boer offers transport companies the flexibility they need to grow.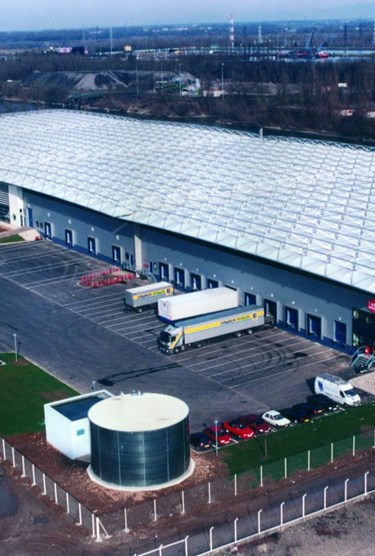 Distribution centers and warehouses of any size
Do you need more storage space in the short term? Or do you need to set up one or more storage and distribution centers quickly? If so, Losberger De Boer's modular, quick-to-build, space solutions may be the right option for you.
We have built a large number of storage and distribution centers worldwide, using semi-permanent structures designed and manufactured in-house by our own people. All our buildings comply with legal regulations and meet the most stringent safety requirements.
Scalable structures
Because our structures are modular, we can tailor them exactly to your needs, helping you maximize your available space. Over the years, we have gained a great deal of experience in designing storage and transshipment sites that provide a large amount of storage space while being easily accessible for trucks. Thanks to the modular design of our buildings, they are easy to scale up or down, allowing them to grow or shrink to meet your space requirements. Furthermore, because our storage and distribution solutions movable, they offer you unrivalled flexibility.
Your new distribution center delivered within weeks
Building a new warehouse or distribution center often requires a (very) substantial investment of capital and time, both in terms of obtaining the correct permits and the construction process. Our custom-designed transport solutions and be operational within a few weeks. As they can be used for decades, they also offer you a real long-term solution in the very short term.
Working with our network of trusted partners, we can also deliver your distribution center, transshipment facility or storage hall turnkey and fully-equipped with a wide range of features, from lighting and climate control to complete shelving systems and sanitation facilities.
Are you looking for space to grow?
We can definitely help! Do you have space available at your existing facility or site? We can expand your current warehouse or distribution center at short notice, ensuring a seamless transition and minimizing disruption.
No existing facilities to expand? No problem. We can design an entirely new building for you, ensuring the structure we deliver meets your exact requirements. We can also adapt the design to your location and the available space. Our structures are completely scalable, giving you unprecedented flexibility to rapidly respond to any and all market conditions.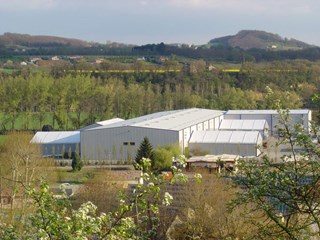 Are you in a transition period?
Do you have a new facility currently under construction but won't be complete for some time? Or are you about to modernize your current facilities?
We can help you bridge the gap to completion. We can provide you with additional temporary space for storage and transshipment. Our temporary space solutions help your operations continue, uninterrupted and at the required capacity. When downtime isn't an option, our structures help you to achieve growth even during bridging and transition periods.
Our services
Undivided attention to quality and security
Delivery reliability
Over the last years, 99.2% of all our material deliveries have been on time. The last 0.8%? Working on it! Apart from delivering in time (and on budget), we always make sure that there is a proper on-site inspection and handover. As we design, engineer, produce and build all our structures ourselves, our installation crews are very well familiar with all our buildings.
Excellent project management
Our project managers are highly experienced professionals, that have successfully delivered a large number of complex projects. Most of them have been providing clients with top-of-class space solutions for over a decade. Before the start of the project, you will be given on single point of contact. This person will know the ins and outs of your project and is available 24/7.
The best possible advice…
…for the best possible results. Our experienced and highly knowledgeable team will not shy away from giving you advice, even when you know exactly what you want. Why? Because oftentimes expert advice makes the difference between a good, and the best possible solution. Because that's what we strive for, together with giving you a great customer experience.
Safety is never an issue
All Losberger De Boer crew members are fully qualified and certified to construct our buildings in a safe and compliant manner. Our structures adhere to the highest safety standards, as they contain only high-quality materials and are engineered, designed, and produced by our own product development specialists.
Interested in this Commercial space solution?
Feel free to reach out to us for more information on owning or renting one of our structures.