Social distancing solutions for businesses of all sizes
Social distancing is one of the most important tools in the fight against COVID-19. But how does this principle apply to your workplace? In what ways can you comply with the rules and keep your business running at the same time?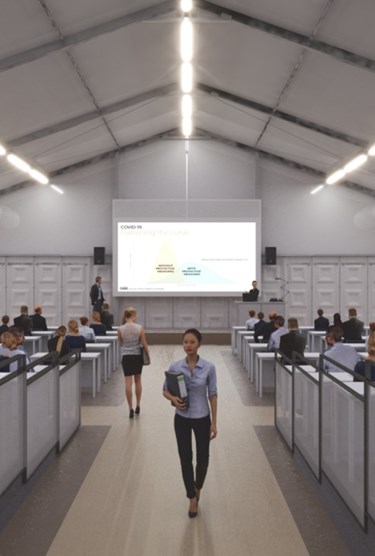 Create extra space for a safe working environment - fast
As one of the largest suppliers of temporary and permanent buildings in the world, we can provide you with the extra space you need to keep everybody as safe as possible. Our rapidly deployable structures can be used for extra office space, additional meeting space, a temporary canteen or dining area or even a temporary workshop or production space. We also have tailor-made solutions for schools and universities, in the form of temporary classrooms and auditoria.
So, how fast is 'fast'? In a matter of days, we can start building the temporary facilities that enable you to guarantee your employees the amount of space they need to work safe and carefree in a workspace that is tailored to the 'new reality' of the one and a half metre-economy. Does your turnover depend on the number of customers or visitors that you are able to serve? In this case, our temporary structures can provide you a solution to increase your capacity as well.
Social distancing solutions
Quickly create extra space for social distancing
For many companies, guaranteeing free space between all employees or customers within the current infrastructure, is very difficult. Oftentimes, businesses simply do not have the extra space in the office or workplace to allow everyone to work, confer or lunch at one and a half metres from each other.
With our modular accommodations, we offer companies various efficient and feasible ways to temporarily create the extra space needed to comply with regulations or wishes regarding social distancing, while at the same time allowing you to continue to be operational.
> Temporary canteens
By adding an extension to your current dining facility, or by placing an extra stand-alone canteen, you offer your employees the opportunity to keep a one-and-a-half meter distance from each other and still have lunch together.
> Expansion of the workshop / production space
We can quickly expand your workshop or production space. Your added space can be easily scaled up and down as well, offering you maximum flexibility.
> Expansion of offices
We can install additional, fully equipped office units at or near your current building. We can also build external, larger meeting rooms so that you and your team can meet face-to-face in a safe way.
> Classrooms and auditoria
Add extra classrooms and lecture halls to allow a safe distance between students, utilize a crowd control tent to guarantee a safe influx of visitors into the building and add extra dining facilities for safe lunches.
> Storage / warehouses
Many companies are stuck with cargo or leftover products, while online retailers need additional space to handle their rapid growth. In both cases, one of our temporary storage halls can be the best solution. Quick to install, made to measure and easy to scale up and down.
> Catering / amusement parks / reacreation
Do you still have some outdoor space available? We can expand your establishment quickly, efficiently and to all your specifications, so that you can receive more visitors in the safest way possible.
> Events / fairs
Many events will return in a scaled-down form or will simply need more space to allow visitors to keep their distance from each other. Our space solutions can help you with this.
Why choose our 1,5 meter solutions
Modular structures that can be built within weeks
Each of these facilities can be placed on short term. All our structures are modular by design and engineered, designed, produced and built by our own specialists, giving you the certainty and peace of mind that comes with a high-quality German product. Some of the main benefits of our social distancing solutions are:
Installed within weeks
From temporary to permanent structures, all our tent systems share a common modular design. And modular means speed. We have a large stock available, meaning we can deploy and install your building rapidly.
Tailor-made at any size
Another benefit of modular construction, is that it can be tailor-made to match your exact specifications. By adding length, width and even height, we allow you to maximize the space you have available.
Relocatable, scalable, flexible
Our structures can be relocated, allowing you to redeploy your facility or simply move and adapt your building to cater to a different need. Modular by design, our structures can be scaled up and down to continue to meet your requirements, offering endless flexibility.
The highest standards
All Losberger De Boer buildings adhere to the highest standards in terms of quality, safety and sustainability. All our structures and parts tested extensively by our rigorous quality control team and have stood the test of time.
Interested in this Commercial space solution?
Feel free to reach out to us for more information on owning or renting one of our structures.