Enclosures for Zech Umwelt
Airtight cover for soil remediation project
Over the next 12 months, about 72,000 tonnes of contaminated soil will be removed from this residential area and disposed of properly, to allow the construction of 117 apartments to start.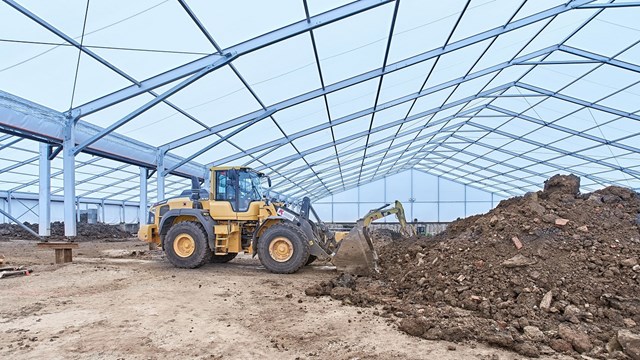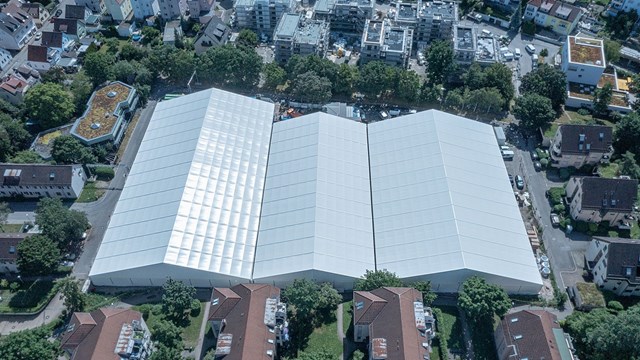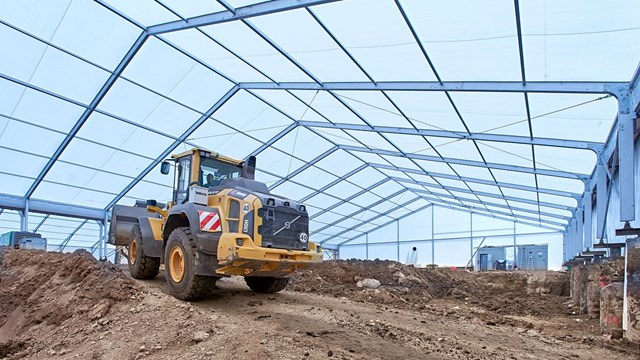 Protecting residents from toxic materials
The soil is contaminated with odour-intensive hydrocarbons and smaller amounts of heavy metals and arsenic, which entered the ground as a result of a fire in an old tar factory in 1912.


Automated sluices for a safe process flow
In order to be able to excavate, sort, load and transport the contaminated soil in the best possible way, the approximately 7.000 m² construction site had to be covered with airtight enclosures and separated into different work areas. For this purpose, the Losberger De Boer team erected three heated Maxiflex tent halls with a side height of 4 m each.
The interconnected, mobile room solutions were equipped with fully automatic airlocks to reduce the escape of pollutants to a minimum, and to ensure the safety of both workers, the surounding area and the environment.


Construction and contractual services in harmony
When working with experienced construction companies it is common for individual services to be provided on site. This was also the case with this soil remediation project While Losberger De Boer took care of the assembly and further equipping the halls, Zech built the foundations and brought in the ventilation systems.
Project Manager Eduard Knaus from Losberger De Boer explains what to look for when dividing up responsibilities: "Consistent coordination with internal and external interfaces is particularly important in such projects. The better the communication, the sooner deficiencies or problems can be identified and remedied, ensuring a timely handover."


Ensuring on-time delivery
Remaining on schedule is important during projects like these, as delays will have a large impact on the next steps of the process. We are committed to the success of the entire project, and will do all that is within our power to prevent the cascading effect that comes with delays or setbacks early on in the process.
Interested in this Commercial space solution?
Get in touch for more information on owning or renting one of our structures.