Covid-19 Space Solutions
Losberger De Boer continues to support our society in the ongoing fight against the Covid-19 pandemic, by adapting our temporary structures to serve when, how and where they are most needed.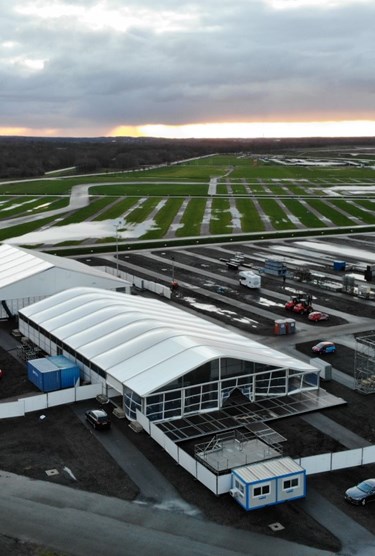 Vaccination centres
In response to the current situation, we offer hospitals and health organisations a practical way to administer vaccines, without congesting the hospital or fixed locations, and whilst keeping the public safe from contamination.
We can set up drive-thru vaccination stations, for maximum ease-of-use and personal safety. We can also deliver a fully functional stand-alone medical vaccination facility, were medical workers can vaccinate people in a more traditional hospital environment.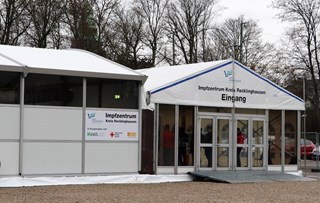 Emergency Hospitals & Quarantine Tents
Losberger De Boer offers hospitals a way to quickly expand their capacity and place new patients in a secure environment, utilizing our special mobile field hospitals.
A temporary hospital ward is a fully equipped hospital setup, ready to use in days and totally adapted to the needs. They are provided by our Rapid Deployment section, that has supplied multiple governments, military organizations, and NGO's with quarantine and decontamination tents, as well as medical field hospitals for decades.
Also, our quarantine facilities are tried-and-tested having been used during the Ebola crisis some years ago and currently during the Covid-19 pandemic in several countries as well.
Triage Centers
Over the last year, we have been able to help several hospitals deal with the crisis by installing triage tents, to take in new patients in the safest way possible. By adding a temporary triage tent, both ill and possibly infected patients can be examined and tested outside of the main hospital building, to allow regular care to proceed as normal as can be expected.
Our high-quality modular structures can be modified to accommodate any size footprint, meaning that we can always deliver a triage centre that allows you to make the most use of the space you have available. This facility can be connected to your regular building with temporary corridors that means that we will design the facility according to your specs. We can also work fast, what means that a triage centre can be set up within days after our first contact.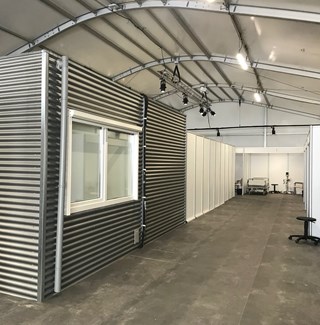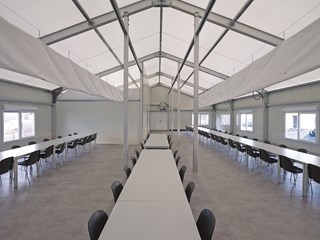 Temporary Canteens & Dining Rooms
How can we help you? Guaranteeing free space between people in the dining area alone has proven difficult – let alone for restaurant owners. We offer you a way to quickly expand your dining hall capacity, allowing people to keep an their distance from each other and still enjoy their food and each other's company.
How we do it? We can build an extension to your current dining area or restaurant, seamlessly connecting it to your current facility. We can also place an extra stand-alone canteen or dining area on your grounds, which can have a separate, appropriately wide entrance, or be connected to your main building by way of a temporary corridor. Our buildings are modular by design, which means that they can be tailor-made to make maximum use of the space you have available. Also, all our structures can be fully furnished and equipped with facilities like heating, climate control and sanitation.
A safe, pleasant and practical workplace
Our vaccination centre design takes social distancing protocols into account, as well as good working conditions for healthcare workers. To ensure good working conditions, our vaccination locations also provides office and canteen space, and will be equipped with a climate control system. The facility can be delivered turnkey, including utilities and furnishings.
Fighting the pandemic
All around the world, Losberger De Boer structures are being modified and used to help fight the pandemic. Over the last months, we have delivered triage centres, temporary hospital wards and drive-thru testing facilities.
Losberger De Boer is one of the largest developers of temporary and permanent buildings in the world. We have a large stock as well as large-scale production sites, which means that we always have sufficient material and manpower available to deliver vaccination locations as agreed.
Our services
Undivided attention to quality and security
Delivery reliability
Over the last years, 99.2% of all our material deliveries have been on time. The last 0.8%? Working on it! Apart from delivering in time (and on budget), we always make sure that there is a proper on-site inspection and handover. As we design, engineer, produce and build all our structures ourselves, our installation crews are very well familiar with all our buildings.
Excellent project management
Our project managers are highly experienced professionals, that have successfully delivered a large number of complex projects. Most of them have been providing clients with top-of-class space solutions for over a decade. Before the start of the project, you will be given on single point of contact. This person will know the ins and outs of your project and is available 24/7.
The best possible advice…
…for the best possible results. Our experienced and highly knowledgeable team will not shy away from giving you advice, even when you know exactly what you want. Why? Because oftentimes expert advice makes the difference between a good, and the best possible solution. Because that's what we strive for, together with giving you a great customer experience.
Highest safety standards
All Losberger De Boer crew members are fully qualified and certified to construct our buildings in a safe and compliant manner. Our structures adhere to the highest safety standards, as they contain only high-quality materials and are engineered, designed, and produced by our own product development specialists.
Some Numbers & Statistics
Losberger De Boer was founded in
0
Number of subsidiaries around the globe
0
Number of professional workers worldwide
0
Average customer satisfaction rate over 2022
8,9
"High quality end product"


Amanda Warner Project Manager
Testimonial | Commercial Space
'Losberger De Boer delivered a quality supermarket space'
"The quick reaction of Losberger De Boer in case of unexpected problems as well as their accommodating attitude convinced us very much."

'Smoothly and without incident'
"The assembly of the supermarket hall was well structured and agreements were strictly adhered to. I have been tremendously impressed by Losberger De Boer. Not only by the quality of their systems, but also by how quickly they understood our project, both from a technical and commercial l prospective. The way in which their creative and technical people have applied themselves to deliver such a swift response was equally impressive."
Peter Alt, Feneberg Food Market
Interested in this Commercial space solution?
Get in touch for more information on owning or renting one of our structures.