Festival tents and support structures
Do you want to make sure that your festival will be a memorable event that people will talk about for years to come? We can help you, by supplying you with reliable festival tents, high-end hospitality accommodations for your VIP guests or artists and every support structure you could ever need.
Hospitality buildings
Are you looking for a way to make your VIP guests and artists feel special? We have a wealth of experience with designing, building and decorating top-of-class hospitality structures that definitely add a wow-factor to your event. We've been able to help our partners at some of the biggest festivals in the world make their special guests feel very welcome.
We have a number of high-quality structures that are specifically designed for hospitality purposes. These buildings can be multiple stories high and can be fitted with covered terraces, offering your guests a spectacular view of the main stage. © Image - Jaimy Gail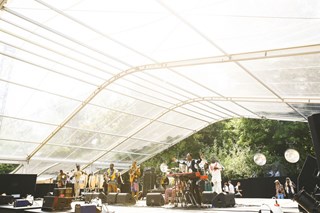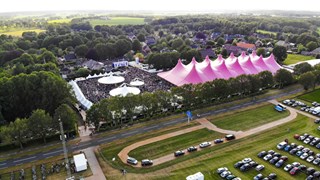 Festival tents
We can help you set the stage for a perfect festival – literally. We have several festival tents that can be adapted to meet your every need. Do you need a tent that can hold a few hundred people and a small stage? No problem. Do you need a large tent that can hold a large stage, an elaborate lighting setup, 10.000 people and several bars? We've got you covered.
We are proud to say that a long list of legendary musicians have performed in front of thousands of people in our tents.
We'll help you host an unforgettable festival
We are the experienced partner that will help you host an unforgettable festival by delivering high-quality structures for all purposes on time and on budget.
Expert-level advice
Hosting a festival is an extremely complex process. The number of factors that need to be taken into account is endless. As a centennial company that has played a part in dozens of festivals big and small, we are here to help you. Tell us your requirements, goals, ans also what keeps you up at night, and we will think along with you on how we can help you achieve your goals and exceed expectations.
Support structures
Restaurants, ticket boxes, small and large scale sanitary facilities, stalls and booths, dressing rooms, backstage rooms… We can supply you with the right space solution for every part of your festival setup. We have a lot of experience in providing support structures for festivals, and if you tell us your requirements, we'll get back to you with a detailed proposal.
We have a large network of trusted suppliers that we can depend on to help deliver all these facilities (and more) fully furnished and ready for use.
Expect the very best from your best suppliers
Always work with a partner that you can trust to get the job done under any circumstances, no matter what. Choose a partner that will challenge you to create a unique and unforgettable experience and one that is truly committed to the success of your festival. Regardless of weather conditions, technical challenges, or unforeseen circumstances, the show, as they say, must go on.
We can work a tight schedule and always have a plan B
Our products are designed to live up to the highest global standards in safety. This is one of the reasons Losberger De Boer was one of only a very few temporary structure suppliers that were contracted to build for the Tokyo Olympics, in an area that is known for its violent earthquakes and flooding. We offer the highest standards in terms of structure integrity, and Health and Safety compliance.
When it comes to choosing a supplier, experience is crucial. An experienced partner knows the technical challenges of major large-scale festivals, can work to a tight schedule and can deal with unexpected situations. An experienced partner is flexible and always has a Plan B. We are over 100 years old, and with age comes experience.
Our services
Undivided attention to quality and security
An experienced Account Manager
Our Account Managers are specialists who focus on your needs, and on providing you with professional guidance and the best customer experience.
An experienced Site Manager
Our Site Managers have all the experience needed to deliver safe, efficient and well organized project, without worries, on time and on budget.
The highest quality structures available
We design, engineer, produce and build all our structures, to ensure that our buildings live up to the high standards we have set for ourselves, and that our clients have come to expect.
The assurance that the event will go ahead
Our structures can withstand extreme weather conditions and our team are used to highly complex operations in terms of logistics and planning. We always deliver.
Some Numbers & Statistics
Losberger De Boer was founded in
0
Number of subsidiaries around the globe
0
Number of professional workers worldwide
0
Average customer satisfaction rate over 2021
9,2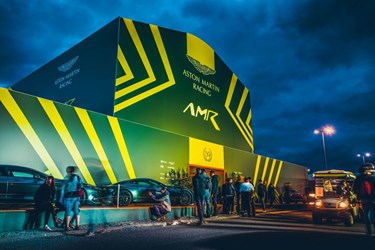 "Creating unique moments"

Lewis Ledouit Communication Manager iEvent
Testimonial | Event Space Rental
'We rely on Losberger De Boer's know-how'
We are proud to say that we have worked with iEvent on numerous occasions, on fantastic events such as the 24hLe Mans.
"We create unique moments during major events. To do this, we need to work with trusted partners, that are able to bring our creative ideas to life. That's why we work with Losberger De Boer, to be able to rely on their know-how and to face our challenges together."
Interested in this Event space solution?
Feel free to reach out to us for more information on owning or renting one of our structures.