Sports hall Hamm
Semi-permanent Sports Hall in Hamm, Germany
With sports playing an important role in communities, the city of Hamm (Germany) commissioned Losberger De Boer to construct a semi-permanent sports hall while a new public sports hall is being built.
Client

Semi-permanent Sports Hall in Hamm, Germany

A new sports hall to bridge the gap
The old sports hall has deteriorated over the years and the city administration decided to build a new hall, that is compliant with all the latest health and safety regulations. As the building process will take several years, the city opted to transfer all sporting activities to a semi-permanent sports hall from Losberger De Boer.
Our quick-to-build high-quality aluminum hall offers Hamm the perfect transitional solution. It will be rented for a 3 to 5 year period.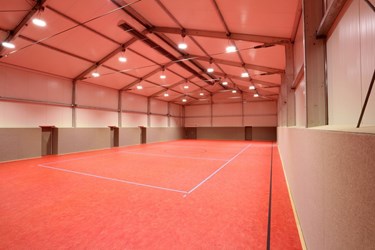 Full turnkey solution
The entire facility was delivered turnkey, including a special sports floor, deflector walls, insulated roof, and wall elements.
Let's get technical
For the structure, we used a 15m wide and 30m long Alu Hall, with additional Losberger De Boer Container modules. We delivered the following components:
Special sports floor
Deflector walls
Insulated roof and wall elements
Changing rooms
Sanitary facilities
Technical equipment room
Heating and air-conditioning system
Lighting
Fire alarm system
Interested in this Commercial space solution?
Get in touch for more information on owning or renting one of our structures.