Quick-to-build, long-lasting hall
Induro
The Induro is a durable, semipermanent structure that can be built in less than a week and can be used for decades. Constructed with solid steel and aluminium, the Induro holds up to the elements well.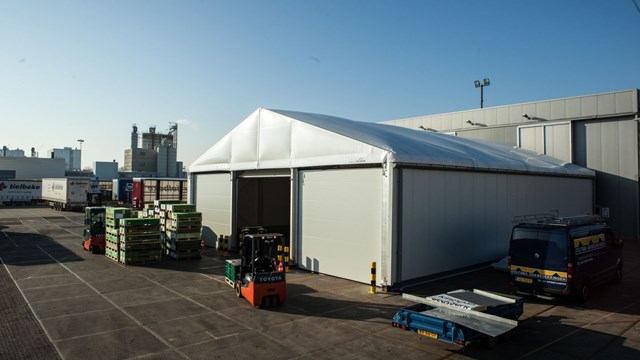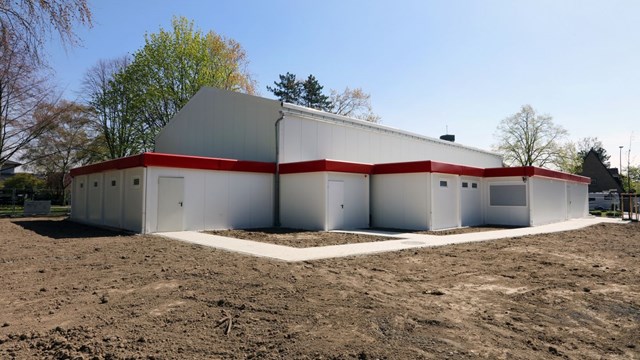 Highlights:
Extremely short construction time
Large, clearspan hall
Perfect for warehousing, office space and storage
Your new temporary home
Open and flexible, our Induro is perfect for temporary or semi-permanent use as office space, warehouse, or storage hall. You can use Induro as a temporary home for your business while you renovate your permanent building, or as a flexible way to grow without committing to a permanent structure.
Use every inch of space as you please
The Induro is a clearspan structure, which means it has no internal supports. This allows you to customise the entire space exactly as you choose. Moreover, we can even add more space as your business grows.
The Induro is suitable for a wide range of business applications. Do you need it for warehousing or storage? We can equip it with overhead door for forklifts. Do you need a stable temperature for the right storage or working conditions? We can install insulated walls and roof panels, as well as implement a double-skin thermo roof.
I am looking for a space solution for my company. Why should I choose the Induro?
Because it's built to last. It's weatherproof and sturdy, and it feels just like a permanent building. It'll even stand up to thick snow (up to 100 kg per m2).


Because it can be built fast. A complete building, built to your exact specs, ready to use within a week after construction starts. Now that's fast.


Because it's adaptable, meaning it offers you maximum flexibility. The inside is open, with several sizes to choose from. You also have the option to add extra space as you need it. The Induro is able to grow along with your business.
Specifications and options
Create the space you need. The Induro is a semi-permanent structure that can be built in 1 week and can last for up to 5 years.
Tech specs
Dimensions
Width

10-30m (5-meter-bay-distance)

Side Height

4.2m, 6.2m

Wind load

0,50 kN/m²

Snow load

100 kg/m²

Please note

That there may be small differences in dimensions or options when you buy a tent system as opposed to renting a space solution. If you are interested in buying a tent system, our product specialists will lay out all possible dimensions, options and configurations for you.
Options
Options
Roof covers (translucent and opaque)
Cassette floor
Non-anchoring floor/plate floor
Various door types and roller shutter
Steel side panels
Sandwich side panels
Safety
Safety
Fire-resistant materials
Anchoring and construction are secure.
NEN-EN 13782
ISO 9001
ISO 14001
SCC**
Proven quality
Turnkey delivery
Highly customizable
Short delivery time
Short installation time
For temporary AND permanent use
Proud to work for these companies
Interested in this Commercial space solution?
Get in touch for more information on owning or renting one of our structures.