10,000m2 of premium event space
The Skiing World Championships
Losberger De Boer was a key temporary building supplier at the Courchevel Méribel 2023 Skiing World Championships, which took place from February 6-19th, in Savoie, located in the French Alps.

Multiple structures & storeys
Our team provided almost 10,000m2 of temporary structures on two separate sites. This tournament was broadcast all over the world and received a visit from the French Minister of Sports, Madame Amélie Oudéa-Castera.
What did we deliver?
Losberger De Boer provided a wide range of event facilities for the athletes, spectators, event partners, VIP guests and volunteers. We provided all staff who worked on-site at this massive event with a dedicated catering area, as well as several relaxation areas for volunteers. We provided similar facilities for the athletes, created bar areas for the public and delivered multiple hospitality pavilions for VIPs and partners.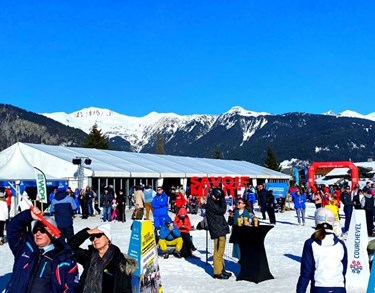 FIS Alpine Ski World Championships
Let's get technical
In order to erect almost 10,000m2 of premium event space and event infrastructure, we used the following systems:
Multiple 5x5 Chalet Domes
Several 3x3 and 5x5 Pyramids
10 and 15m Alu Halls
A 15 and 20m Anova (Team Hospitality / Sports area)
2 large two-story buildings, combining Premiers and Anovas
20x45m in Courchevel
30x40 in Méribel, with an added wing 15x40 wing
How did we do it?
Our installation crews started in November to ensure the floors were laid before the heavy snowfall over the winter. The conditions still were challenging as the terrain was very muddy, but our experienced builders got the job done in time. We returned early into 2023 to complete the structures and take care of interior fittings and decorations.
Interested in this Event space solution?
Feel free to reach out to us for more information on owning or renting one of our structures.