Effective and spacious
Alu Hall
For events where efficient use of space and short construction times are key, the Alu Hall is an excellent choice. The Alu Hall is easy to lay out and because of its free-standing, aluminium structure, this hall can be erected on nearly any type of terrain. It can be expanded to create a massive amount of space.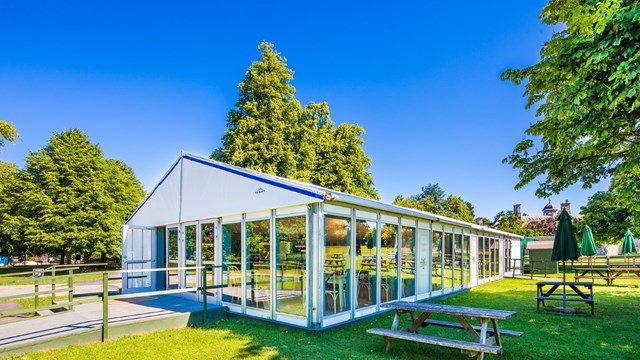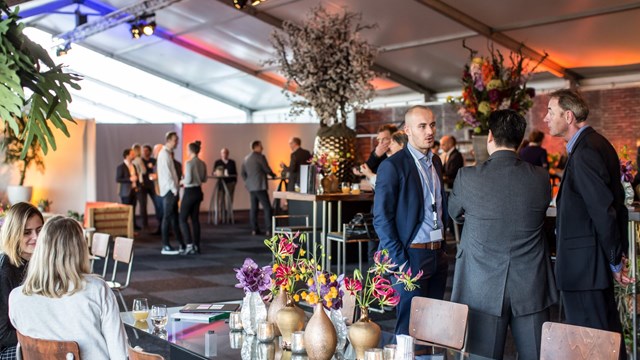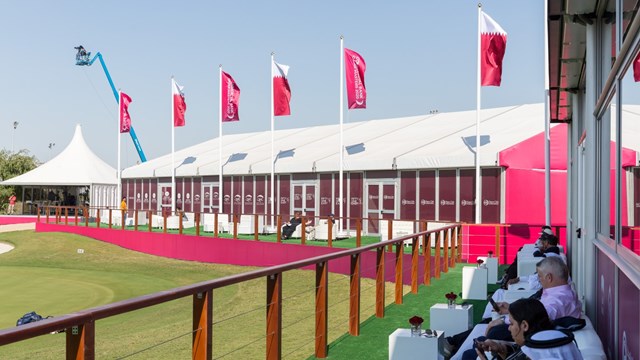 Perfect for
Hospitality
Large-scale catering
Trade Fairs / expo's
Endless flexibility
How big is our Alu Hall? As big as you want it to be. The length of the hall can be extended as much as you like, while the width of the hall ranges between 8 and 25 metres. We can easily connect multiple halls, to create immense amounts of space. In short: all kinds of dimensions and lengths are conceivable. This makes our Alu Hall a highly flexible, all-round product.
Solid and strong
The Alu Hall is a robust, no-frills building. It's named after its aluminium A-frame structure, and comes equipped with a strong, fireproof PVC façade and roof. The PVC side panels ensure a mild interior climate, while a peak ventilation system facilitates natural ventilation. In certain cases, additional ventilation may be necessary to release excess heat. We can equip the hall with a 'Cuckoo', a nifty roof ventilation grid that enables extra, draught-free air circulation, while maintaining a comfortable indoor climate.
Enhancing the aesthetics
Like we said, in itself, the Alu Hall is a no-frills structure. But thanks to its modular nature, it can be adapted and transformed into a completely different type of building. Replace the solid wall panels with classy smoked glass windows and that robust, basic Alu Hall is now a transparent structure with a high-end look and feel.
Alu Hall, in brief:
Solid panels, which can be replaced by doors, smoked glass windows or PVC curtains with decorative arched windows;
Length can be extended in 5-metre increments;
Ample side wall height, ranging from 3 to 5 metres;
Easy and (even by Losberger De Boer standards) extremely quick assembly;
Clear span, meaning no obstructive supports;
Can be connected to buildings and other tents.
Specifications and options
The Alu Hall is a highly flexible structure, that can fulfil all you space needs.
Tech specs
Dimensions
Widths

8m | 10m | 12m | 20m | 25m

Side Heights

2,5 m | 3,25 m

Please note

That there may be small differences in dimensions or options when you buy a tent system as opposed to renting a space solution. If you are interested in buying a tent system, our product specialists will lay out all possible dimensions, options and configurations for you.
Options
Options
System floor
Cassette floor
Non-anchoring floor/plate floor
Curtains with window variants (opaque)
Roof covers (transparent, translucent, opaque)
Wall elements of hard PVC (vertical)
Wall elements of glass (vertical)
Ventilation panels
Various door types
Brought back façade
Safety
Safety
Fire-resistant materials
Anchoring and construction are secure.
NEN-EN 13782
ISO 9001
ISO 14001
SCC**
Proven quality
Turnkey delivery
Highly customizable
Short delivery time
Short installation time
Can be connected to buildings & other tents
Interested in this Event space solution?
Feel free to reach out to us for more information on owning or renting one of our structures.