Let's get this party started!
Alu Party
If you are looking for a spacious and stylish party tent, the Alu Party is the tent for you. Its open character and intimate atmosphere make it ideal for festive settings.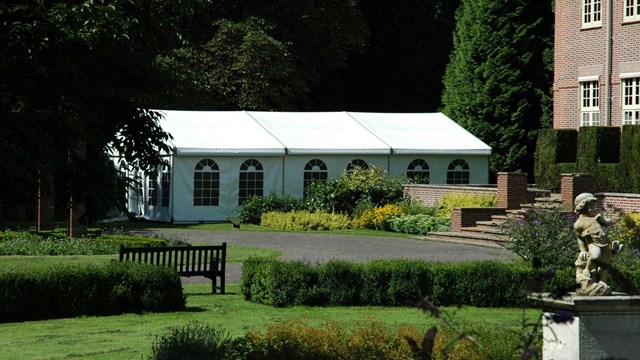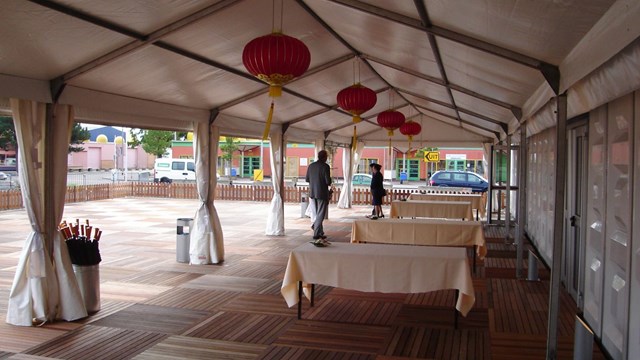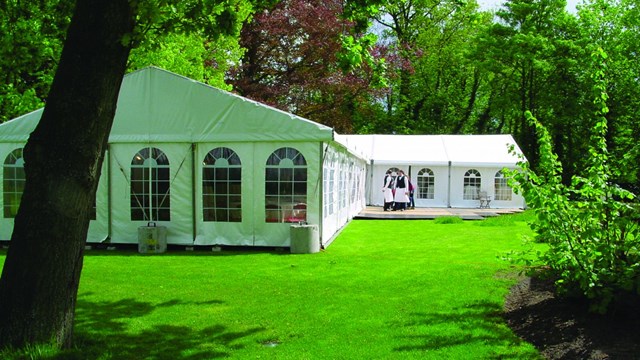 Perfect for:

Party tent or canopy
The Alu Party is a flexible, festive party tent that can also serve as a canopy. It can be fitted with PVC side curtains, which, if desired, can come with decorative arched windows. This gives the accommodation an open character. The curtains can be drawn open if the weather is nice, allowing guests to walk in and out. This way, the accommodation and its surroundings combine to form a cohesive whole. This is ideal when the tent is located near to a building or in a natural setting.
Obstacles? What obstacles?
As far as we're concerned, there are no such things as obstacles. If you want to put up the Alu Party in a garden that has a pond, we'll just build the tent over it. The structure itself doesn't have any support columns on the inside and no tension ropes on the outside. Your guests won't be tripping or bumping into things as they party.
Our Alu Party party tent in brief:

For use as a party tent or canopy;
Length can be extended in 4-metre increments;
Clear span, meaning no obstructive supports;
Perfectly suited for parties, weddings and events;
Super-quick assembly;
Can be connected to buildings and other tents.
Specifications and options
Here you can find the basic specifications. You can also download our product sheet for the Alu Party.
Tech specs
Dimensions
Width

5m, 7.5m, 10m

Side Height

2.4m

Please note

That there may be small differences in dimensions or options when you buy a tent system as opposed to renting a space solution. If you are interested in buying a tent system, our product specialists will lay out all possible dimensions, options and configurations for you.
Options
Options
Cassette floor
Non-anchoring floor/plate floor
Curtains with window variants (opaque)
Various door types
Safety
Safety
Fire-resistant materials
Anchoring and construction are secure
NE-EN 13782
ISO 9001
ISO 14001
SCC**
Proven quality
Turnkey delivery
Highly customizable
Short delivery time
Short installation time
Can be connected to buildings & other tents
Interested in this Event space solution?
Feel free to reach out to us for more information on owning or renting one of our structures.