Setting trends in modular expanse
maxiflex P10
The maxiflex was the first tent system of its kind in the world. The innovative modular concept that birthed the maxiflex, is still the foundation for our space solutions today. The P10 is the largest installment of the maxiflex product range.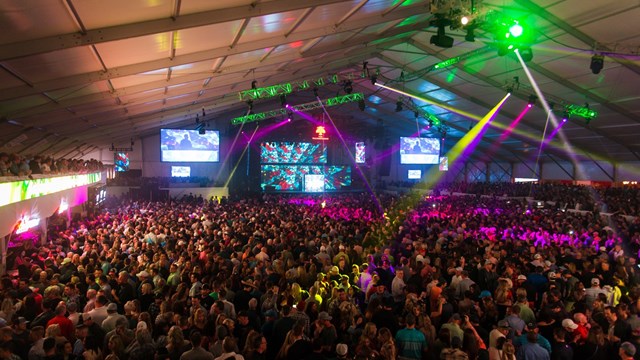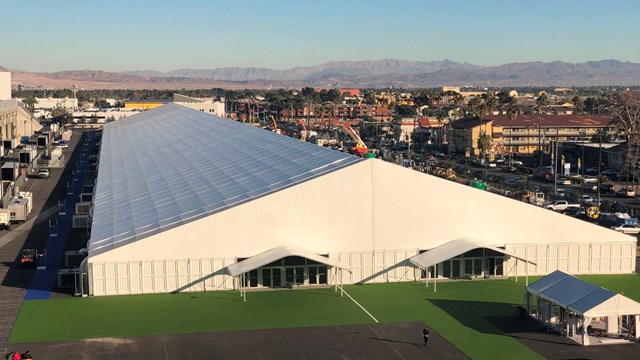 Perfect for:
Large scale events
Sporting events
Trade fairs

The most flexible large space solution there is
The maxiflex is the most flexible large tent in the market today. The original P1 system is available from 10-50m in width and offers countless configuration options, including the double decker Emporium variant. The maxiflex P10 is 60m wide, making it one of the largest freespan (column free) temporary structures in the world.
Over the last quarter of a century, modular temporary structures have traditionally been designed with maximum widths of up to 50 meters restricted in eave height. The arrival of our P10, opened up a multitude of opportunities for the events and exhibition industry. The P10 boasts the full advantages and features of the Losberger De Boer P1 systems, but with the added benefit of building structures of up to 60 meters wide in any length, with lateral heights of up to 6.80 meters. What's more - the 50 m wide P10 can reach impressive heights of up to 8 meters!
The size of a football field
Massive trade fair venues with a huge capacity can now be achieved with relative ease. Even temporary mobile event solutions the size of football pitches are possible using the maxiflex system.
Decades after its first introduction, the maxiflex range continues to set the standard for the delivery and execution of trade fairs and large scale events with its P10 version.
Flexibility to the max
The strength of the maxiflex system lies in the fact that one system can be used to create endless configurations. Thanks to its modular nature, the maxiflex can be extended or combined with other structures from its product family. The system also offers a host of different cover options, ranging from vertical to horizontal wall panels and from PVC panels to polyester and transparent glass ones, for a smart, sophisticated look.
Specifications & options
Our maxiflex P10 is the most versatile, high-end large tent structure in the market.
Tech specs
Dimensions
Width

40m, 50,m 60m

Side height

4m, 5.40m, 6.80m, 8m

Please note

That there may be small differences in dimensions or options when you buy a tent system as opposed to renting a space solution. If you are interested in buying a tent system, our product specialists will lay out all possible dimensions, options and configurations for you.
Options
Options
Cassette floor
Curtains with window variants (transparent and translucent)
Roof covers (translucent and opaque)
Wall elements of hard PVC (vertical and horizontal)
Wall elements of glass (vertical and horizontal)
Ventilation panels
Various door types
Arcum roof
Brought back façade
Safety
Safety
DIN EN 13782
DIN EN ISO 9001
DIN EN ISO 14001
EN 1090
Wide product range
Proven quality
Products used at world-class events
Certified production process
Expert advice from experienced specialists
Flexible & durable space solutions
It was our pleasure to work for these companies
We are proud to say we were able to help these businesses with our space solutions
Interested in this Event space solution?
Feel free to reach out to us for more information on owning or renting one of our structures.